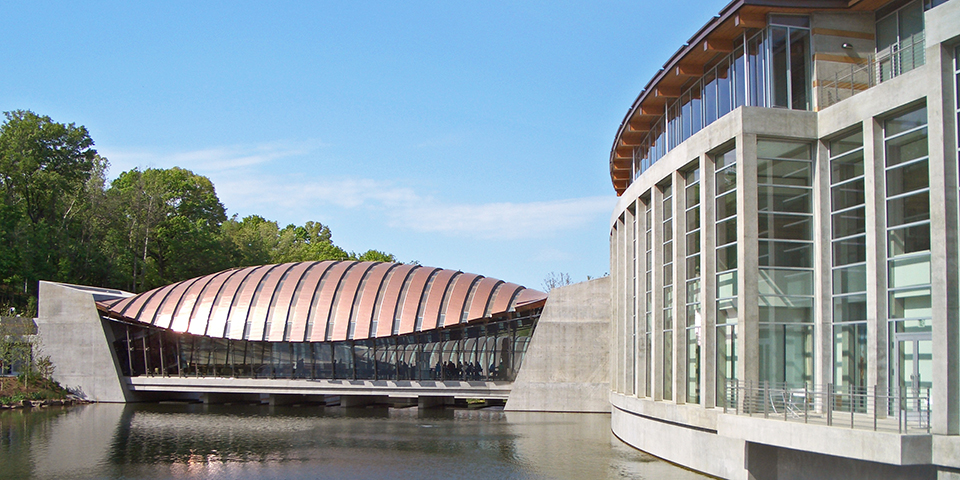 ARKANSAS
Colorful history meets the dynamic present in Arkansas. Discover where Walmart began and soak in hot town frequented by gangsters. Go hiking, biking or paddling in rugged landscapes with exciting trails.
Bella Vista
Surrounded by hickory forests, limestone caves and waterfront trails, Bella Vista — which rightly means "beautiful views" in Spanish — is quickly becoming one of the most sought-after destinations in the Ozarks. Originally founded as a summer resort, the city is now home to a wide array of activities for all ages, including mountain biking, hiking, top-notch museums and a sporting scene that can't be beat. Located less than a day's drive from many of the region's most popular attractions, it's also the perfect jumping-off point for enjoying the best of northwest Arkansas.
Crystal Bridge Exhibits
Less than a decade old, the Crystal Bridges Museum of American Art has already cemented its place as one of the country's finest museums. Surrounded by 120-acres of Ozark forest, you can explore the picturesque landscape along four miles of walking trails before heading inside to enjoy one of the world's foremost collections of American art. Even the architecture is one-of-a-kind. Designed by world-renowned architect Moshe Safdie, the main building rises from a natural ravine and incorporates spring-fed ponds into its design.
First Walmart in Bentonville
Located in the heart of nearby Bentonville, America's first Walmart is now a museum that explores the history of the Walton family, Sam Walton's first forays into business and the global reach of Walmart today. Interactive exhibits are fun for the whole family, but the real treat is a chance to wander the aisles of Walton's 5 & 10, where retro toys and souvenirs make it easy to relive the earliest days of the iconic brand. Get in touch with the great outdoors at some of the following places.
Bella Vista's Natural Side
The Tanyard Creek Nature Trail features a 2½-mile loop complete with a swinging bridge and a view from above of the Lake Windsor waterfall. The marked, paved 1.75-mile Lake Bella Vista Trail features benches, picnic tables, a playground and a Disc Golf Course. The lake covers 22 acres and is approximately eight feet deep. Located adjacent to Highway 71, it's perfect for bikers, hikers and dog walkers. The Crystal Bridges Trail, a paved bike and pedestrian trail, begins at beautiful Compton Gardens and winds north through lush tree-covered paths. Continue on the path and connect to the North Bentonville Trail. Feel like kicking
up your heels and enjoying nine innings under the sky? The Northwest Arkansas Naturals, a Texas League Royals affiliate AA baseball club, plays ball in nearby Springdale at Arvest Ballpark.
---
Regional Recipe
Chicken and Rice
Enjoy simple, homey flavors with this delicious and savory dish. Recipe by the Good Sam Team
Ingredients:
4 boneless chicken breasts, cut into one-inch cubes
4 cups cooked rice
1 can cream of chicken soup
1 package (14 oz) chicken broth
½ cup mushrooms, sliced
2 tsp onion powder
Salt and pepper to taste
Directions:
Mix rice, soup, chicken broth, mushrooms and onion powder. Add chicken. Bake 30-35 minutes in preheated 350 degree oven. Let cool and enjoy.
---
Honoring Veterans
Honor our heroes at the Bella Vista Veterans Wall of Honor, established in 2004 by the Veterans Council of Northwest Arkansas on a 1.7-acre site that connects to the Lake Bella Vista walking trail. The monument features 25 walls set in a circular pattern that contains more than 4,100 granite tribute tablets inscribed with the names of service people from 23 states who served in the military from 1776 to 2006.
Eureka Springs
Combine a laid-back Ozark Mountain vibe with elegant Victorian architecture and a rich spirit of fun and eccentricity. Eureka Springs stands at the crossroads of hipster and yesteryear, with a well-preserved downtown from the 1800s. These elegant structures are full of eclectic shops and bistros, all brimming with today's trinkets, cosmopolitan dining experiences and fine arts. Throw in a resident ghost or two, and this little Ozark gem will charm its way into everyone's trip itinerary.
Launch Your Watercraft
West of town, Beaver Lake satisfies boaters' hunger for adventure. Rent a kayak, paddleboard or canoe to skim across the lake's surface or explore its depths at several swim beaches. Beaver Lake is located in northwest Arkansas, the birthplace of the White River, and offers great water for paddling and bass fishing. And don't miss reeling in enormous trout on the White River or canoeing down the country's first national waterway, Buffalo National River.
The Ozarks Via Two Wheels
There are abundant opportunities for mountain biking along the Oz Trails of Northwest Arkansas. And hiking and biking in Hobbs State Park are just two activities available there. Check out the Blue Springs Heritage Center, which preserves a unique body of water.
Hot Springs
Hot Springs, Arkansas, gets its name from the naturally thermal spring waters found here. Flowing out of the ground at an average temperature of 143 degrees Fahrenheit, the hot springs produce almost one million gallons of water each day.
Take a Soak
Today, you can still soak in the thermal waters on historic Bathhouse Row. The hot springs are also pumped into several downtown hotels and spas. The water is even available at public fountains. The beautifully restored Fordyce Bathhouse now serves as a visitor center. You'll find lots of activities and attractions in Hot Springs. Bring the whole gang to the National Park Aquarium, which houses the state's largest fish and reptile exhibit. See some of the creatures that thrive in area waters. Or get up close and personal with reptiles and animals at the Arkansas Alligator Farm & Petting Zoo.
Fort Smith
The pioneer spirit is alive and well and has helped transform this frontier border town into the second-largest city in Arkansas. Explore The Natural State as you journey through the mighty Arkansas River Valley and the majestic Ozark Mountains.
Historic Attractions
If you like a good story, you'll love Fort Smith. Miss Laura's Visitor Center is the first former bordello listed on the National Register of Historic Places and has been restored to its Victorian splendor. Miss Laura's was considered to be the "grandest bordello in The West." The Fort Smith Trolley Museum offers a collection of railcars that includes the Frisco 4003 Steam Locomotive.
Artistic Haven
Fort Smith has also developed a unique reputation as a city with a passion for the arts. This is especially true since 2015, when The Unexpected Murals Project catapulted the city onto the world stage as an international destination for urban contemporary art. Ranging from outdoor murals to indoor exhibits, Fort Worth was named as one of the Top 8 Surprising Cities for Street Art by AFAR.
Elvis Sat Here
Elvis fans can visit Fort Chaffee's Barbershop and see where he received his famous Army buzz cut, "the haircut heard 'round the world." In 1958, the international rock and roll star took a hiatus from the music world to serve his country in the U.S. Army. He received his first G.I. buzz cut, making him more popular than ever.
Outdoor Recreation
The Fort Smith Bikeway connects cyclists to parks, libraries and other great destinations. Wells Lake is a twelve-acre manmade lake that was built in the 1940's and is now home to largemouth bass, channel catfish, redear sunfish, bluegill and rainbow trout.  The Ozark National Forest covers 1.2 million acres of northern Arkansas. The Ozark Mountains are plateaus, uplifted as a unit that have been eroded by swift river.  There are over 230 miles of hiking trails and many mountain streams offer smallmouth bass, sunfish and trout for the avid angler.
Fishing Aplenty
More fishing opportunities abound with the Arkansas River Navigation System, offering scores of serene inlets and bayous filled with an abundance of fish. The Ben Geren Trail is one of Arkansas' premier mountain bike trail systems. There are more than 14 miles of rugged-terrain mountain biking trails at Ben Geren Regional Park. Check out Ben Geren Disc Golf Course.
Arkansas Agritourism
More farms have opened their gates to tourists over the years. Wild Things Farm provides fun activities for groups, families, agritourists, and others seeking excitement for any season. Fort Smith Farmers Market comes alive with street performers, local musicians and a bountiful cornucopia of fresh produce. Located in the foothills of the Ozarks just east of Fort Smith, Nanna's Iris Garden has over 1,500 varieties of iris.
Natural State Viticulture
Arkansas is the oldest and largest wine producing state in the South. Visit nearby Altus to imbibe in lovely red and white wines and fresh grape juice at Post Winery, Chateau Aux Arc, Wiederkehr Wine Cellars, Mount Bethel Winery and Cowie Wine Cellar & Vineyards.
For More Information
Arkansas Dept. of Parks & Tourism
501-682-7777
Eureka Springs Arkansas
Greater Bentonville Area Chamber of Commerce
 479-273-2841
Hot Springs Convention & Visitors Bureau
800-SPA-CITY
Fort Smith
 479-783-8888