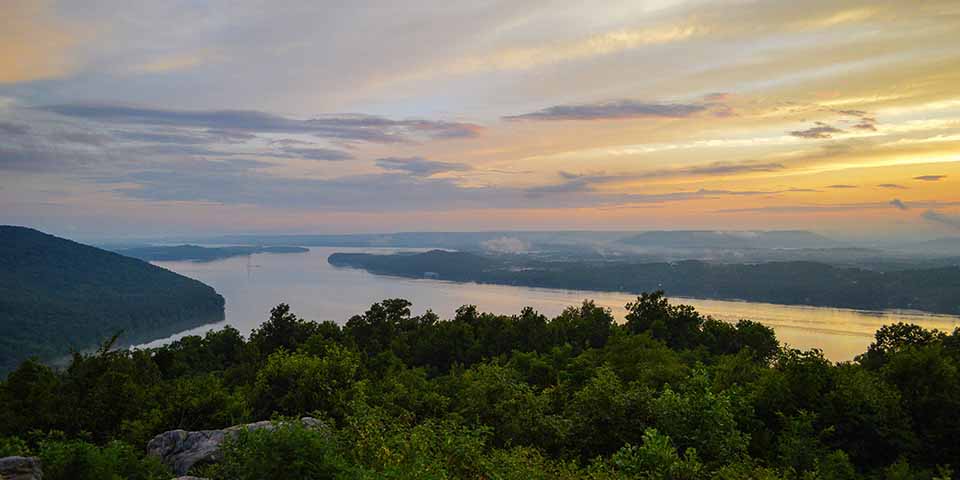 ALABAMA
Over the years, 'Bama has become renowned for championship football, NASCAR and skies that "are so blue." But beyond the song lyrics, you'll discover beaches, parklands and history that will take your breath away.
Mobile
Boasting a rich 300-year history, Mobile expertly blends long-standing traditions with trendy sophistication, lending credence to the town's nickname, "Paris of the South." Once the capital of colonial French Louisiana (before the establishment of the Alabama border), this midsize city is credited with hosting the first Mardi Gras in 1703, long before the Big Easy ever put on a parade.
Waterways
Take a boat tour at 5 Rivers Delta Resource Center for a tantalizing afternoon on the water. Follow the Bartram Canoe Trail from the center, spending evenings camping on raised platforms while exploring over 170 miles of waterways. In a cypress swamp just outside of Mobile sits Alligator Alley, where over 200 formidable reptiles live and nest.
Gulf Shores/Orange
Something incredible happens when you arrive at the white sandy beaches and cozy waterfront towns of Alabama's southern Gulf Coast: The outside world melts away, and only a landscape of sun-soaked relaxation and adventure remains. More than 50 miles from the nearest big city in the state (Mobile), and essentially surrounded by water on three sides, it's easy to slip straight into vacation mode here, where the hustle and bustle of city life can't be found.
Sparkling Getaway
Once a little-known hidden gem, this sparkling beachfront region is now a go-to getaway destination for families from far and wide. It's no surprise why—32 miles of soft sandy beaches rim the region's coastal edges, offering an inexhaustible supply world-class fishing, scuba diving, boating, swimming, kayaking, hiking and guided wildlife tours for outdoors enthusiasts. And when you're done with the big skies, big horizons and big beaches for the day, there's the small town of Gulf Shores and the even smaller town of Orange Beach to explore, as well as a slew of eclectic attractions all within easy reach no matter where on the coast you're calling home.
Auburn/Opelika
Combine a rollicking college atmosphere with cultural attractions, and you'll get an unbeatable pair of Southern towns. Just six miles to the south, locals flock to the forested expanses of Chewacla State Park for lakeside relaxation and myriad opportunities for outdoor recreation, including dozens of multi-level hiking and biking trails.
Football Fun
A pilgrimage site for devotees of the Auburn University Tigers football team, the Jordan-Hare 90,000-seat stadium is famed for its eagle flyover that marks the opening of home football games and supercharges the Auburn University's "Wild Eagle" spirit.   
Riding and Hiking
If you're the type that likes to camp with your horses, then you'll feel right at home in Auburn-Opelika. There are boarding stables, an equestrian center and several trails to ride in the area. For walkers, urban and rural parks surround the area for hiking or biking. In addition, there are motocross parks and birding trails.
Golfing, 'Bama-style
One of the premier reasons to visit Auburn-Opelika is the golf. The Auburn-Opelika area is home to several golf courses including Grand National. This course lays claim to being one of the most challenging and award-winning courses along the Robert Trent Jones Golf Trail. The RTJ Golf Trail has 11 trail sites with 26 courses.
---
Regional Recipe
Foil Barbecued Chicken
Chicken is lower in calories than most other meats and high in protein. For a savory treat, cook it over the coals wrapped in heavy-duty aluminum foil. Recipe adapted from Woodall's Campsite Cookbook.
Ingredients
3-lb frying chicken, cut up
½ cup flour
1 tsp salt
dash pepper
1 tsp paprika
⅓ cup butter
Sauce
1 onion, sliced
1 tsp salt
1 tbsp vinegar
1 tbsp Worcestershire sauce
1 tbsp sugar
¼ tsp pepper
½ cup ketchup
¼ cup water
Directions:
Combine all sauce ingredients in small saucepan and bring to boil. Simmer for about 15 min. Coat chicken pieces with flour, salt, pepper, paprika in a paper bag. Place chicken pieces on large lightly oiled squares of heavy-duty foil and top with pats of butter. Cover with barbecue sauce. Seal package and place on medium-hot coals for about 1 hour, turning occasionally. Serves 6-8.
---
Decatur
Throughout its history, the small city of Decatur in northern Alabama has been anything but forgettable. Founded in 1820 as a scrappy backcountry ferry crossing, it was soon transformed — almost overnight — with the arrival of the railroad and major industry. The burgeoning settlement expanded and the population boomed. The first glimmers of a city on the rise began to emerge. Then, during the Civil War, Decatur's important place on the map ensured it would be fiercely fought over.
Point Mallard
When it's time to jump back into the present day and unwind with a bit of family fun, head for Point Mallard Park. There's a water park, 18-hole golf course and driving range. It's a great place for families to relax.
For More Information
Alabama Travel
 800-ALABAMA
Auburn and Opelika Tourism Bureau
866-880-8747
Alabama Gulf Coast
 800-745-SAND
Visit Mobile
800-5-MOBILE
Decatur Morgan County Tourism
256-350-2028