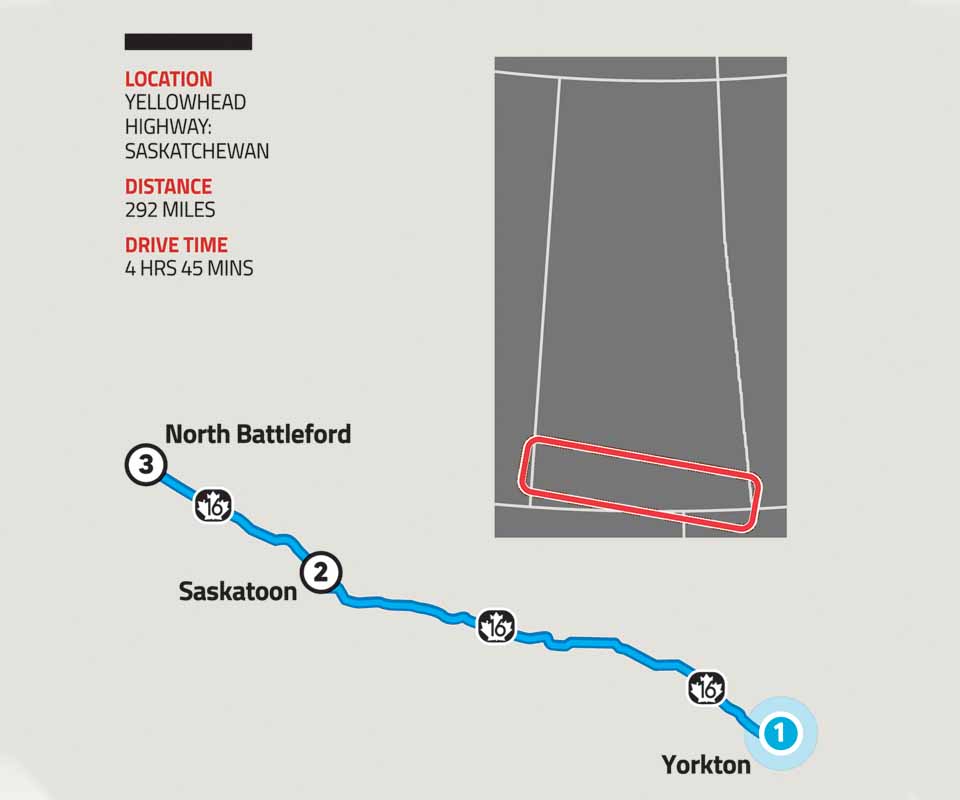 The Yellowhead Highway
traverses Canada's vast prairies in an east-to-west direction, delivering travelers to charming communities and wide-open landscapes. The segment that runs through Saskatchewan gives campers an eyeful of adventure and history.
See our Alberta and Manitoba trips for more adventures on the Yellowhead Highway.
1. Yorkton
Starting Point
Yorkton's prime location gives you easy access to several provincial parks. Nestled on the shores of Good Spirit Lake, Good Spirit Provincial Park boasts one of Canada's best beaches and contains a portion of the famous Trans Canada Trail. It's an excellent spot to catch walleye and pike as well. For more angling, drop a line in Duck Mountain Provincial Park and the fishing lakes of the Qu'Appelle Valley. While you're in town, play games of chance at the Painted Hand Casino or tee off at several golf courses.
2. Saskatoon
Drive 207 Miles • 3 hours, 22 minutes
The South Saskatchewan River snakes through the city center, so take advantage of it by kayaking, paddleboarding or jet skiing. When you're back on shore, shop for specialty foods at the Saskatoon Farmer's Market and admire contemporary art in the Remai Modern. You can also become an honorary citizen by getting Saskatoon'ed at a neighborhood bar. The rite of passage consists of a few steps (chest pounding is involved) and ends with drinking a drop shot made with local beer and liqueur.
3. North Battleford
Drive 85 miles • 1 hour, 23 minutes
Get out of the car and stretch your legs in Battlefords Provincial Park. Set on the shores of Jackfish Lake, this park lures families and water enthusiasts with swimming, fishing and boating opportunities. There's also a white sand beach that's perfect for lounging, as well as two golf courses and hiking trails weaving through rolling hills and wooded areas. After adventuring outdoors, experience First Nations hospitality at the Gold Eagle Casino. From live music performances to delicious dining options, this entertainment hub offers so much more than just your favorite table games.