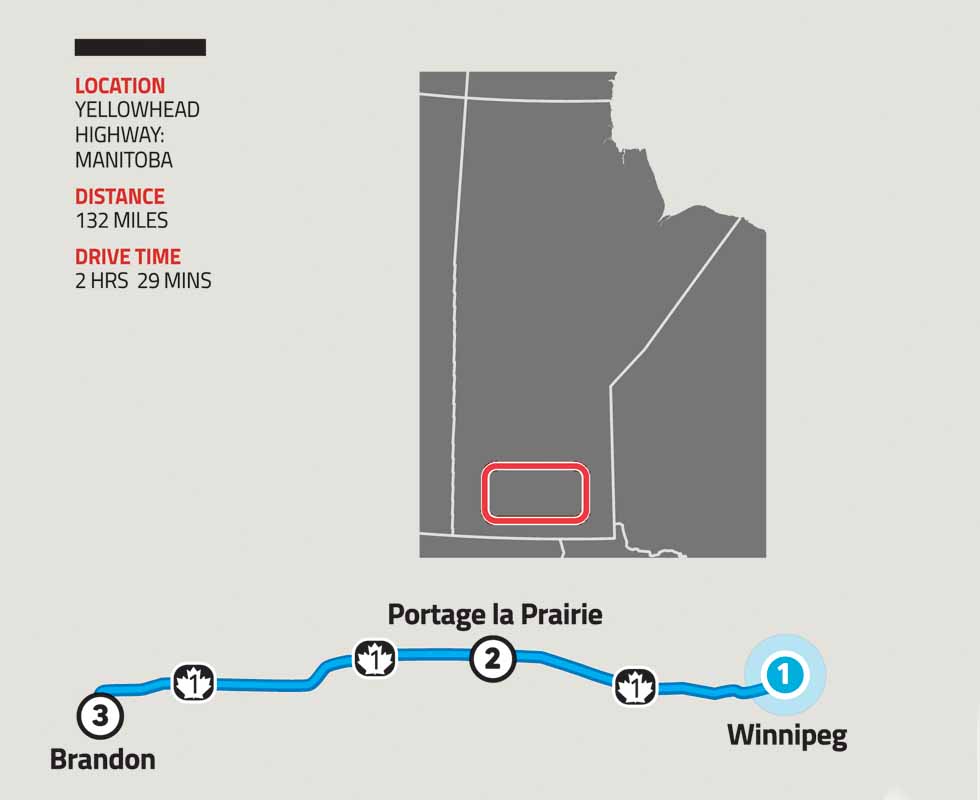 The Yellowhead Highway leads travelers through the Province of Manitoba, an underrated travel destination with several natural and historical attractions. From the entertainment and fun of the big city of Winnipeg to the wildlife of Riding Mountain, you won't run out of stops to make along the way.
See our Alberta and Saskatchewan trips for more adventures on the Yellowhead Highway.
1. Winnipeg
Starting point
Kick off your trip at Assiniboine Park, Winnipeg's year-round playground filled with hiking and biking trails. There are plenty of indoor attractions too — locals recommend checking out the Leo Mol Sculpture Garden to view stunning bronze works and the Assiniboine Park Zoo for close-up encounters with polar bears, caribou and arctic foxes. Next, make a pitstop at the Canadian Museum of Human Rights, where 11 galleries explore humanity's history using art and the latest technology. Enjoy the striking architecture, quaint market spaces and beautiful natural backdrops of a city on the rise.
2. Portage la Prairie
Drive 53 miles • 1 hour, 8 minutes
You're in for some unexpected surprises in Portage la Prairie. Sandy beaches, world-class bird-watching and the largest Coca-Cola can on the planet are just some of the things that will have you saying "whoa!" Live as the early pioneers did at Fort la Reine Museum. The five-acre site gives you an authentic glimpse into Portage la Prairie's past using more than 20 unique heritage buildings and thousands of artifacts. Highlights include the vintage printing equipment and Sir William van Horne's personal business rail car. The museum functions as a community space, too, by hosting multimedia exhibits and a seasonal farmers' market.
3. Brandon
Drive 79 miles • 1 hour, 21 minutes
Manitoba's second-largest city is an incredibly diverse destination teeming with historic buildings, world-class museums and provincial parks promising endless outdoor adventures. Make your way to the airport for the Commonwealth Air Training Plan Museum. Housed in an original hangar, this museum tells the story of how over 50,000 pilots trained at 14 Manitoba air bases during WWII. Drive approximately 60 miles north and you'll wind up in Riding Mountain National Park. Many visitors report spotting everything from lynx and moose to black bears and owls simply by taking a scenic drive through the park. If you'd like to come face-to-face with a herd of 30 massive bison, head to nearby Wasagaming, located at the park's south gate, for a Canadian safari you won't forget.