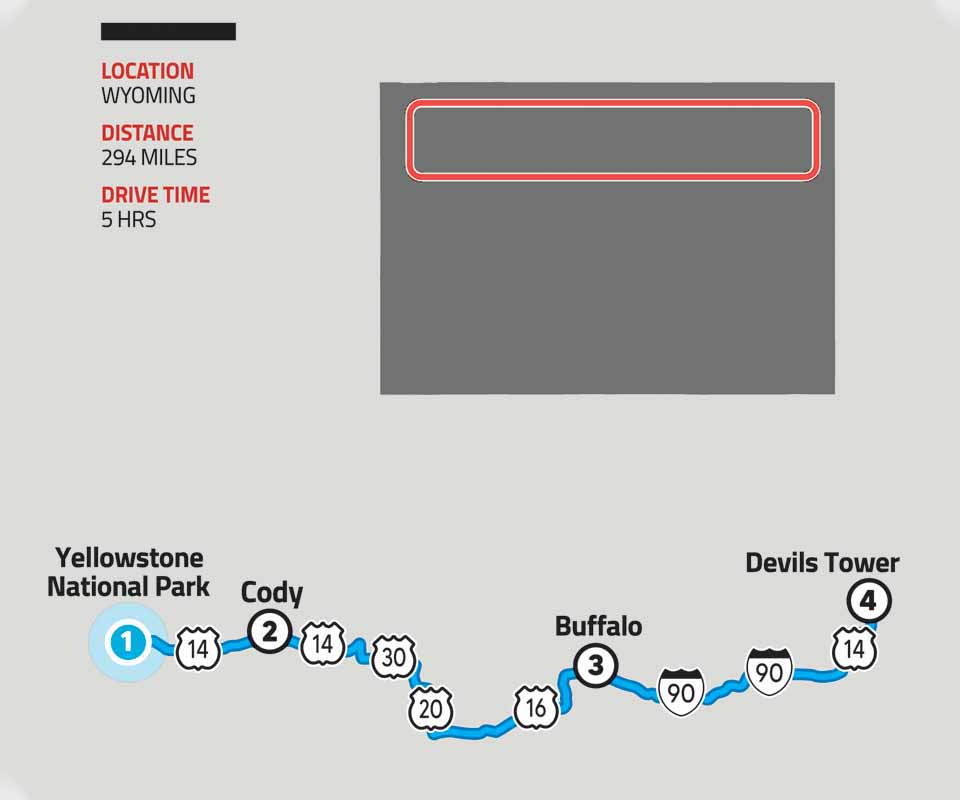 The marvels never end in northern Wyoming. Start this trip in Yellowstone National Park, travel through the hangouts of Buffalo Bill Cody and Butch Cassidy, then finish your trip at a rock "tower" that once served as the setting for a close encounter.
1. Yellowstone National Park
Starting Point
As the first national park in the United States, Yellowstone has earned a special distinction. Although sightseers love driving through the park, the best way to see this 2-million-acre wonderland is by foot. Hike Elephant Back Mountain for sweeping views of Yellowstone Lake, or go biking in Lower Geyser Basin to see geothermal wonders. On your way east, stop by Cody, where the Buffalo Bill Historical Center preserves the area's Wild West past. Fly-fishing abounds in several nearby streams.
2. Cody
52 miles • 1 hour
Cody has so many museums that showcase Western history that a visitor can get a good workout just wandering around them for a day. The most popular attraction here is the Buffalo Bill Historical Center, an amalgamation of five museums covering over 300,000 square feet. Included in the center is the Buffalo Bill Museum, the Whitney Gallery of Western Art, the Plains Indian Museum, the Cody Firearms Museum and the Draper Museum of Natural History, a research library, Bill Cody's childhood home and two sculpture gardens.
3. Buffalo
164 miles • 3 hours
Located near prime recreation spots, Buffalo proudly wears its frontier history on its sleeve. Check out the Occidental Hotel, where train robbers Butch Cassidy and the Sundance Kid once held court. Prefer hiking to history? Trek to the nearby Cloud Peak Wilderness Area, an alpine wonderland of lakes and peaks. To the west, Medicine Wheel Passage (U.S. Route 14A) takes you by the Medicine Wheel National Historic Landmark, a circular configuration formed by rocks placed with painstaking care by Native Americans centuries ago.
4. Devils Tower
Drive 130 miles • 2 hours
As you make your way east, the Sundance Mountains and the town of Sundance come into view. About 25 miles to the northwest, you'll find Devils Tower National Monument. This geological wonder shoots over 800 feet skyward, a daunting formation of stone. Long before President Teddy Roosevelt declared it America's first national monument, local Native American tribes considered it sacred. The popular 1.3-mile paved Tower Trail circumnavigates the daunting Devils Tower. Bonus: Brave climbers can ascend this awesome attraction.