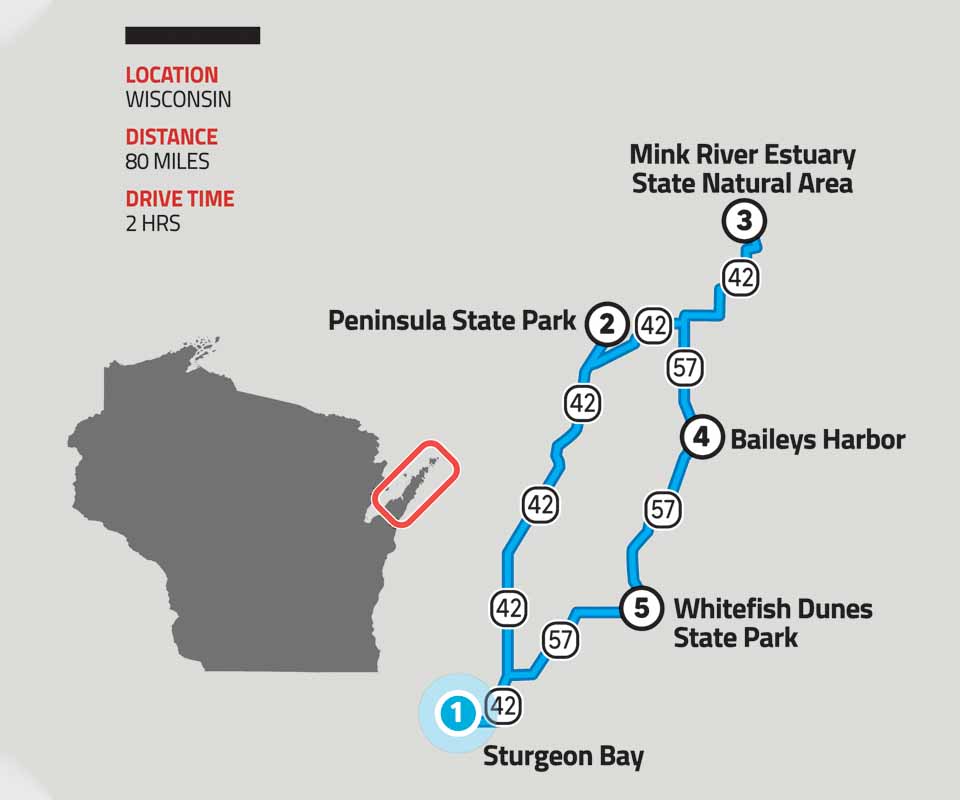 Wisconsin's Door County has been called the Cape Cod of the Midwest, and for good reason. Occupying a peninsula that juts more than 60 miles northeast into Lake Michigan, Door County is an escape from the outside world. Take a loop around the peninsula and learn what makes this place so special.
1. Sturgeon Bay
Starting Point
Located in the heart of Door County's long, narrow peninsula, Sturgeon Bay is the biggest town on the route. So it's a great place to stock up on winery and brewery tours, farmer's markets and museums. History buffs should drop into Door County Maritime Museum and the Door County Historical Museum. The Farm is farm-like family fun – baby goats and more.
2. Peninsula State Park
Drive 24 miles • 34 minutes
Peninsula State Park features an 18-hole championship golf course, camping sites, hiking trails and bicycle paths. Snow on the ground doesn't mean an end to the frivolity. Instead, prepare to bust out the skis for groomed ski trails, snowmobiling and sledding. Bring the kids to family-friendly White Cedar Nature Center, which hosts a number of hikes, nature-based arts and crafts, and outdoor skills workshops to keep the kids' minds off the TV remote control and into the beauty of the surrounding forest. Founded in 1853 as a Norwegian Moravian religious community, Ephraim is a historic and lovely small town with an excellent waterfront location.
3. Mink River Estuary State Natural Area
Drive 15 miles • 24 minutes
For an even closer glimpse of life on the water, the Mink River Estuary at Door County's northern tip is regarded as one of the finest places for paddling in the Midwest. Canoeing or kayaking the serene waters is the perfect way to observe the more than 200 migratory birds that pass through the untapped wilderness each season.
4. Baileys Harbor
Drive 16 miles • 21 minutes
Heading south, your next stop is Baileys Harbor. Cana Island Lighthouse kept old-time sailors safe on Lake Michigan's waters. It's worth a visit — view the historic lighthouse and the lighthouse keeper's home. Reel in the big ones with a guided fishing tour. How about a watery adventure in a glass-bottom kayak? Zipline anybody? Or treat yourself to a great meal at the local Yacht Club Resort.
5. Whitefish Dunes State Park
Drive 11 miles • 19 minutes
Though Whitefish Dunes State Park on the peninsula's eastern shore is one of the most popular parks in the state, it still feels untamed. Surrounded by forests and wetlands, the shoreline alternates between sandy beaches and rocky coves with dunes rising up to 90 feet above the water. Trails and a beachside boardwalk make it easy to explore. Check out the eastern shore's Peninsula State Park, home to Sven's Buff.
Drive 14 miles and 22 minutes to return to Sturgeon Bay and complete the loop.