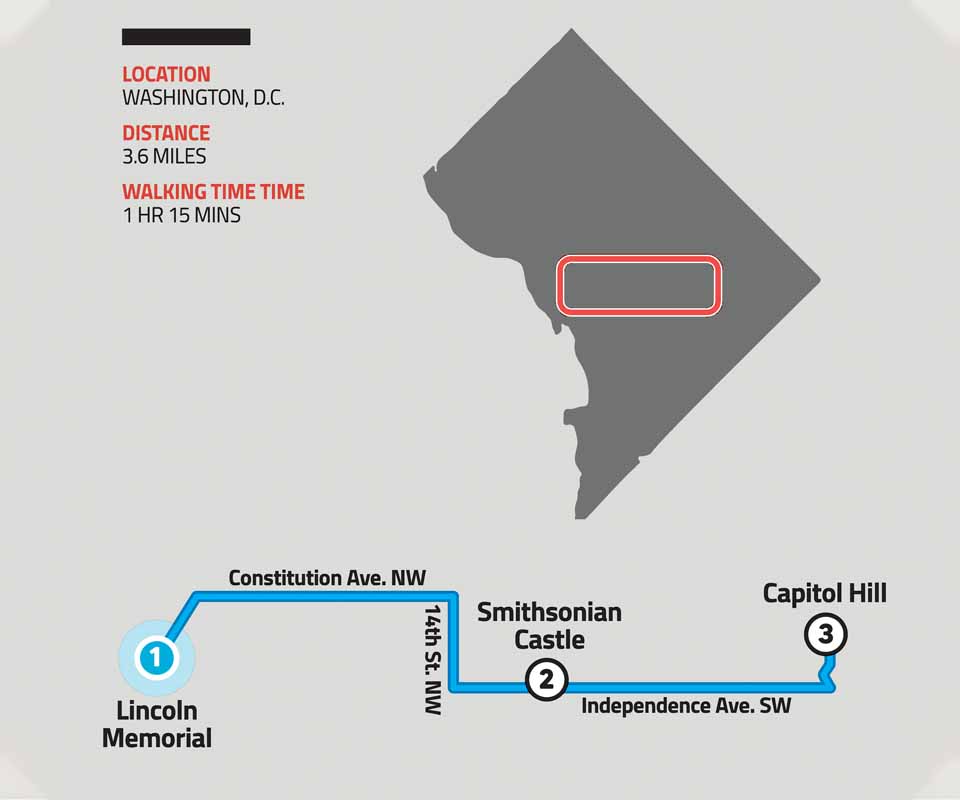 Washington, D.C., may be notorious for congested bureaucracies, but its open spaces give pedestrians free and easy passage to beautiful monuments, gardens and museums. Check out the ample greenbelts and walkways between the Lincoln Memorial Capitol Hill, a two-mile strip that allows walkers to stretch their legs as they take in the sights. If only the nation's legislative process was so easy.
1. Lincoln Memorial
Starting Point
Built in 1922 at the west end of the National Mall, this monument was constructed in a Doric-temple style and houses a 19-foot-tall statue of America's 16th president sitting and gazing thoughtfully toward the city in the distance. Climb the steps leading to Abe and turn around to see the majestic reflecting pool. The water of this 2,029-foot artificial lake reflects the obelisk-like Washington Monument in the distance. It may be Washington D.C.'s most iconic vista.
2. Smithsonian Castle
Walk 1.3 miles • 27 minutes
Hike along the banks of the reflecting pool on a journey that will take you past a clutch of war memorials, including the Martin Luther King, Jr. Memorial, the Korean War Veterans Memorial and the Vietnam Veterans Memorial. At the very east end of the reflecting pool, the World War II Memorial pays homage to the fallen soldiers of the United States as well U.S. allies. After peering up at the 555-foot-tall Washington Monument, spend some time at the Smithsonian Castle, a majestic neo-gothic structure that serves as the gateway to the other Smithsonian Museums in the district. Along the journey, you'll pass the Smithsonian National Museum of Natural History, the National Gallery of Art and Smithsonian national Air and Space Museum.
3. Capitol Hill
Walk 2.3 miles • 48 minutes
The United States Capitol is known for its majestic dome and central rotunda. While the building is a fascinating look into the legislative branch, it's worthwhile to explore some of the neighboring attractions, including the Library of Congress, the U.S. Supreme Court and U.S. Botanic Garden. If you'd like to see legislation in action, stop by the Visitor Galleries of the chambers of the House of Representatives and the Senate. Exhibits include a time line of major legislation passed over the centuries.