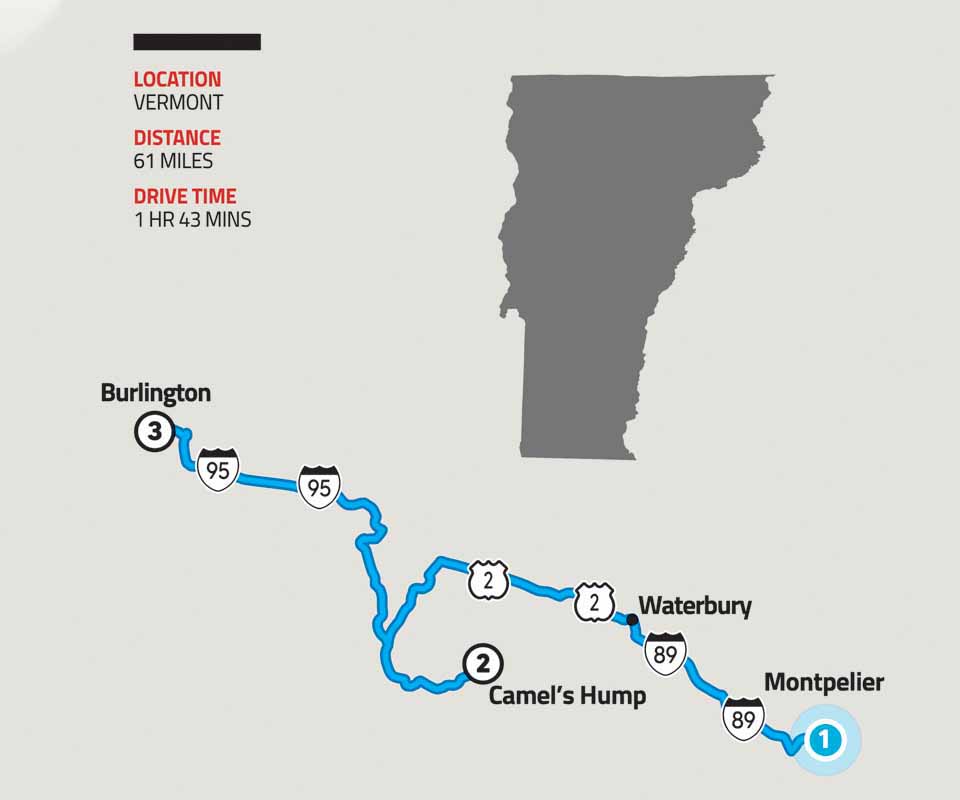 Just 159 miles from north to south, Vermont is downright dinky. Yet it's packed with fascinating sites, sights and stops for RV travelers. Visit country stores, thriving small towns and luxury boutiques in progressive, medium-sized cities. See Revolutionary War battlefields. There are miles of gorgeous, winding roadways through forested mountains and broad vistas across verdant valleys. Here are some of our favorite Vermont stops.
1. Montpelier
Starting Point
Forty gallons. That's how much sweet maple tree sap it takes to make one gallon of pure Vermont Maple Syrup. See how it's done in the classic Vermont way at Morse Farm Sugarworks. Shop more treats like maple sugar, kettle corn, candy, fancy mustards, jams, preserves, cheeses and a whole lot more. When you're done, work off those calories by hiking Hubbard Park and ascend the 50-foot-tall castle-like tower. Way back in 1915, Vermonters started building a stone tower in Montpelier's Hubbard Park. Today, you can trot up the steps and take in the lovely view of the gold-domed state capitol.
2. Waterbury & Camel's Hump
Drive 34 miles • 55 minutes
On the trip west, stop by Waterbury. Back in 1978, Vermont buddies Ben Cohen and Jerry Greenfield started what has become nothing less than a legendary ice cream cult phenomenon. Take the factory tour and check out new flavors like "Cherry Garcia" and "Half Baked." Don't miss Ben and Jerry's Flavor Graveyard — your chance to mourn concoctions that just didn't make taste buds tingle — bummers like "Wavy Gravy" and "Peanut Butter and Jelly." A few miles further, you'll see Camel's Hump, with two peaks that look just like a camel's back. Choose from nearly a dozen well-marked hiking trails ranging from the universally accessible 1-mile Camel's Hump View Trail to the difficult 19-mile-long trail. Look for the summit marker with an interesting typo.
3. Burlington
Drive 27 miles • 48 minutes
French explorer Samuel de Champlain never dreamed his 1609 discovery would become a watery playground. Burlington, Vermont's crown jewel city, has an especially thriving waterfront. Dine waterside, take a ferry ride, try sail boating — heck, go paddleboarding. While in town, stroll Church Street for food and entertainment. Closed to auto traffic, Church Street is a great walking street and strolling marketplace with wall-to-wall restaurants and specialty shops, spiced with the occasional magician, musician or clown. Try Leunig's Petit Bijou for great croissants.