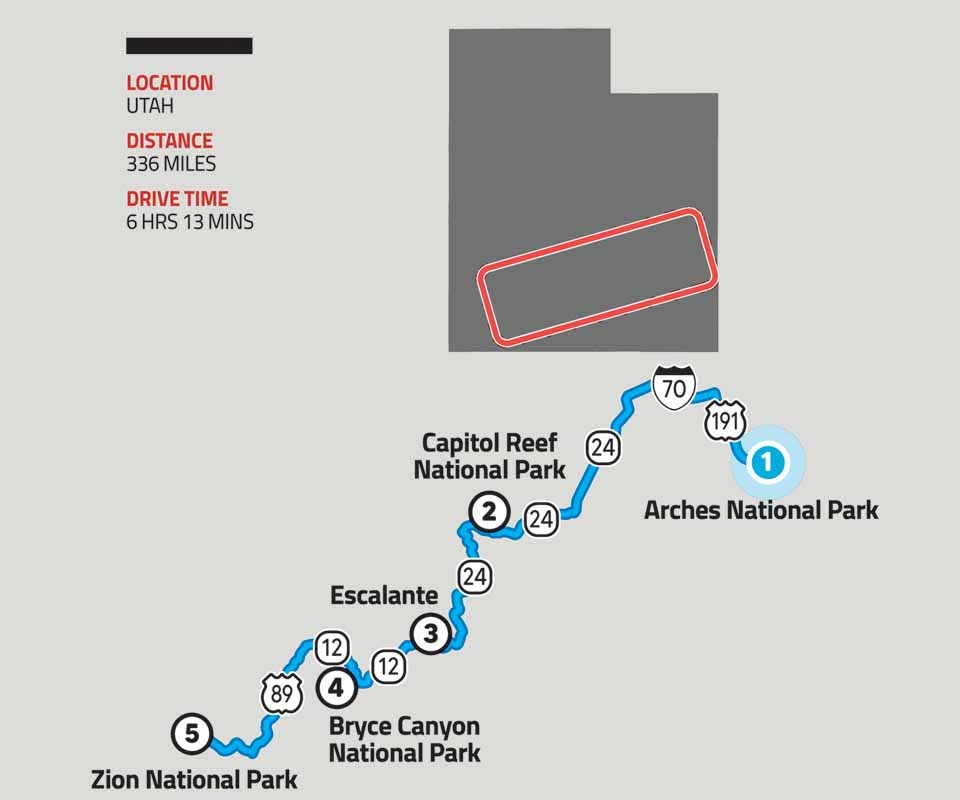 Geology is the name of the game in Utah, as terrain seems to change every five miles traveled.
 

Experience wind-carved stone arches and impressive canyons enclosed by red rock walls that are covered with ancient petroglyphs.

 

Hike among hoodoos, or bicycle around the rim of giant chasms.

 

See land folded like an enormous paper fan, exemplifying the inordinate pressures needed to create a 100-mile rift in the earth's crust.
1. Arches National Park
Starting Point
A desert carved with wind and rain enamors its visitors with balanced rocks and delicate arches.  Hike, bike or drive through this spectacular park, where sandstone rock formations with names like Fiery Furnace and The Three Gossips stand, along with over 2,000 natural stone arches. In nearby Moab, mountain bike fanatics prepare for adventurous rides. These cyclists start their treks in town, then head out to Canyonlands National Park to tackle precarious back-country trails, like White Rim Drive or Confluence Overlook Trail.
2. Capitol Reef National Park
Drive 133 miles • 2 hours, 3 minutes
Climb a dramatic sandstone cliff to get a panoramic overview of this national park from the strenuous Rim Overlook and Navajo Knob trails.  The red rock mesas, canyons and domes seen here are mere appetizers for the main event:  the Waterpocket Fold lives up to its descriptive name, creating a 100-mile wrinkle folded in the earth's crust.  Hike a little farther to be rewarded with Hickman Bridge, a natural stone arch. 
3. Escalante
Drive 82 miles • 1 hour, 53 minutes
Enter the Escalante-Grand Staircase National Monument for a wild trip on Mother Nature's desert playground, where hikers and Jeep enthusiasts revel in wonder.  Navajo sandstone has been carved into tight canyons with cascading waterfalls, slickrock domes and surprising grottoes.  Follow Hole-In-The-Rock Road to witness a true pioneer miracle, where Mormon missionaries moved wagons and stock down a slot in the sandstone, lowering them over 2,000 feet to the Colorado River way back in 1879. 
4. Bryce Canyon National Park
Drive 49 miles • 56 minutes
Explore the world's most remarkable amphitheater in Bryce Canyon, where hoodoos are the performers and the conductor constantly changes position. Sunlight illuminates these striated pinnacles of rock, giving the performance of a lifetime every single day. From vantage points throughout the park visitors are can soak in the scenery. 
5. Zion National Park
Drive 72 miles • 1 hour, 21 minutes
Wander through tight slot canyons and over sandstone slickrock in Zion National Park.  Crowds have discovered this desert gem, but most do not venture past two popular trails.  Stick with Canyon Overlook Trail for an astonishing view of the park's monolithic domes and green valleys. Then hike the Lower Emerald Pools Trail to discover quiet pools and waterfalls.