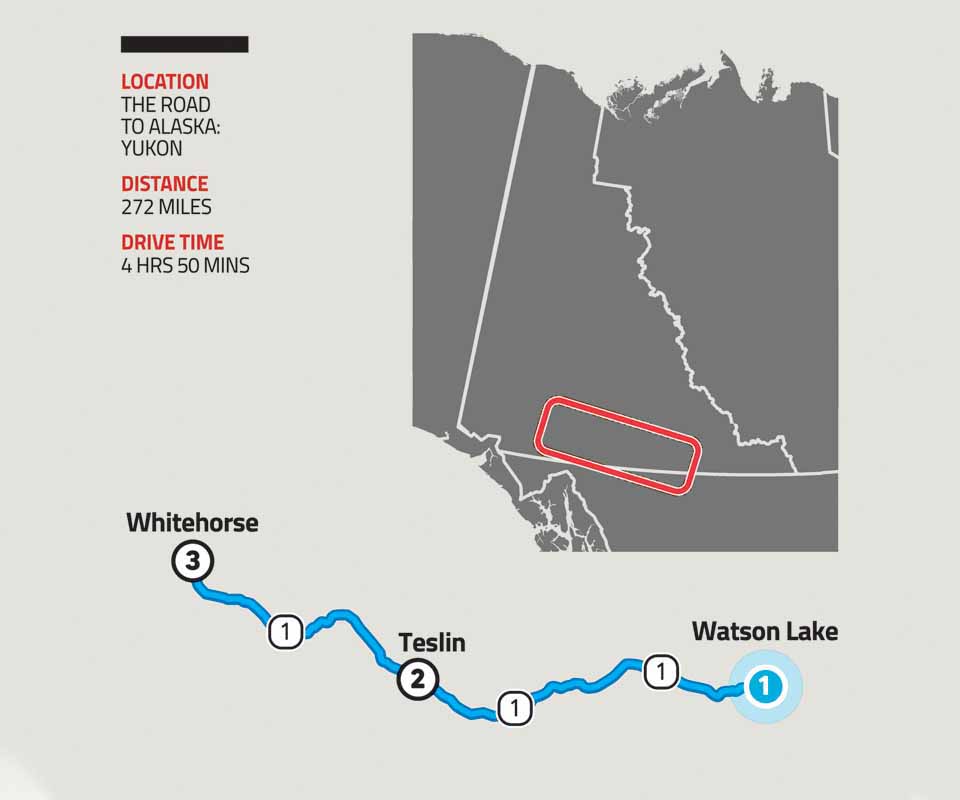 The Alaska Highway cuts a dramatic course through the Yukon, giving motorists a chance to experience one of Canada's last untamed regions. Visitors who take their time as they travel through will be rewarded with historic towns and gorgeous scenery.
For more information about the Alaska Highway travel corridor, see the Road Trip sections in British Columbia and Alaska.
1. Watson Lake
Starting Point
This community played host to thousands of GIs during WWII, but an unexpected tradition was born when one homesick soldier tacked up a sign in the direction of his hometown in Illinois. Soon, others followed suit and the Sign Post Forest was born. Nowadays, this quirky landmark is home to over 85,000 directional markers pointing to hometowns around the world. After adding your own hometown to the ever-growing list, head to nearby Wye Lake, which features a short nature trail and plenty of bird-watching, or to Lucky Lake, another nearby gem with swimming and wildlife galore. Both bodies of water are home to Arctic grayling, lake trout and northern pike.
2. Teslin
Drive 162 miles • 3 hours
Located near the Yukon's southern border on Lake Teslin, this small community has its roots in the Tlingit people, who met here during the summer. Now it serves as a vital stop on the Alaska Highway, and visitors will discover several establishments that honor the area's indigenous past. The George Johnston Museum exhibits photographs and traditional Tlingit regalia, and a few miles out, visitors arrive at the Teslin Tlingit Heritage Centre, marked by five tall carved poles. Lake Trout bite with gusto in Teslin Lake.
3. Whitehorse
Drive 110 miles • 1 hour, 50 minutes
With easy access to over 400 miles of hiking and biking trails that leave right from downtown, it's easy to imagine why Whitehorse is known as the "Wilderness City," but the area's deep cultural and historic offerings are equally stunning. Expertly restored, the magnificent S.S. Klondike pays tribute to an era when riverboats and railroads were the main modes of transportation. As the last sternwheeler operating on the Yukon River, it's a Gold Rush-era gem. The Beringia Interpretive Center allows visitors to step back to an even earlier time with innovative exhibits dedicated to Ice Age animals, archeological discoveries and First Nations people.