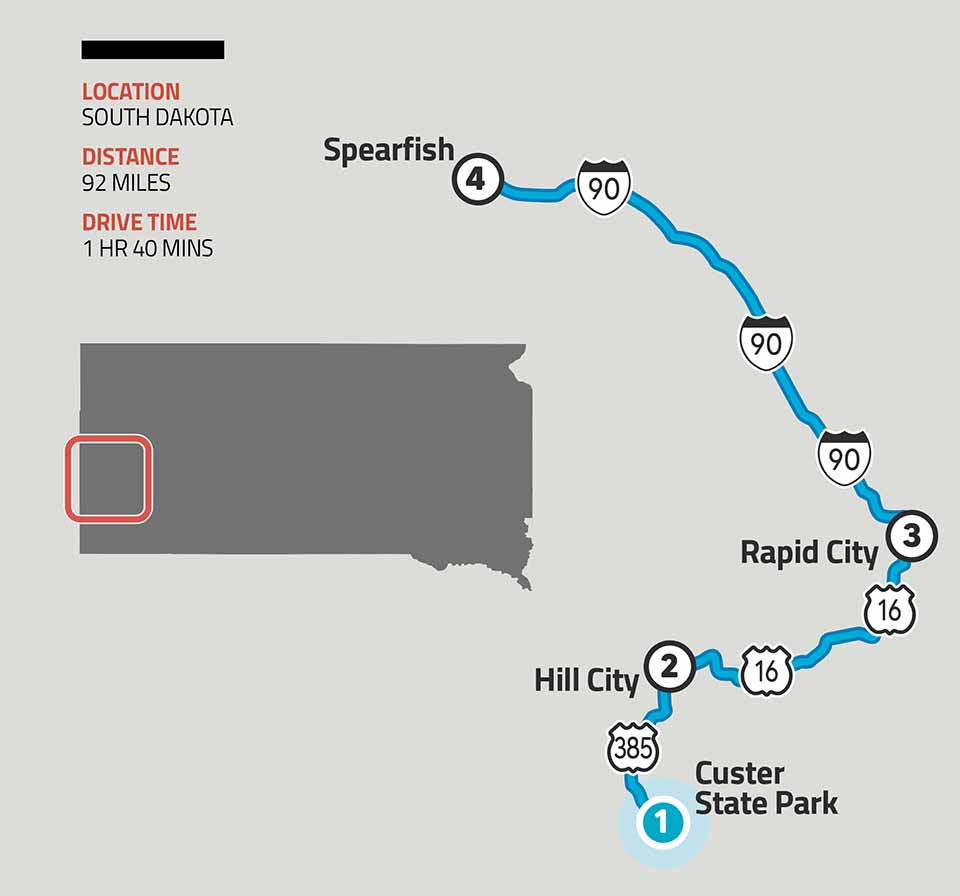 This five-stop trip up South Dakota's west side takes less than two hours to complete, yet manages to pack in a lifetime of outdoor adventures. From rare animal encounters to underground worlds brimming with bizarre rock formations, you'll get to experience nature in ways you never thought possible. Resist the urge to speed down the road – doing so may cause you to miss hidden street art, iconic monuments and fly-fishing heaven.
1. Custer State Park
Starting point
You don't have to go all the way to Africa for an action-packed safari experience. Named one of the World's Top Ten Wildlife Destinations, Custer State Park brings you face-to-face with a herd of 1,500 North American bison. Cruise down the 18-mile Wildlife Loop Road to see these magnificent beasts along with other animals like antelope, deer, coyotes, bighorn sheep, prairie dogs and more. You'll also encounter the famous "begging burros," wild donkeys that will come right up to your window in search of snacks.
2. Hill City
Drive 14 miles • 18 minutes
Use Hill City as your base for exploring Mount Rushmore. Located about 10 miles away, the national monument is a sight to behold with gigantic faces of four U.S. presidents chiseled into hard granite. Get the perfect photo from the expansive Grand View Terrace and stop by the Lincoln Borglum Visitor Center to learn how the massive sculpture was carved. Back in Hill City, board the 1880 Train to chug through the scenic Black Hills by a vintage steam engine.
3. Rapid City
Drive 27 miles • 33 minutes
Art covers every nook and cranny of this creative little town. Snap selfies with life-size statues of past presidents and look out for the Sculpture Project: Passage of Wind and Water, which features 21 granite pieces by Masayuki Nagase. You can also view ever-changing street art down Art Alley and a 180-foot Cyclorama Mural in the Dahl Arts Center. When you're done admiring the visual works, go underground in Jewel Cave National Monument to discover shimmering calcite crystals, fragile gypsum strands and other stunning formations. At more than 200 miles in length, this cavern is considered the longest cave in the world.
4. Spearfish
Drive 51 miles • 49 minutes
Driving down the Spearfish Canyon Scenic Byway puts you smack in the middle of spectacular Black Hills scenery. Pull over to take pictures of Bridal Veil Falls and Roughlock Falls. Spearfish Falls is a bit out of the way, but locals say the walk is worth it to see its roaring waters. Wherever you end up stopping, keep your eyes peeled for over 200 bird species and drop your rod into the pools and rapids along the creek to hook a variety of trout. It's worthwhile just to visit Spearfish for the scenery.