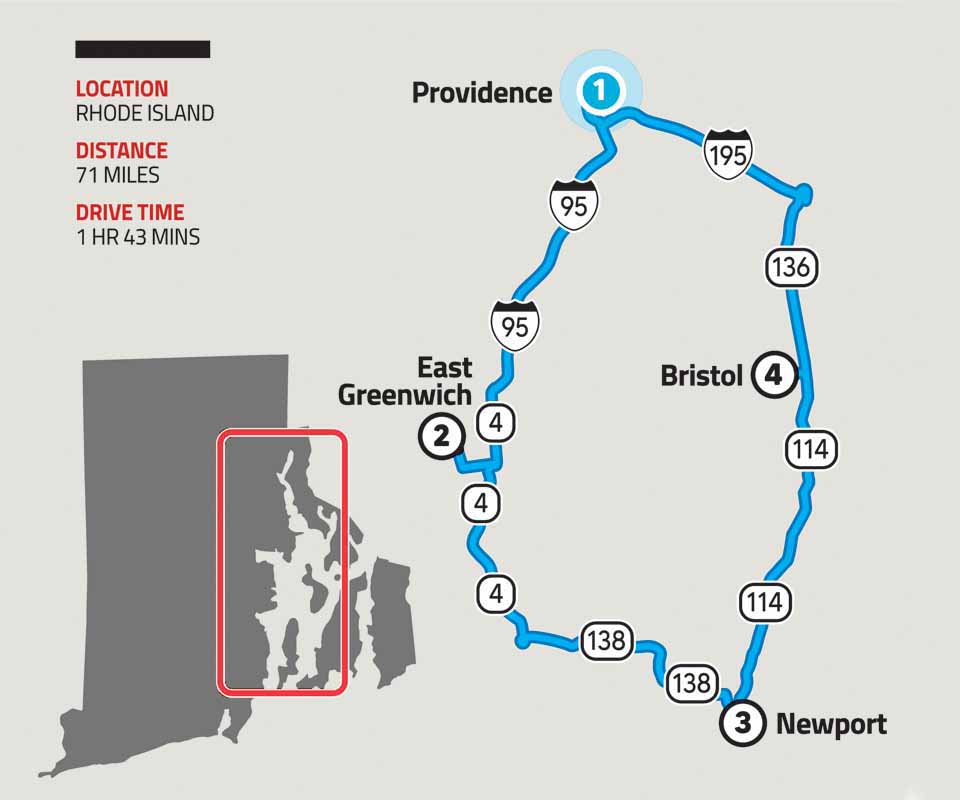 During the Gilded Age at the turn of the century, well-heeled Americans with names like Getty, Vanderbilt and Rockefeller enjoyed carefree summer days in lavish mansions overlooking the Atlantic in Newport. Today, the area still attracts America's upper crust, but for real excitement, folks go to Providence for blazing fun.
1. Providence
Starting Point
Providence's sophisticated foodie scene features cuisine from around the world, while fans of mobile fare can enjoy one of the Food Truck Events held through the city. Time your visit with the Warwick Food Truck Nights or PawSox Food Truck & Craft Beer Festival. Feel the burn during the city's legendary WaterFire, a series of nearly 100 bonfires that blaze just above the surface of the three rivers that run through town. For an urban adventure, launch a kayak on the Providence River.
2. East Greenwich
Drive 18 miles • 25 minutes
Get your fill of history in this coastal town, home to the Varnum Memorial Armory. Exhibits on display include uniforms and armament from the Revolutionary War through the Vietnam era. Exhibits shed light on the evolution of the clothing worn by soldiers as well as the gear they used in battle. If your appetite leans toward the gastronomical, you'll be happy to know that East Greenwich is home to an exceptional range of eaters, from eclitic nouveau cuisine to hearty steak-and-potatoes fare.
3. Newport
Drive 20 miles • 24 minutes
Overlooking the Atlantic Ocean, Newport has always entice wealthy leisure seekers for fun in the sun. Some of the rich folk put down roots, building huge mansions that preserve more than 200 years of history. These majestic structures once housed industrialists who spearheaded America's Gilded Age. Mansion tours take visitors to places like Belcourt Castle, a privately owned estate that has been newly restored with swirling ceilings, dark-wood floors and gleaming chandeliers. Considered the grandest of Newport Mansions, the Breakers is a 70-room Italian Renaissance-style Palazzo that was inspired by elegant residences in Genoa and Turin.
4. Bristol
Drive 15 miles • 26 minutes
Bristol comes right out of central casting to fulfill the role of quintessential New England town. Locals strive to maintain the many Colonial homes that line the town's streets, and the quaint storefronts in the downtown area exude a distinctly homey vibe. Take a leisurely strole through historic buildings like the Linden Place Museum, a Federal-style mansion dating back to 1810.
Drive 18 miles, 28 minutes, back to Providence to complete your loop.