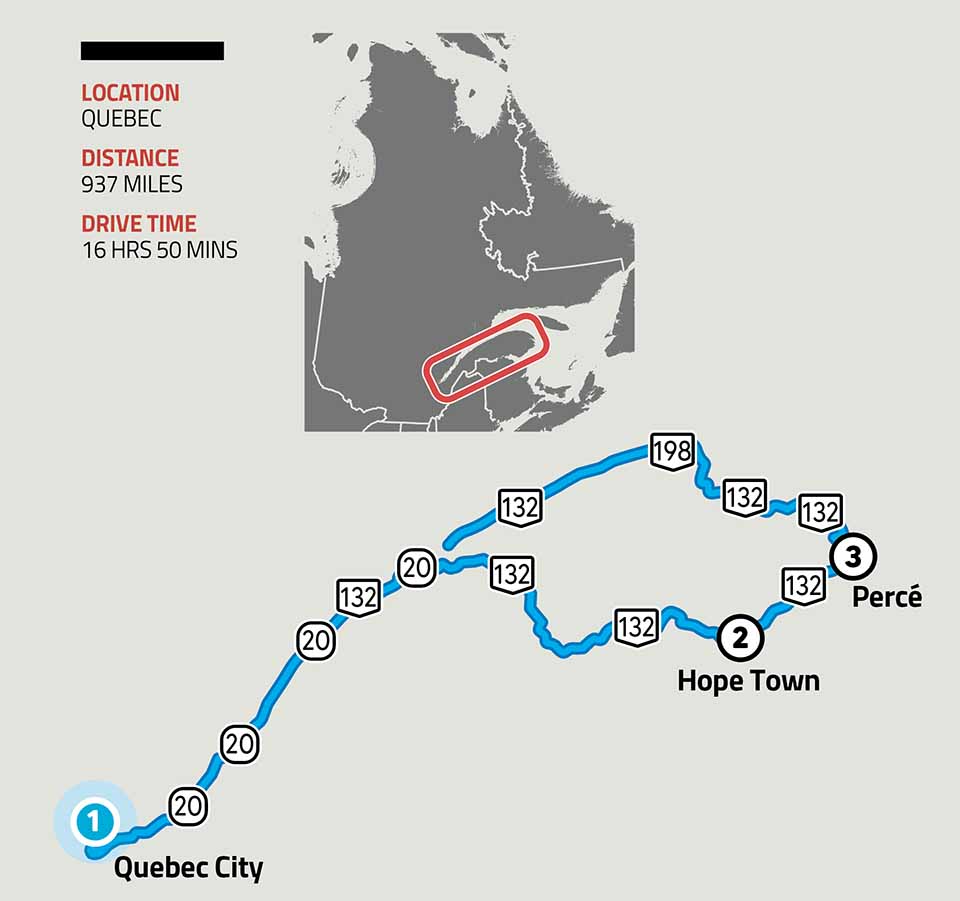 Take a trip that starts along the banks of the St. Lawrence River in historic Québec City and takes travelers to the Gaspé Peninsula, a 11,998-square-mile expanse with rugged coasts and quaint fishing villages. Journey into the past on cobblestone streets and witness a natural attraction that has gained UNESCO status.
1. Quebec City
Starting Point
This French-Canadian metropolis is a window into the region's storied past. Founded in 1535, the city's Old Town preserves several centuries-old stone buildings. Be sure to look at the Fairmont Le Château Frontenac, a hotel opened in 1893. Constructed in the elegant chateau-style design tradition of Canada's grand railway hotels, this building is considered to be the most photographed hotel in North America. Nosh on some Poutine at a cozy restaurant, then burn off those calories by following the Governeur's Walk, which leads to stunning views of the St. Lawrence River.
2. Hope Town
Drive 406 miles • 7 hours, 14 minutes
This charming coastal community is a fantastic launching pad for adventure in surrounding attractions. Down the coast to the west lies Bonaventure, home to Bioparc, an animal park that's home to 40 native animal species that are native to the Gaspé Peninsula. Visitors can hike an outdoor trail and help the animals at mealtime. Further west lies Miguasha National Park, site of fossils dating back 370 million years ago to the Devonian Period. See the preserved fossils then hike the shoreline, with gorgeous views of the Gulf of St. Lawrence.
3. Percé
Drive 63 miles • 1 hour, 19 minutes
The drive along the coast of the Gaspé Peninsula consists of hundreds of postcard-worthy views of gorgeous coastline punctuated by small villages and lighthouses. Along the coast facing the Gulf of St. Lawrence, visitors will be compelled to see the Percé Rock, a geological formation off the coast with 289-foot sheer cliffs. The 1,420-foot-long limestone monolith is named after the hole at the water level. At the UNESCO Global Geopark, travelers can observe the stunning rock from a glass platform suspended 660 feet above the ground. You can also kayak at the base of the daunting rock walls. Then take a boat excursion to nearby Bonaventure Island, home to boutiques, restaurants and cafés.
Drive 468 miles, 8 hours, 17 minutes to return to your starting point of Québec City.