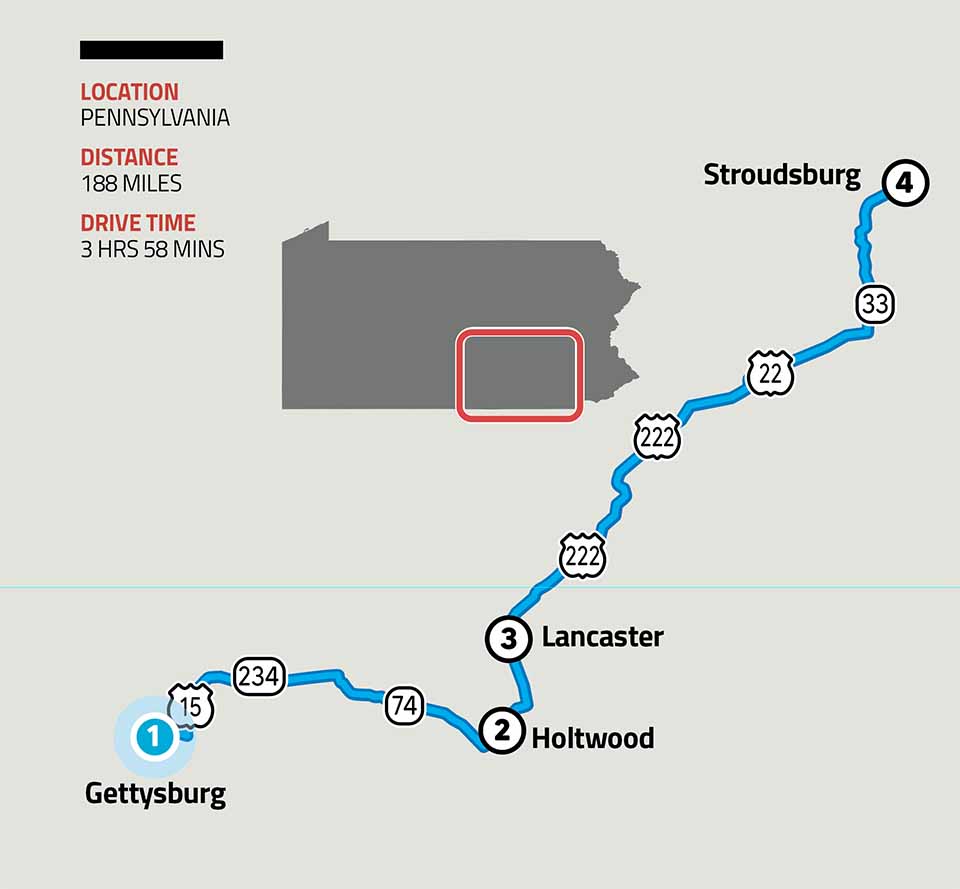 Few road trips are as charming as this southeast Pennsylvania itinerary. From beautiful views of the Susquehanna River to the outdoors fun in Stroudsburg, these rural roads will take you on a fascinating journey into the past. Get ready to be transported back to the battlefields of the Civil War and experience a simpler way of life in Amish communities.
1. Gettysburg
Starting point
Gettysburg evokes a sense of calm with its green rolling hills and bucolic fields. But this rural corner of the Keystone State hasn't always been this quiet. In 1863, the area was the site of one of the bloodiest battles of the Civil War. At Gettysburg National Military Park, licensed battlefield guides offer thought-provoking tours, while the annual Gettysburg Reenactment in July brings you back to the days when the hills rippled from gunpowder explosions. With its turbulent past, it's not surprising the town is a hotbed for paranormal activity. Take a ghost tour through supposedly haunted landmarks and you may just encounter a spirit from the past.
2. Holtwood
Drive 63 miles • 1 hour, 31 minutes
Get out of the car and stretch your legs at the Holtwood Environmental Preserve. Almost 40 miles of trails lead you to butterfly gardens and the nationally recognized Shenk's Ferry Wildflower Preserve. Bird-watching is especially excellent with migrating warblers and nesting bald eagles on display in spring. The Susquehanna River runs right beside the preserve, so cast a line to catch walleye and bass.
3. Lancaster
Drive 18 miles • 30 minutes
This city set in the heart of Pennsylvania Dutch country has the largest Amish community in the country. The Amish are a religious group who choose to live a traditional life without modern conveniences like electricity and cars. Immerse yourself in their way of life by taking a buggy ride through private Amish roads and farms. Locals say you can't leave without digging into a slice of shoofly pie, a fluffy molasses dessert that's guaranteed to satisfy any sweet tooth.
4. Stroudsburg
Drive 107 miles • 1 hour, 57 minutes
Nestled in the Pocono mountains, Stroudsburg is a small town that leaves a big impression on visitors. Shoppers can peruse the many shops, art galleries and cafes that line the streets, and even enjoy world-class entertainment. The First Saturday Art Walk showcases the town's wealth of creativity. For cyclists, the town's ample trails will give you opportunities to explore Poconos vistas. Ambitious bikers can follow the 13-mile Cherry Valley Road course, which runs past forested hills and lush fields.