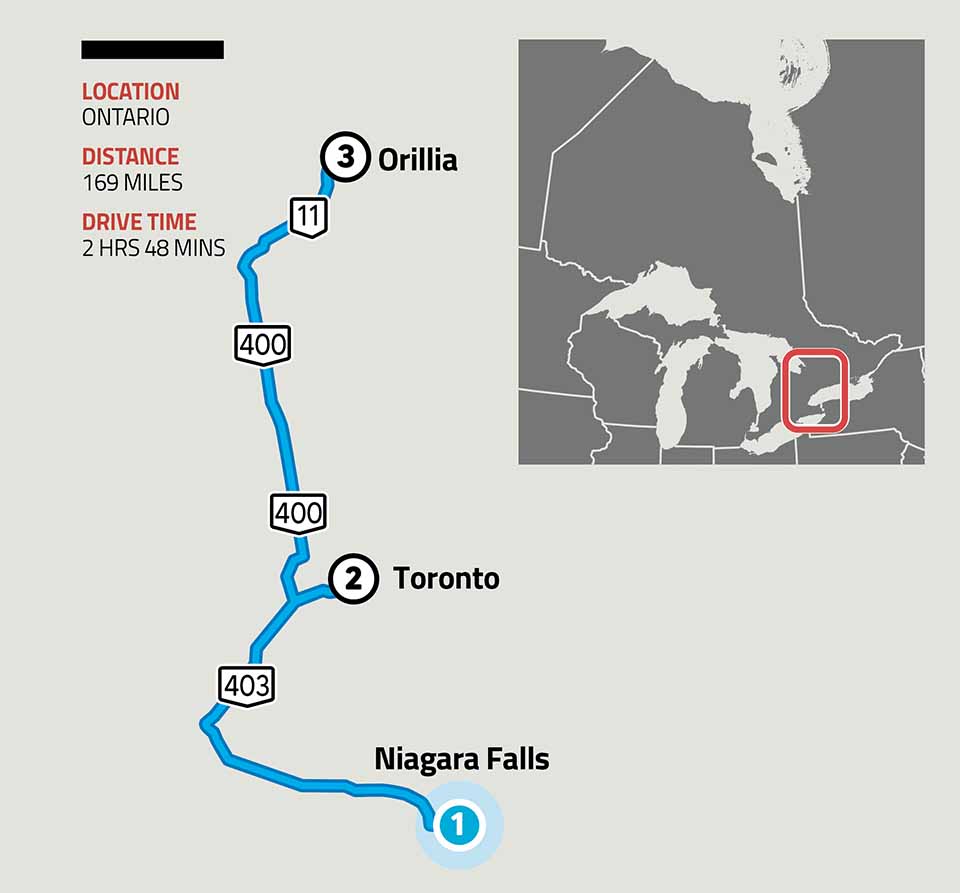 Truly a land of plenty, Ontario is home to hundreds of thousands of picturesque lakes and endless forests that stretch as far as Hudson Bay. But that's not all. It's also got some of Canada's most vibrant and cosmopolitan cities, as well as one of the world's great natural wonders. On this route, you'll experience the greatest hits of the Heartland Province as you travel from Niagara Falls to Toronto and beyond.
1. Niagara Falls
Starting Point
A feast for the senses, Niagara Falls is a one-of-a-kind spectacle you've got to see — and hear and feel — to believe. But if the thunderous roar and spraying mist aren't enough, you can journey behind the falls for the ultimate Niagara experience. After descending 125 feet by elevator, you'll step out onto viewing platforms directly behind the crashing cascade. It's a once-in-a-lifetime experience of awe-inspiring proportions. Thrill-seekers looking for a bird's eye view of the iconic cascade should try the Zipline to the Falls experience. The breathtaking trip delivers adventurous visitors an astounding 2,200 feet to the bottom of Horseshoe Falls.
2. Toronto
Drive 80 Miles • 1 Hour, 19 Minutes
As Canada's cosmopolitan capital and one of the most diverse cities in the world, this urban mecca draws visitors from around the globe for its first-class food, iconic attractions and the easy-going, welcoming vibe of the local community. Start your visit atop the CN Tower, North America's tallest structure, where you can enjoy multiple viewing platforms or dangle 116 stories above the ground as part of the heart-pounding EdgeWalk experience. From there, try the Royal Ontario Museum for natural history, or head to Toronto Island Park for a serene escape within city limits. Some savvy visitors even explore the city via its incredible food scene. The Kensington Market neighborhood is home to numerous ethnic eateries, while Old Town boasts historic markets. Check out the phenomenal brewery scene in town.
3. Orillia
Drive 89 Miles • 1 Hour, 29 Minutes
Nestled on the shores that connect Lake Simcoe with Lake Couchiching, this small town boasts a picture-perfect waterfront and a historic downtown brimming with quirky cafes, boutiques and a thriving arts scene. Head to Couchiching Beach Park for swimming and picnics or explore the scenic trails and sandy beaches at the smaller waterfront parks throughout the area. Anglers should head straight to Lake Simcoe, where winter lake trout and smallmouth bass are both abundant. Among experts, the lake is rightly regarded as one of the best fishing grounds in the province.