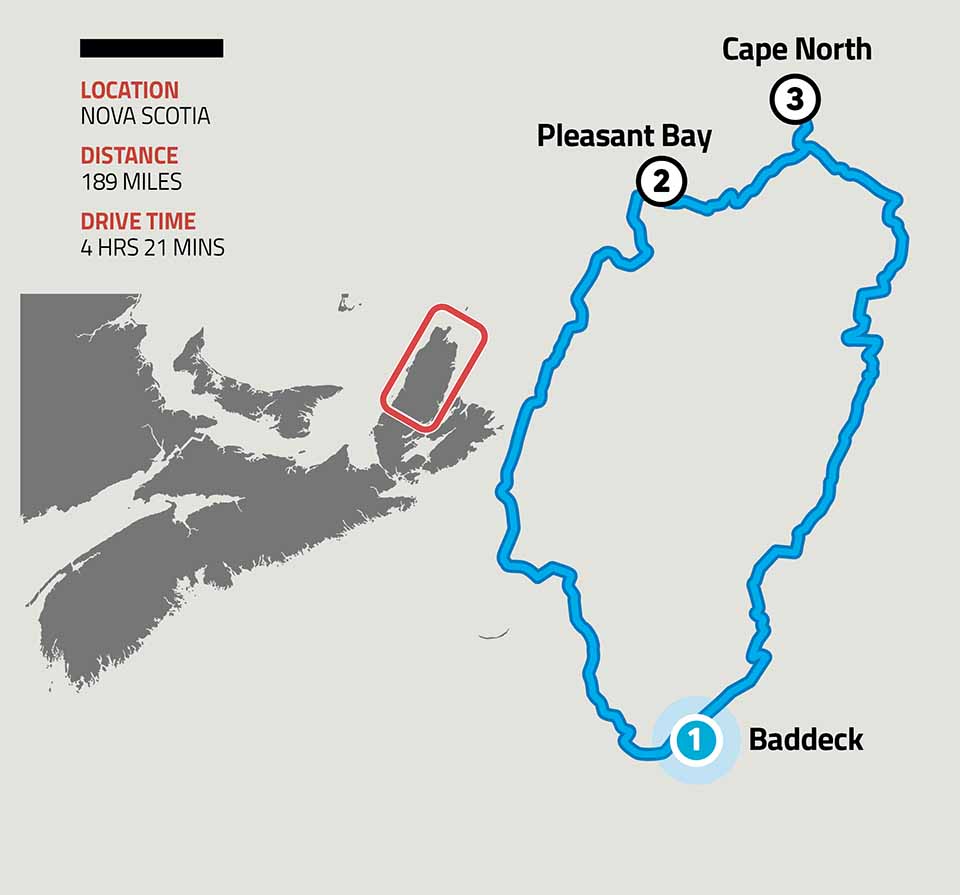 Although Nova Scotia is Canada's second-smallest province, it's packed with outstanding things to see and do for the adventurous RVer. There are countless miles of scenic coastal highways winding through towering highlands, lots of little towns to explore and several outstanding hiking trails, including the 185-mile Cabot Trail at the north end of Cape Breton Island. Bring your binoculars — the views are breathtaking.
1. Baddeck
Starting Point
The town of Baddeck is the heart of Nova Scotia's Cape Breton Island. It's set on beautiful Baddeck Bay, where you can easily find boat tour companies that'll take you for a lovely and scenic cruise. Check out driving tours — via a tour company or your RV — and walking and kayak tours, too. No visit is complete without dropping into Alexander Graham Bell's summer home. "Mr. Watson, come here," were the first words communicated by telephone, courtesy of the inventive Mr. Bell. Visit his home, a National Historic Site, packed with exhibits and interactive demos.
2. Pleasant Bay
Drive 80 miles • 1 hour, 50 minutes
A great stop on the northwest shore of Cape Breton Island is Pleasant Bay. Explore the charming town and trek outstanding trails in Cape Breton Highlands National Park. And be sure to hike the 2.5-mile trail to the top of Roberts Mountain for outstanding, 360-degree views out over the bay, the Gulf of St. Lawrence and the surrounding highlands. While you're there, set some time aside to go on a whale-watching expedition. Indeed, Pleasant Bay is considered "whale central." Stop in the Whale Interpretive Center and get a quick education on these giants. Then go on a whale watch and see 'em for yourself!
3. Cape North
Drive 21 miles • 32 minutes
Here's a lovely rural community at the very northern tip of Cape Breton Island. You're at the edge of the North American continent and the view from the headlands is spectacular. The waters below offer prime kayaking conditions — BYOK (bring your own kayak) or take a tour through wildlife-rich saltwater marshes. Seeking land recreation? Bike on the Cabot Trail for stunning views. It's named for explorer John Cabot, who landed here in 1497, just five years after Christopher Columbus's famous landing on the New World. The famous Cabot Trail loops 185 miles of unbelievable views through the Cape Breton Highlands.
Drive 88 miles, 1 hour, 59 minutes to return to Baddeck.