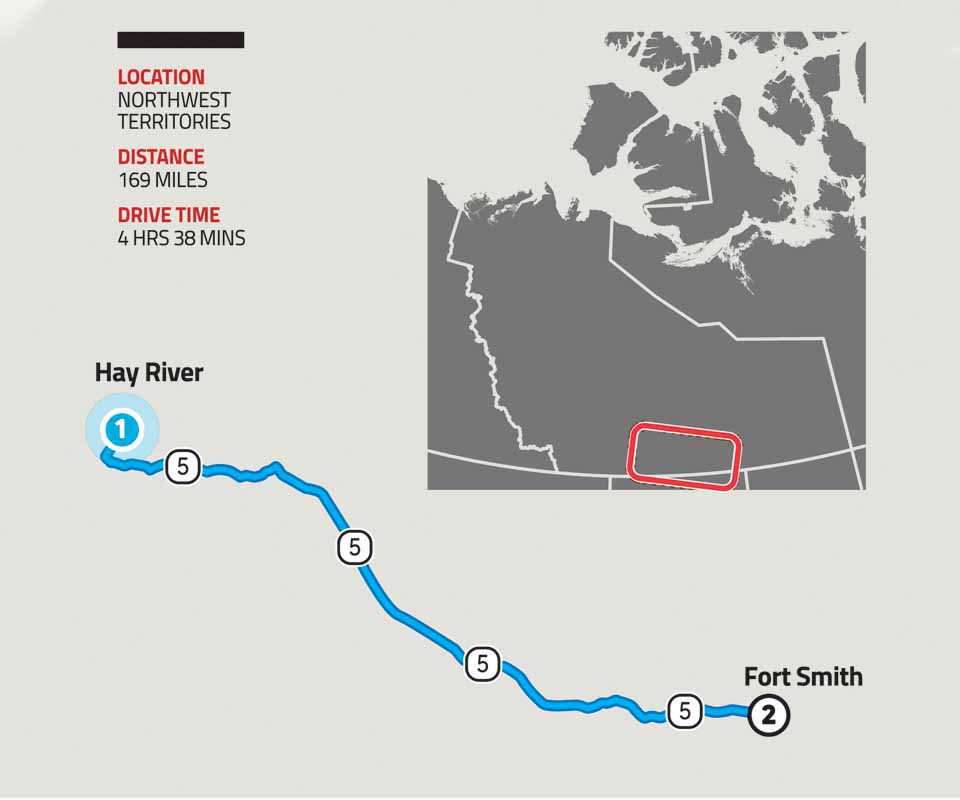 Oh, give me a home where the buffalo roam…" You may remember "Home on the Range" as sung by John Denver, or years earlier by Gene Autry. And where do those furry beasts wander today? The world's largest herd of bison (aka, buffalo) lives in Canada's Northwest Territories. But nature has more for you. Encompassing more than 500,000 square miles populated by only 44,000 or so people, this is an area rich with all kinds of wildlife, lakes, mountains, canyons, islands and huge tracts of wilderness. Truly nature at its finest.
1. Hay River
Starting Point
Hay River: it's a town, it's a river. The town's known as the "Hub of the North," where you might catch a carnival or a lobster fest. The river empties into Great Slave Lake, the deepest lake in North America and the 10th largest lake in the world, where the fishing's great, too. While in the area, take a side trip to Alexandra Falls and Louise Falls. Alexandra Falls is a 105-foot-tall curtain of cascading water in Twin Falls Gorge Territorial Park. And don't miss Alexandra's little sister, 50-foot Louise Falls, an easy 2-mile hike through a pastoral wooded setting.
Along the way
Canada has a fantastic network of national parks, and Wood Buffalo is the largest of them all. Established in the 1920s as a haven for the last herds of buffalo, those survivors have multiplied big time. The estimated 3,000 wood bison that roam the park constitute the largest free-moving, self-regulating wood bison herd left on the planet. Explore this 28,000 square-mile park — you might also see bears, wolves, moose, foxes and beavers. Go swimming, canoeing, camping and fishing. Feel like some recreation? Launch a kayak into one of the park's many lakes. Grab your kayak and paddle the day away on the park's many serene lakes. Enjoy the quiet on Lake Claire and Mamawi — no motorboats or personal watercraft allowed.
2. Fort Smith
Drive 169 miles • 4 hours, 38 minutes
Looking for thrills? The Slave River rapids near Fort Smith offer some of the world's finest whitewater rafting and kayaking. Choose from four sets of rapids – from easy Class I to "un-runnable" Class VI. Choose your level of difficulty, strap on your personal flotation device and go. Outfitters will help you get the gear that you need for your adventure. NOTE: Don't exceed your kayaking abilities. When night falls, enjoy the largest Dark Sky Preserve on earth. Ever wonder what the night sky looked like BEFORE electric lights? Nearby Wood Buffalo Park hosts the world's largest Dark Sky Preserve in late August.