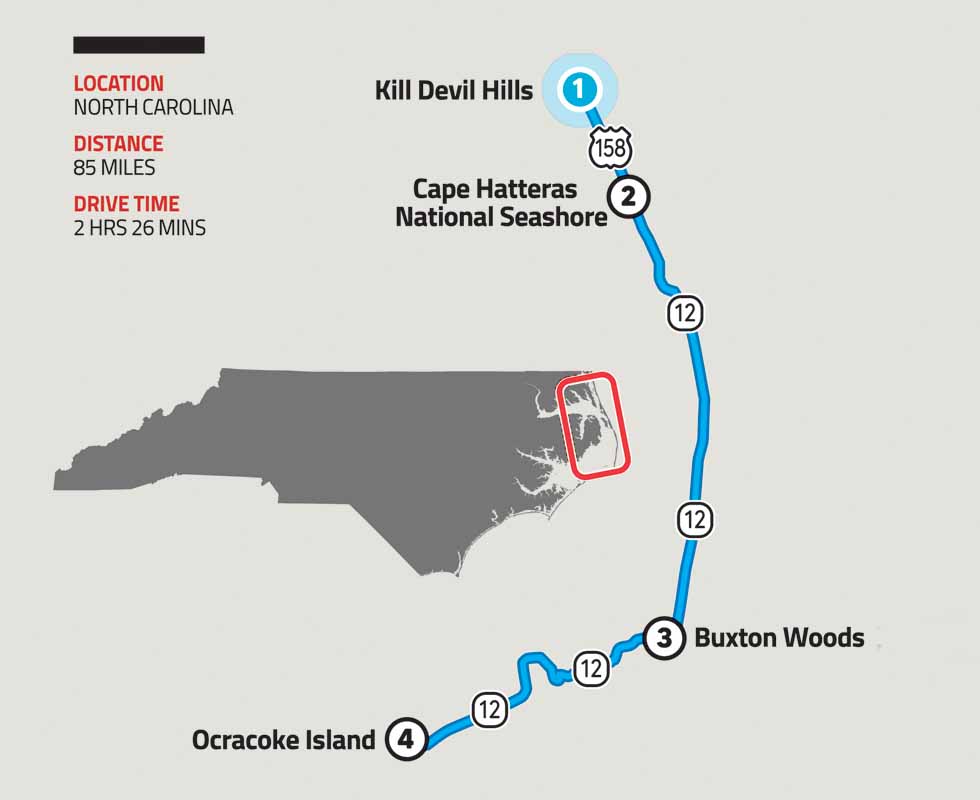 A longtime haven for outlaws and outcasts, the Outer Banks area is now a favorite destination for history buffs and nature lovers. This 130-mile stretch of barrier islands means plentiful sand, surf and solitude. Thankfully, the locals now are a lot more welcoming than the pirates who used to call these waters home.
1. Kill Devil Hills
Starting Point
One of the great achievements of American ingenuity took flight among these hills and is celebrated at the Wright Brothers National Memorial. Wander among the tools and models that brought powered flight to life at the visitors center before touring the hangars and hilltops of the four flight routes the Brothers followed. Workshops, guided tours and family activities are available throughout the year.
2. Cape Hatteras National Seashore
Drive 46 miles • 52 minutes
Despite boasting the tallest brick lighthouse in the country, the rough tides off the coast have bested many ships, giving this area the nickname "the Graveyard of the Atlantic." A visit to the Museum of the Sea, adjacent to the iconic Cape Hatteras Lighthouse, offers insights into the region's maritime history. Pack a picnic and spend the rest of the day enjoying your own secluded spot along the miles of shoreline.
3. Buxton Woods
Drive 12 miles • 18 minutes
With miles of beaches to draw you in, it's easy to overlook the maritime forests that flourish on the Outer Banks. The Buxton Woods offer an alternative to the surf. There are ponds, marshes and pine trees found along a network of trails. One easy access point is just past the Cape Hatteras Lighthouse in the town of Buxton — hike all seven miles and you'll be rewarded with stunning views of the ocean from atop massive dunes. Red-tailed foxes, deer and bald eagles call these rustic paths home, so be on the lookout.
4. Ocracoke Island
Drive 27 miles • 1 hour, 16 minutes
The last island in the Outer Banks can only be reached by ferry, but it's more than worth the trip. Ocracoke Village is an artist's hamlet with a bustling gallery and nightlife scene. Local bands perform regularly, and sunset cocktails overlooking Silver Lake Harbor are a must. Make sure to visit the Pony Pen, where Ocracoke's distinctive wild horses are on display. Walk Ocracoke's 16 miles of undeveloped beaches and find your own spot. Historians say that the island was Blackbeard the pirate's favorite hiding place, and it just might land on your list of getaways.