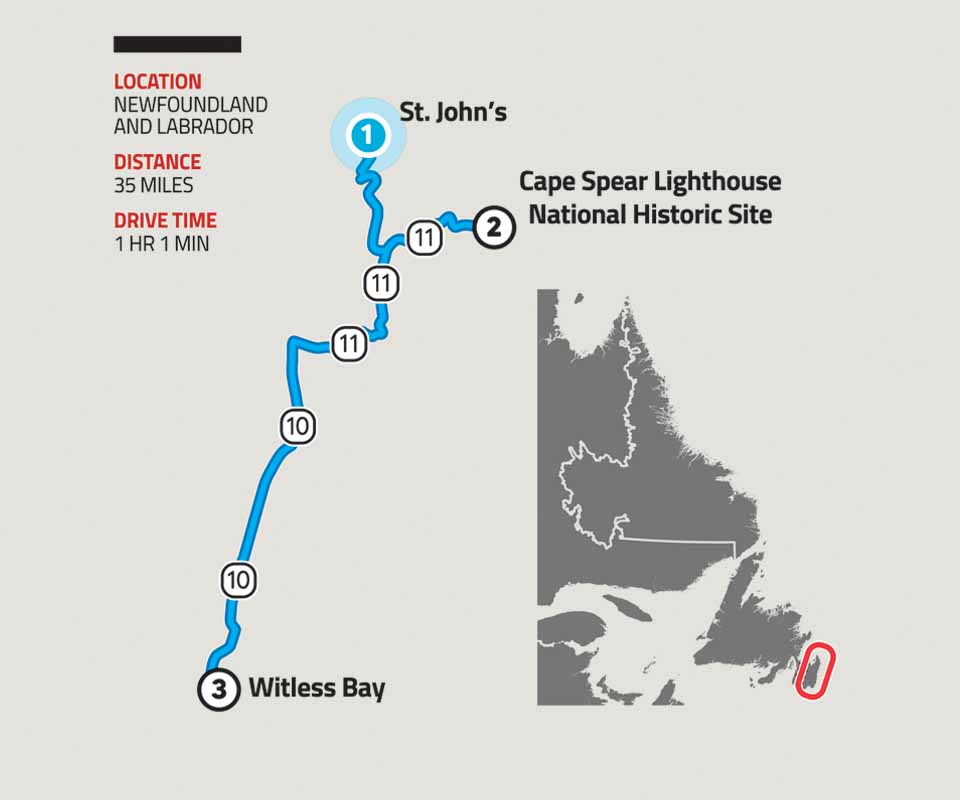 Two names, one Canadian Province. Newfoundland and Labrador constitute a ruggedly scenic region on North America's farthest eastern tip. Newfoundland is the southern island section; Labrador is the sparsely populated northern inland area. Together, you have well over 150,000 pastoral miles to RV through including thousands of miles of spectacular coastline highways. Keep your eyes seaward for whales, sea birds and icebergs. Visit the region's many craft breweries, hike trails through ancient mountains, and camp in delightfully secluded surroundings.
1. St. John's
Starting Point
When you reach St. John's, Newfoundland, head on over to 50 Pippy Place, headquarters of the East Coast Trail Association, and stock up on info about the East Coast Trail — a network of 26 breathtaking trails that traverse the easternmost edge of North American. Pick your trail and you'll see everything from enormous seaside cliffs, to sea stacks, lighthouses, eco-reserves, whales and seabirds and icebergs, oh my! Feeling like a local? Kiss the cod and become an honorary Newfoundlander! Find a pub, take a belt of "screech" (rum), take a bite of bologna and, yes, kiss a cod. Bravo!  The ceremony essentially confers good luck on the participant. Visitors can enjoy "screeching" at Christian's Bar in downtown St. John's. You'll feel like a local in no time.
2. Cape Spear Lighthouse National Historic Site
Drive 10 miles • 18 minutes
Stand on this, the most easterly point in North America, and gaze east over endless miles of Atlantic Ocean. Are you an early bird? Witness the sun beginning its daily journey as it peeks above the watery horizon. Keep your eyes peeled for icebergs, whales and even porpoises. History buffs should tour the historic 1836 lighthouse. Talk about old. While Canadians built this beautiful lighthouse (now a National Historical Site), down in the U.S., Davey Crocket and posse were duking it out at the Alamo.
3. Witless Bay
25 miles • 43 minutes
What's the No. 1 top attraction in Witless Bay? Witless Bay Ecological Reserve, where you'll see the world's largest colony of puffins. The other birds who share this rugged landscape include petrel, kittiwakes and murres. But what about whales? Yes, you're likely to spot them, too, in the waters off island reserve. Access to the island is limited so it's best to go with a commercial tour company. Bring your camera, because you'll find unforgettable coastal views — and wildlife — in nearby La Manche Provincial Park. Keep an eye out for beaver, moose, mink, butterflies and a variety of birds.