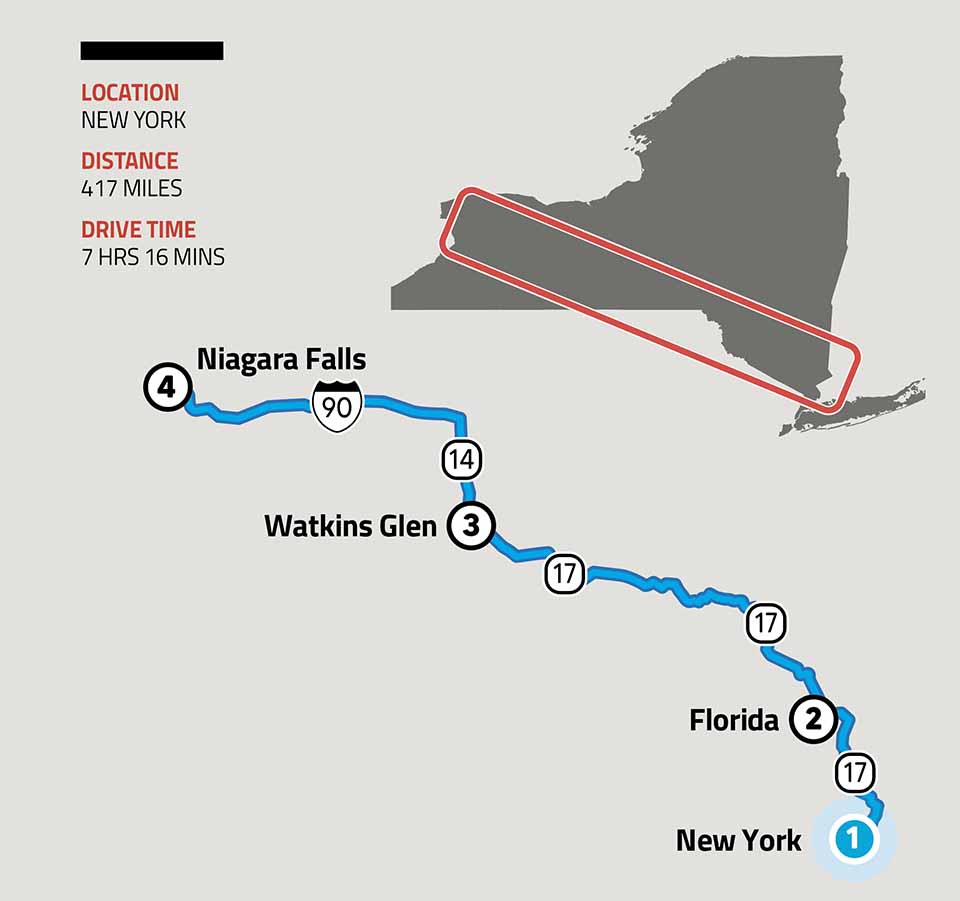 Take a bite out of the Big Apple and then head north in this urban-to-outdoorsy trip. Discover fun and fishing on the Hudson River, cruise through an iconic speedway and finish your trip at a roaring attraction. You'll love the Empire State by the time you're through.
1. New York
Starting Point
New York City has thousands of great things to see and do. A top pick: the 102nd floor Observation Deck atop the Empire State Building for 360-degree views from the very heart of "The Big Apple." While in town, feast on a snack from a street vendor. These purveyors of vittles serve international meals on wheels. Try Ling's Sweet Mini Cakes in Chinatown. Or Gourmet Empanadas in the East Village. Korean BBQ! Tacos! Thai food! Eat on the street in NYC!
2. Florida
Drive 67 miles • 1 hour, 17 minutes
This town sits in the heart of some of New York's most exciting destinations. Directly to the east lies the Hudson River, where towns like Fort Montgomery and Cornwall-on-Hudson open the doors to great fishing and boating on the current. Bear Mountain State Park contains the Trailside Museums and Zoo, hiking, biking and cross-country ski trails. The Perkins Memorial Tower atop Bear Mountain affords spectacular views of the park, the Hudson Highlands and Harriman State Park. To the southwest, the Warwick Valley Winery and Distillery inspires lovers of libations.
3. Watkins Glen
Drive 194 miles • 3 hours, 21 minutes
Watkins Glen is located on the southern shore of beautiful Seneca Lake in the heart of New York's scenic Finger Lakes Region. Watkins Glen State Park's Gorge Trail boasts 19 waterfalls along a 2 ½ mile trail. The North Rim Trail (which is dog-friendly) at the State Park is open year-round and offers a neat perspective, skirting the top edge of the gorge. Southeast of town, Watkins Glen International offers a full schedule of adrenaline-pumping racing action. If you want to get up close and personal with the race circuit, check out Drive the Glen, where you can drive your car on the famed road course. Get out on the water with a sail on a historic schooner on the Finger Lakes for a sightseeing cruise.
4. Niagara Falls
Drive 156 miles • 2 hours, 38 minutes
Niagara Falls State Park is the nation's oldest state park. It offers decks, boats, vista points and trails, allowing visitors up-close vantage points of the 167-foot-high American and Horseshoe Falls. Nearby are adventure attractions, shopping and dining options of every kind. The Aquarium of Niagara showcases 1,500 aquatic animals from around the globe. Visit the Niagara Aerospace Museum or Old Fort Niagara, preserved as it was in the 1700s when France and Britain controlled the untamed region.