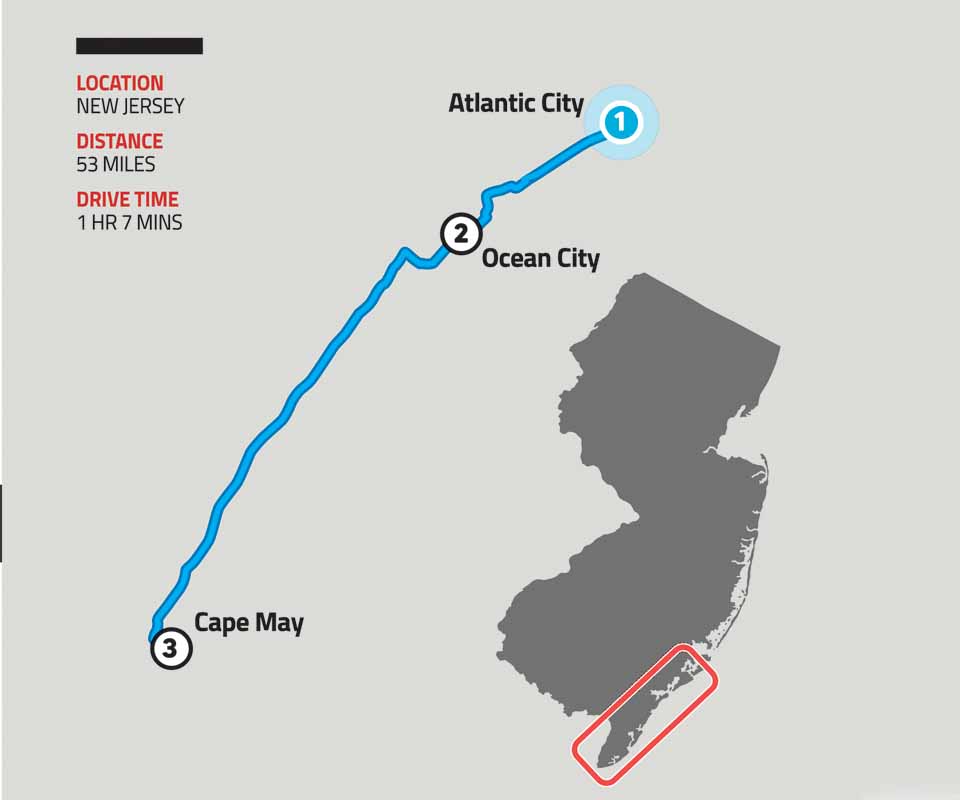 The Jersey Shore lays claim to some of the most popular stretches of sand on the Eastern Seaboard. From boardwalks to beaches, the Garden State puts on quite a show, with casinos, amusement park rides and miles of pretty coastline. Nature lovers will find solace in the serene waters of the salt marshes, with migratory birds that have discovered temporary lodging at local wildlife refuges.
1. Atlantic City
Starting Point
An icon of American culture, the Atlantic City Boardwalk is synonymous with summers at the beach. From saltwater taffy to fortune tellers and arcade games, the boardwalk recalls the lazy days of summer fun year-round. A stroll along the herringbone planks will also take visitors past many of the city's gaming venues, and families will ogle over the amusement park rides along Steel Pier. Hop on your favorite steed for a carousel ride, or throw caution to the wind by launching into space on The Slingshot.
2. Ocean City
Drive 20 miles • 28 minutes
Pick your pleasure and hit the water on a jet ski, in a kayak or take to the air parasailing along the beach. Windsurfing and kite boarding are also popular here, where 8 miles of sand await castle builders and sun worshippers, as well. And look to the skies, as this region lies along the Atlantic Flyway, where migratory birds of a feather do flock together. See if you can spot pelicans, warblers, sparrows or oystercatchers among the hundreds of species that move through this protected pathway. For thrills, hop aboard the Screamer Speedboat Thrill Ride & Dolphin Watch and see mammals frolicking in the current. Inland, more than 100 shops and cafes serve hungry visitors in Ocean City's downtown area.
3. Cape May
Drive 33 miles • 39 minutes
A visit to Cape May will take you back in time to the Victorian age, where houses were stately and colorful, and front porches were expansive. Enjoy an architectural tour of one of the best-preserved towns in the nation, with more than 1,200 buildings from this bygone era located within the city's historic district. Then explore the numerous salt marshes within the Cape May National Wildlife Refuge on a paddleboard or by kayak. Egrets, ibis, osprey and gulls call this place home and love to entertain visitors along its tranquil waterways. Cape May's best beach is at Cape May Point State Park, two miles south of town, where a pristine ribbon of white sand is unblemished by commercialism, and whales can be spotted off the coast from May to December. The park's diverse ecosystems can be accessed along three miles of trails.