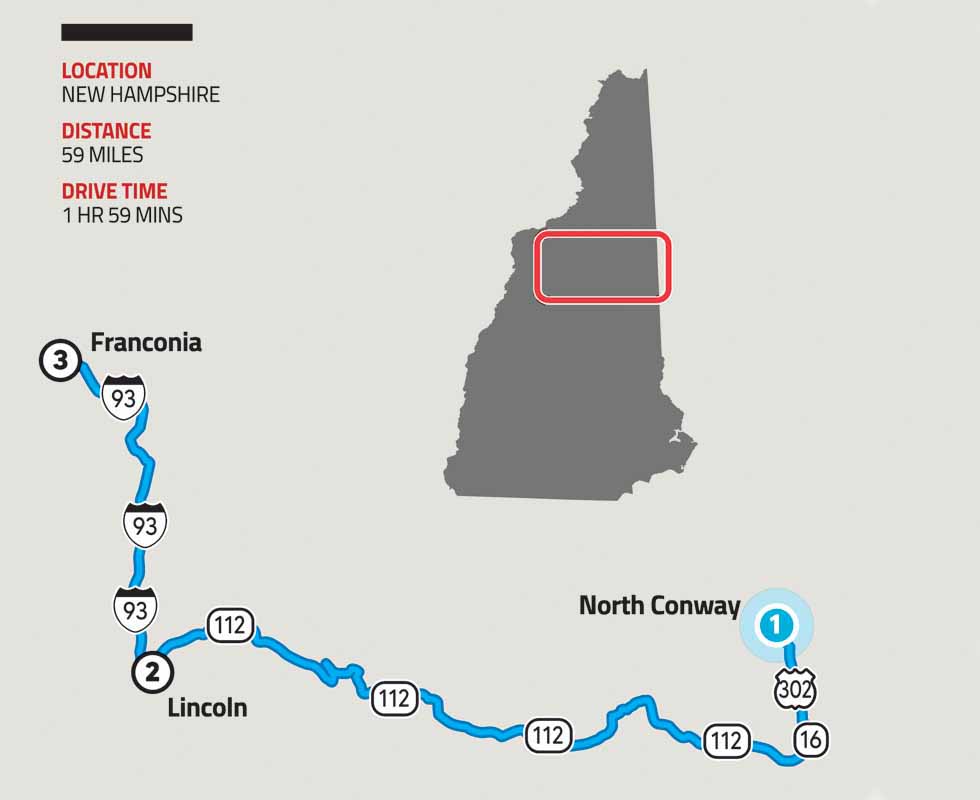 General John Stark, New Hampshire's Revolutionary War hero, famously declared he'd "live free or die" when faced with the struggle against the British. That defiant spirit endures in the Granite State. In fact, New Hampshire license plates carry that in-your-face phrase to this very day. Long known for the rough-hewn independence of its citizenry, New Hampshire is also home to the equally rugged White Mountains range. RV your way down country lanes to gorgeous waterfalls, serene swimming holes, small towns, cities and endless miles of some of New England's richest and deepest woodlands.
1. North Conway
Starting Point
The Appalachian Mountain Club (AMC) operates the Highland Center Lodge at Crawford Notch, New Hampshire. Relax in the gracious space and savor the pristine mountain air and quiet mountain meadow setting. Or use the lodge as your launch point for hiking the state's Presidential Peaks. Go rock climbing, set up the kids with free guided nature activities, study conservation and more. Running through North Conway, the gentle Saco River is an ideal place for canoeing, paddling and tubing in clear water.
2. Lincoln
Drive 42 miles • 1 hour, 1 minute
Lincoln's Alpine Adventures has extreme thrills down pat. Zip down one of eight ziplines; it's 250-feet in the air, 1,600 feet long and speeds up to 60 mph. Or strap in for an off-road drive up, up, up a mountaintop in a 6-wheel-drive Swiss Army transport vehicle. And these hair-raisers are just the beginning of your Lincoln adventure. Hikers can take a remarkable trek alongside a rushing mountain torrent. Traverse two self-guided miles through Flume Gorge, an awesome natural chasm carved by the raging Flume Brook. Trek through covered bridges and get face-to-face with remarkable waterfalls, even natural caves.
3. Franconia
Drive 17 miles • 9 minutes
Here's a sightseeing trip well worth taking: a comfy ride in an 80-passenger aerial tramway — first in America — climbing over 4,000 feet high to the summit of Cannon Mountain. Enjoy spectacular 360-degree views from bottom to top. Once there, explore lovely hiking trails and relax at the mountaintop café. Looking for a retro ride? Old-fashioned cog railways take your breath away as they chug up incredibly steep mountainsides. This one's king of them all – America's first cog railway, scaling Mount Washington, the highest peak in the Northeast United States at 6,822 feet above sea level. On a clear day, visitors can see Maine, Vermont, Massachusetts and New York.