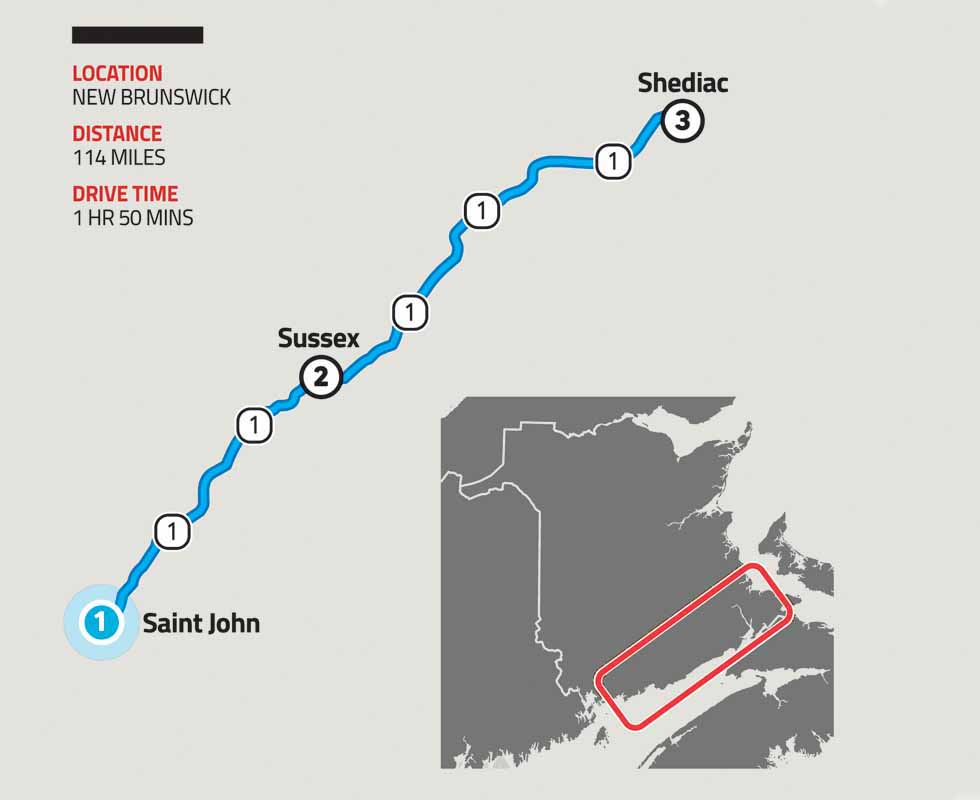 New Brunswick, Canada, is one of Canada's most popular Maritime Provinces. Relish this trip's outstanding seaside drives, pleasant campgrounds, deep forests and lovely views over the Atlantic Ocean. Wind your way through small towns that are rich in local history and culture. See the world's highest ocean tides and a river that runs both ways at the Bay of Fundy. And be sure to crack open a rich, juicy, fresh-from-the-sea lobster in the "Lobster Capital of the World."
1. Saint John
Starting Point
See the world's highest tides in Saint John on the Bay of Fundy. Twice daily, billions of tons of seawater rush in — and out — of the bay. The two-way flow creates a one-of-a-kind natural phenomenon in the Saint John River: the Reversing Falls. At low tide, the river rapids run one way; at high tide, they run the other way. See for yourself in a thrilling jet boat ride. From land, you can view this phenomena from the Reversing Falls Bridge, which crosses over the narrowest point of the gorge almost 100 feet above the water. While in town, don't miss Canada's oldest continuously run farmers market, the Saint John City Market. It's not just a great place to browse and shop; it's a National Historic Site. Founded in 1876, the market sells souvenirs, food and more. Walk through the same gates that have hung at the market's entrances since 1880.
2. Sussex
Drive 47 miles • 45 minutes
Enjoy the town of Sussex's rural lifestyle as you motor past rolling hills, farms and the area's 16 covered bridges. Then drive the Fundy Trail Parkway through Fundy National Park. Cruise the low-speed, high-beauty parkway and watch the tides ebb and flow. That's not all: go hiking, biking, strolling on pristine beaches and observing waterfalls. While in the area, don't miss your chance to explore the scenic Dutch Valley and Waterford regions. Take a backcountry road through timeless pastoral landscapes all through this lovely area.
3. Shediac
Drive 67 miles • 1 hour, 5 minutes
Don't tell Maine's lobstermen, but Shediac proudly claims the title of "Lobster Capital of the World." Lobsters love the area's unusually warm, salty waters (up to 75 degrees in summer) and so do fishermen, swimmers, windsurfers and anybody who loves to just relax on a sunny, sandy, surfside beach. Feeling peckish? Well, this town's serious about lobster. Take a selfie with the giant lobster sculpture. Eat hearty at the lobster festival and be sure to savor a great seafood meal in any of the many great restaurants serving scallops, Atlantic salmon, fresh fish and lobster, of course.