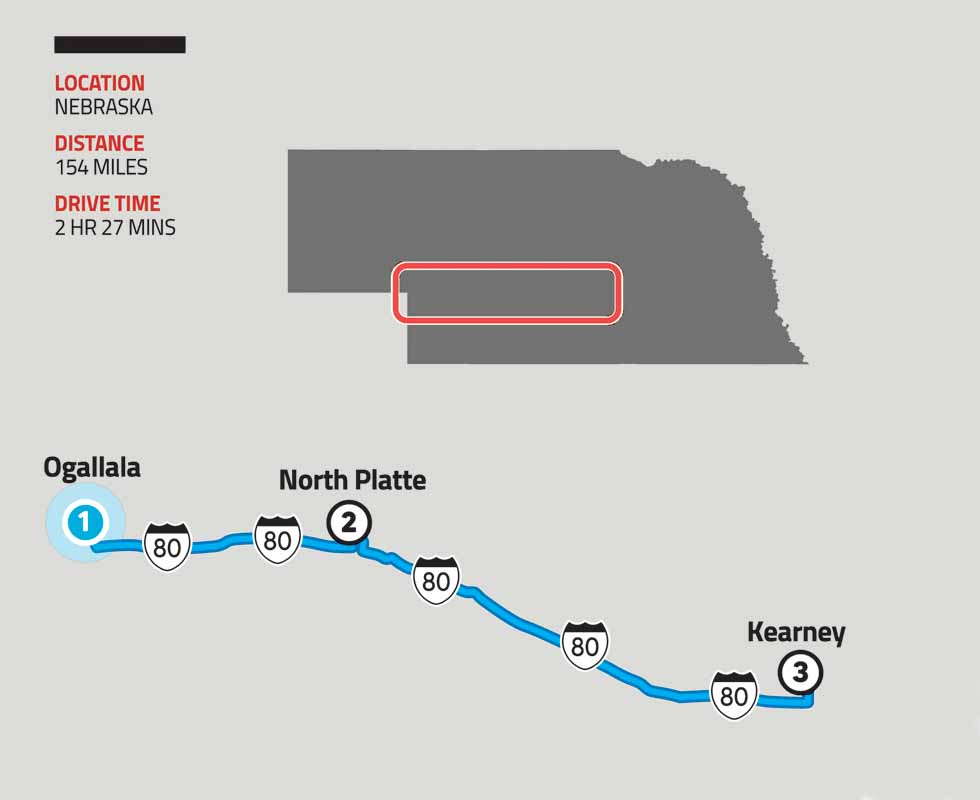 Larger-than-life wonders lurk on the sweeping plains of Nebraska. This tour along Interstate 80 will give you a glimpse of some of Nebraska's most awe-inspiring sights, including a lake that teems with hefty rainbow trout and walleye; the largest rail yard in the world with a viewing tower that serves up prime views for train buffs; and a museum that dramatically arches over the interstate. There's nothing plain about this stretch of the Cornhusker State.
1. Ogallala
Starting Point
At 22 miles long and 4 miles across, Lake McConaughy holds endless possibilities for boaters and anglers. The cool, clear, deep waters make it the perfect place to cast a line for rainbow trout and catfish. Walleye also thrives in these waters, and the state record of 16 pounds, 2 ounces came from "Lake Mac," as the locals call it. In nearby Ogallala, the Mansion on the Hill preserves the area's homesteading past. Tour the structure and marvel at its 10-foot-tall ceilings, solid brass hardware and ornate, curved staircase.
2. North Platte
Drive 54 miles • 53 minutes
This small town is big on trains. Visitors can watch giants roll through the 2,800-acre Union Pacific Bailey Yard, a mind-boggling complex of tracks and switches that constitute the world's largest railroad classification yard. Marvel at all the rolling action from the observation deck atop the eight-story Golden Spike Tower and see all the work that goes into sorting a whopping 10,000 railroad cars a day. Check out the Visitor Center to learn about the yard's amazing history, then buy a souvenir at the Golden Spike Store. For more railroad fun, head to the Cody Park Railroad Museum. You'll find plenty of historic artifacts here including the Challenge 3900 series steam locomotive, the only one accessible to the public, and the largest 6900 series diesel locomotive ever built. The museum also features a restored railroad depot, caboose, and a variety of rail cars.
3. Kearney
Drive 100 miles • 1 hour, 34 minutes
The Great Platte River Road Archway Monument can't be missed from Interstate 80; in fact, the structure crosses the highway like a bridge, an audacious architectural accomplishment that has made it one of Nebraska's top landmarks. The interior of the long museum is no less amazing. On display are exhibits that chronicle the hardships and accomplishments of pioneers who traveled through the region along the same route taken by the interstate. See artifacts from the Pony Express, the Transcontinental Telegraph and the Transcontinental Railroad.