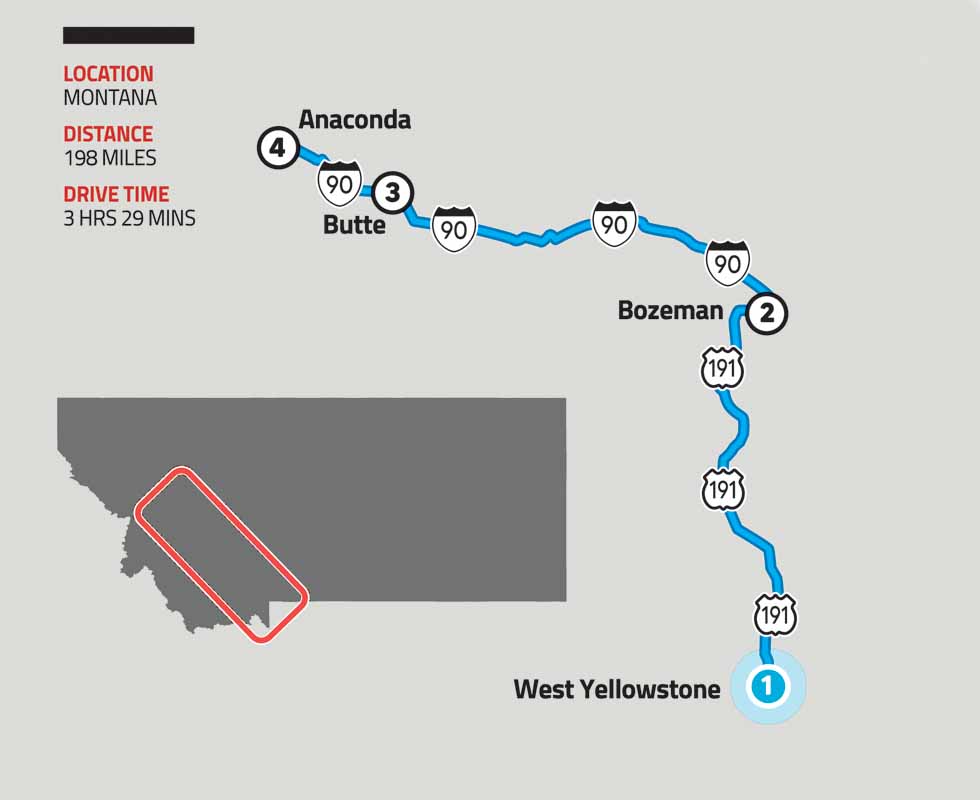 Boasting one of the most dramatic landscapes in the country, Montana is chock-full of scenery straight out of a Wild West flick, including dusty pioneer-era towns, snow-capped peaks, raging rivers and thrilling wildlife encounters. While you'll experience all of these and more on this road trip through Big Sky Country, you can also count on a hip, welcoming vibe and a fun-loving circuit of seasonal festivals and traditional events. Expect a little something for everyone when you cut a path across the "Last Best Place on Earth."
1. West Yellowstone
Starting Point
On the doorstep of the world's first national park, West Yellowstone is the ideal jumping off point for exploring Yellowstone National Park's vast wilderness. Just 32 miles from Old Faithful, you're within reach of the park's most acclaimed natural wonders, while still being able to discover off-the-beaten path adventures. Paddlers should head to the sprawling Yellowstone Lake for canoeing and kayaking opportunities, while anglers have plenty of chances to settle on one of the park's famously serene waterways for a chance to catch cutthroat, rainbow, brook, brown trout and more.
2. Bozeman
Drive 89 miles • 1 hour, 41 minutes
The town of Bozeman combines a cool mountain-town attitude with an adventurous outlook. After exploring a historic downtown district brimming with brewpubs, local history museums and galleries, head to the mountain ranges that surround the town on all sides. You can hike, bike and climb to your heart's content, but in the end fishing is king in this hotspot often ranked among the best trout fisheries in America. Expert guides can help organize trips to the nearby Gallatin Madison and Yellowstone Rivers, and most of the rivers and streams are so varied and plentiful that you're almost assured a secluded spot all to yourself.
3. Butte
Drive 85 miles • 1 hour, 22 minutes
Once known as the "Richest Hill on Earth," Butte has a long history as one of the great Wild West mining towns of the 19th-century. The era's perfectly preserved Victorian mansions in the historic uptown business district are worth a visit any time of year, but those in the know can try and time their stay with one of the town's fun-filled annual festivals. Evel Knievel Days, an over-the-top extravaganza in honor of the town's daredevil native son, is currently on hiatus, but the Butte Vigilante Rodeo, St. Patty's Day Parade and the Montana Folk Festival have taken up the reigns when it comes to year-round fun. No visit is complete, though, without a stop at the 1,600-foot-deep Berkeley Pit, the massive open-pit copper mine that helped put Butte on the map.
4. Anaconda
Drive 24 miles • 26 minutes
  A quick half-hour drive west, the town of Anaconda was built in the late 19th-century by a mining baron needing more room to process his finds. These days, outdoors adventure is the draw and visitors to this historic, welcoming getaway will find plenty to go around. Surrounded by wilderness, you can drive the Pintler Scenic Route to Georgetown Lake, where trophy-size rainbow and brook trout tempt anglers all year-round. Boating and camping are also popular pastimes on the lake's scenic shores. The Lost Creek Falls Trail is another classic hike in the nearby Lost Creek State Park that leads visitors past tall limestone cliffs.