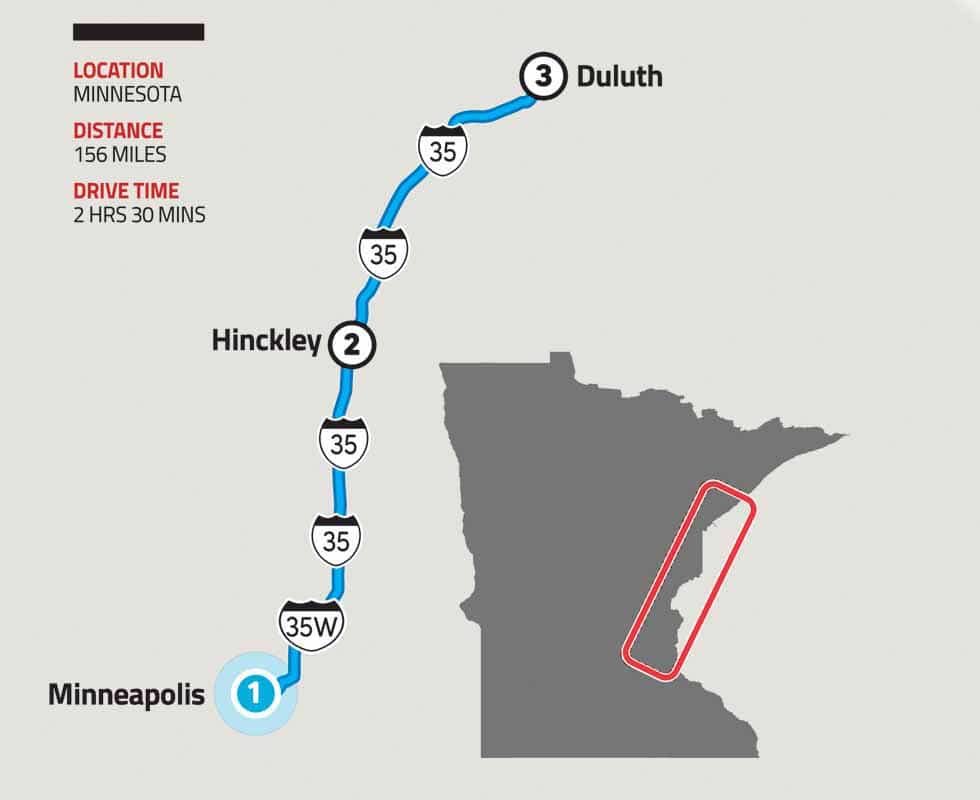 Serving up the perfect blend of big-city culture and backwoods adventure, Minnesota has long been a hotspot for outdoor adventurers and art-lovers alike. From the galleries and green spaces that dominate downtown Minneapolis to the industrial charm of Duluth, there are endless opportunities to bike, hike and fish.
1. Minneapolis
Starting Point
Billed as one of America's most bike-friendly cities, Minneapolis is chock full of one-of-a-kind treasures easily explored on two wheels. After perusing the riverfront sights along the Grand Rounds National Scenic Byway, join the Chain of Lakes trail to explore the city's interconnected lake system. Over 15-miles long, the trail passes half a dozen scenic shorelines as it winds through Uptown's heart. Enjoy beaches, hiking and plenty of family-friendly attractions along the way. On that note, no one has captured the hearts and minds of the Twin Cities quite like Prince. There are excellent self-guided tours that explore the singer's roots in the local rock scene, but true fans should make the pilgrimage to Paisley Park, His Purpleness's mansion, where you'll enjoy artifacts, instruments and rare recordings during your visit.
2. Hinckley
Drive 81 miles • 1 hour, 20 minutes
To the north, the small town of Hinckley has grown from a convenient rest stop to a destination in its own right. Start at the historic downtown district, which features antique shops and boutiques, before exploring the surrounding landscape including the scenic St. Croix River to the west. Renowned for its muskie, walleye and smallmouth bass, the river draws anglers from across the state. The nearby St. Croix State Park is also home to 127 miles of rugged ATV and backcountry hiking trails through virgin red pine forest. After a day in the country, relax at the Grand Casino Hinckley, a sprawling gaming complex with over 2,000 slots and 28 gaming tables. Even if Lady Luck isn't on your side, you can still enjoy the on-site spa, golf club and nationally known entertainers.
3. Duluth
Drive 75 miles • 1 hour, 10 minutes
Continue north on I-35 for another hour until you reach the bustling port city of Duluth. Nestled on the shores of Lake Superior, the blue-collar town lives and breathes its historic claim as one of the country's most important shipping hubs, though these days much of the industrial architecture has been repurposed into craft breweries, distilleries and hip coffee roasters. It's a cool, lo-fi aesthetic that, along with the steep hills and waterfront landscape, has led some to dub Duluth the "San Francisco of the Midwest." While enjoying the hearty, entrepreneurial attitude of the locals, be sure to stop by the recently refurbished S.S. William A. Irvin Boat Museum. The 610-foot tanker was once the flagship of U.S. Steel's Great Lakes Fleet, hosting dignitaries in elegant staterooms while it shuttled iron ore east across America.