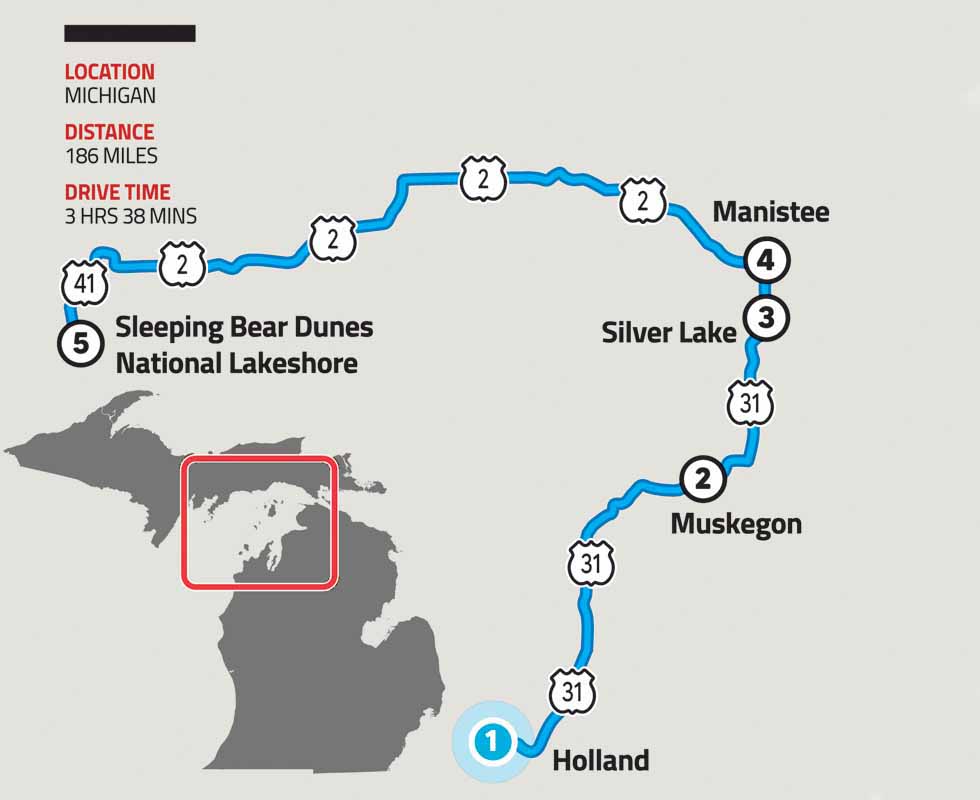 Follow the west coast of the Great Lakes State if you crave scenic beauty bundled with aquatic adventures. H2O sports on this vast stretch of shoreline, from water skiing over wild boat wakes to fishing in streams and on the Great Lake itself. The backdrops for these activities are memorable, with lakes surrounded by lush forests, unspoiled beaches, sleepy towns at the edge of the shore and historic lighthouses to guide you.
1. Holland
Starting Point
If windmills and wooden shoes put you in a Dutch state of mind, then Holland, Michigan, won't disappoint. Nelis' Dutch Village Park recreates the Holland of yesteryear, with buildings constructed in the old-world style; learn how to carve wooden shoes or take Dutch dance lessons. At Windmill Island, visitors can ascend a replica of a towering Dutch windmill, then wander the fields of Veldheer Tulip Gardens, where Spring brings vast swaths of color in every direction. Pick up tulip bulbs here to start your own Dutch garden at home.
2. Muskegon
Drive 36 miles • 47 minutes
A rails-to-trails project connecting Muskegon Lake to Lake Michigan offers bicycle riders 11 miles of scenery, historic sites and access to restaurants and the beach. Following the old railroad bed of a local paper mill, the trail can be accessed by cross-country skiers in winter. Get even more exercise exploring Michigan's Adventure, the state's largest amusement park with roller coasters and carousels for high-speed thrills. Make a splash at the accompanying water park to cool off and if you dare, slide down the Funnel of Fear.
3. Silver Lake
Drive 43 miles • 44 minutes
Off-road vehicle drivers will love Silver Lake State Park, where 450 acres is set aside for scrambling up and over sand dunes and down to the lake. It's a beach party in four-wheel drive. Cyclists should venture over to the Hart-Montague Bicycle Trail, where two wheels take travelers along a paved path from Montague to Hart on the state's first rails-to-trails project. In 22 miles, riders can enjoy tree-shaded trails, as well as small communities and shops along the way in this corridor dedicated entirely to bicycling.
4. Manistee
Drive 53 miles • 57 minutes
Hit downtown Manistee in late September for Hops and Props, a signature event that brings classic wooden boats and craft beers together. Over 35 Michigan breweries pour the ale, while boat buffs peruse watercraft in the marina on Manistee Lake. After a bratwurst and cold one, cast a line in Manistee Lake for its bluegill, bass and walleye. Or take a leisurely paddle on the water in a kayak or canoe to follow the Manistee River Trail.
5. Sleeping Bear Dunes National Lakeshore
Drive 54 miles • 1 hour, 10 minutes
Follow the shore of Lake Michigan to Sleeping Bear Dunes, where sparkling beaches stretch at the foot of 450-foot sandy bluffs. Hike on the Dunes Trail, which starts at Dune Climb that takes visitors to the shores of the lake. The 3.5-mile round trip will take hikers along steep inclines with jaw-dropping views of the water below. Prefer history to huffing and puffing? Several lighthouses that dot the area, and the region's Maritime Museum introduces visitors to U.S. Coast Guard and Life Saving Service programs.