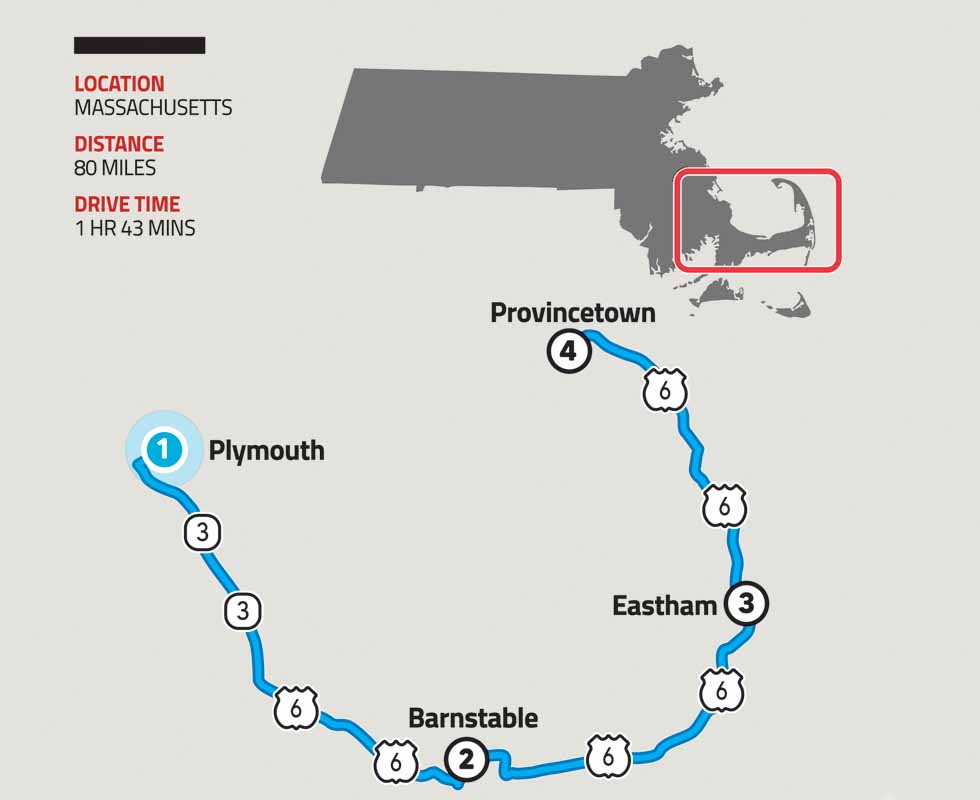 Have you dreamt of visiting "the dunes on the Cape?" Cape Cod is a 65-mile long, sandy peninsula off eastern Massachusetts. Ranging from 1- to 20-miles wide, it boasts over 400 miles of ocean shoreline. This is a prized travel and vacation spot for campers from across the country who love its charming small towns, salt air, extensive beaches, historic pilgrim settlements, art galleries and simple walks on the shore.
1. Plymouth
Starting Point
This is the site of an early Pilgrim settlement. Hike or bike many miles of trails, some even for horse riding. Enjoy lots of quiet forest lands plus excellent swimming and fishing. While there, time-travel to the 17th century at Plimouth Plantation and see what life was like for the Pilgrims. Stroll a reconstructed English village and a Wampanoag home site; see the Plimouth Grist Mill and the Mayflower II.
2. Barnstable
Drive 32 miles • 38 minutes
Never kayaked before? No problem. The crew at Great Marsh Kayak Tours gets you up to speed quickly on safety and paddling skills. Choose from several interesting tours – beginners love the three-hour Tidal Tour. Chill out in this serene, natural habitat for birds like great blue herons, terns, snowy egrets, and mammals like deer, coyote and fox. While in the area, visit the John F. Kennedy Memorial in nearby Hyannis. The world changed when President Kennedy was assassinated in 1963, so take the time to pay your respects to one of America's most-respected leaders.
3. Eastham
Drive 25 miles • 31 minutes
The 40 remarkable miles of Cape Cod National Seashore constitute a one-of-a-kind scenic area. Beachcomb endlessly, go hiking, paddling, visit lighthouses, cranberry bogs or take a tour with a Park Ranger. Hunt, fish and — surprisingly — you can drive on the beach (restrictions apply). Brought your bike? Traverse the Cape Cod Rail Trail. Developers turned these 25 miles of old railroad right-of-way into a beautifully paved, easy-to-pedal bike touring trail.
4. Provincetown
Drive 23 miles • 34 minutes
In this charming town, make your first stop the Province Lands Visitor Center. Get a crash course in the region's history and natural features. While in town, check out the Pilgrim Monument and Provincetown Museum. Construction began in 1907 with President Teddy Roosevelt laying the cornerstone. Today, millions have climbed the 252-foot monument. Learn much more history at the renowned Provincetown Museum.