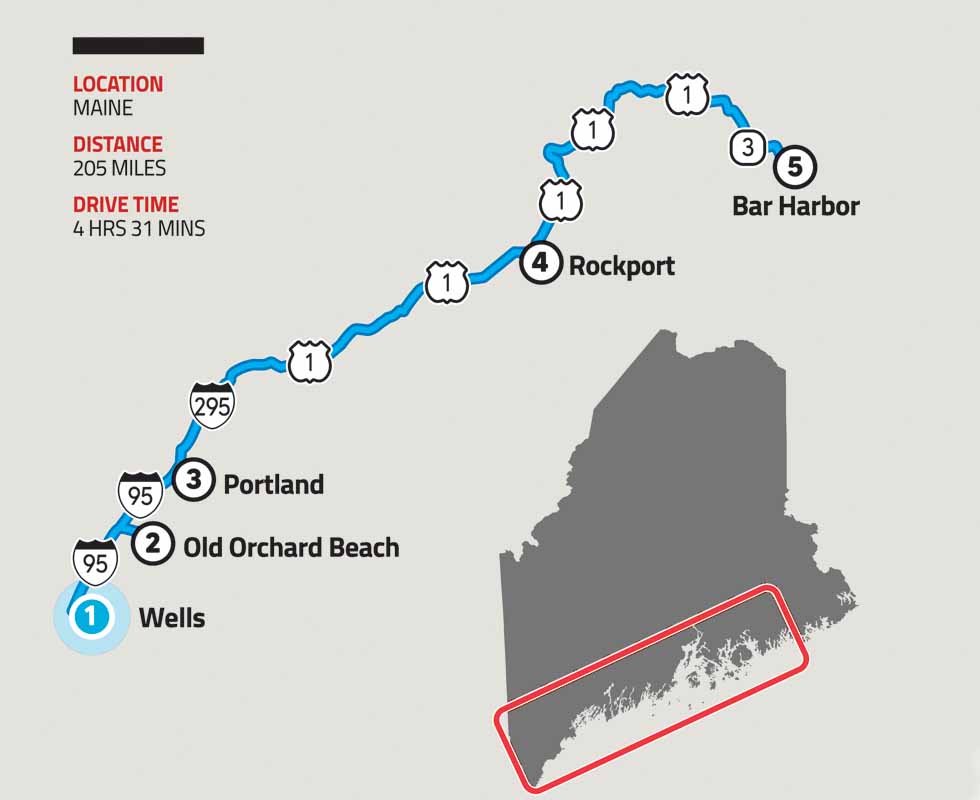 Adventurers can spend the day playing on the sandy beaches and rocky shores of Maine's Atlantic coast, then reward themselves with succulent lobster from a cozy eatery on the water. Catch your dinner, explore historic lighthouses and race with the wind on a boat, or hike through forested mountains to iconic landscapes for a taste of the Pine Tree State's bounty. Even the wildlife is stately here, as moose wander the hills and humpback whales breach off the coast. It seems Maine has cornered the market on rustic charm and New England adventure.
1. Wells
Starting Point
Covering 50 miles of coastline, the Rachel Carson Wildlife Refuge was created to protect migratory birds. Migrating travelers can enjoy the numerous salt marshes and estuaries by canoe or kayak, or fish at several sites within the park. Hunting also is allowed by permit only. And if more exercise is on your to-do list, head to Wells Reserve, where seven miles of trails lead hikers through lush ecosystems. Signage on the trail identifies plants and animals as the trail winds over beaches, through aspen groves and across grassy meadows.
2. Old Orchard Beach
Drive 23 miles • 28 minutes
This little beach town has been luring outsiders for generations to explore its clean beaches and bask in its welcoming spirit. Visitors with pets will be glad to know even their dogs are welcome on the beach to dog paddle on early mornings and from 6 p.m. through midnight. And humans of all ages will enjoy Palace Playland — New England's only beachfront amusement park — and a stroll along the Orchard Beach Pier.
3. Portland
Drive 19 miles • 25 minutes
Get a real hands-on lobster experience by signing up with Lucky Catch Cruises. Join the crew on a lobster boat, pulling up traps for your dinner as you tour Casco Bay. Motor past lighthouses, Civil War-era forts and Seal Rocks before docking to take your catch to the Portland Lobster Company Restaurant for a truly "sea-to-table" dining experience. Prefer to stay on dry land? Amble into Cook's Lobster and Ale House, where your meal choices range from a fried haddock sandwich to lobster mac and cheese.
4. Rockland
Drive 78 miles • 1 hour, 37 minutes
Coastal Maine has several scenic lighthouses, but the Breakwater Light in Rockland offers a walk that you won't soon forget. Visitors navigate a 7/8-mile long breakwater before trudging up the stairs to take in views from atop the beacon, which was built in 1921 and continues to operate. Nautical buffs also can choose from five schooners for the sailing adventure of a lifetime. Windjammer Cruises takes visitors on three- to -six-day sailing trips from Rockland.
5. Bar Harbor
Drive 85 miles • 2 hours, 1 minute
Acadia National Park protects rugged headlines along the Atlantic Coast, and 158 miles of hiking trails lead visitors to spellbinding views on rugged terrain. Make sure to visit Thunder Hole, where angry waves slam into a narrow chasm, creating a geyser of spray that shoots 40 feet into the sky accompanied by an explosive jolt to the eardrums. Just off the coast whale watching tour take sightseers close to humpbacks.