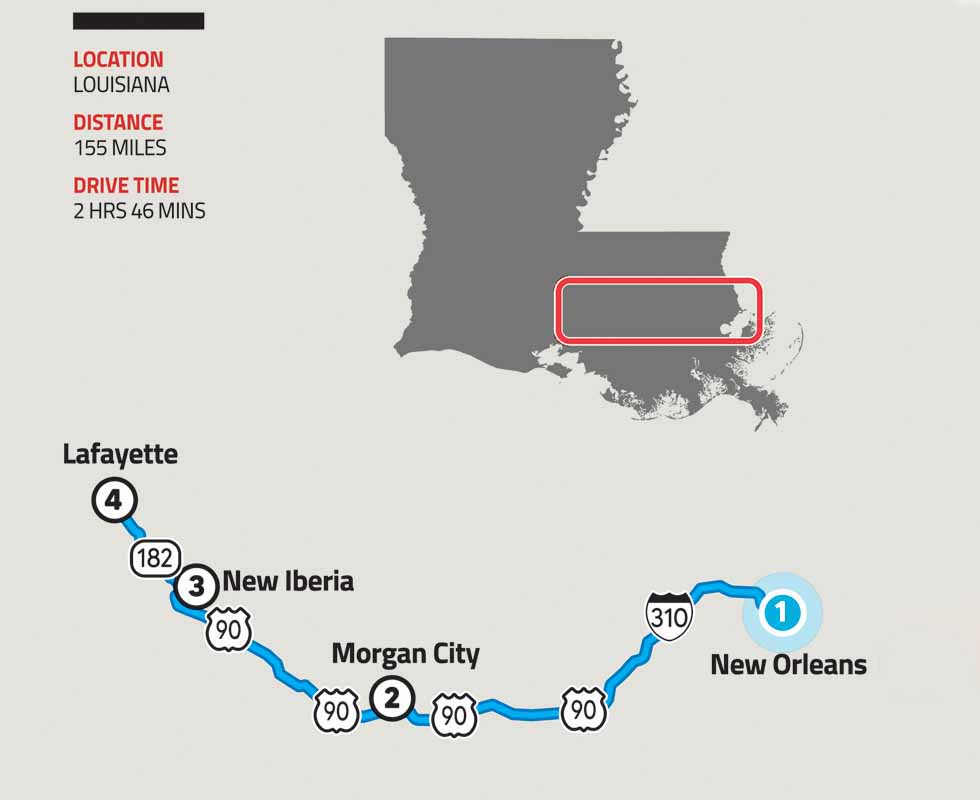 Food and fun take center stage on this Deep South journey from the city to the swamp. Start your trip in New Orleans, where food and music have always reigned supreme, before heading west towards the Atchafalaya River basin. Distinct in culture and cuisine, the region is full of singular sights, natural wonders and welcoming locals who will surprise you with their limitless Southern hospitality. From crawfish boils to beignets and coffee, you'll be hard-pressed to find a more unique — or better tasting — destination than the Pelican State.
1. New Orleans
Starting Point
In the heart of the French Quarter, but a world away from party-hearty Bourbon Street, the more relaxed Royal Street draws visitors looking for family-owned antique shops and art galleries. But don't worry, you won't have to sacrifice the food and music that makes the city so memorable. While you stroll the broad thoroughfare, you can eat at quirky cafes tucked into hidden courtyards and grab a drink at grand old hotel bars famous for housing literary legends and musical icons. There's even one that rotates like a carousel in case your cocktail wasn't already strong enough.
2. Morgan City
Drive 86 miles • 1 hour, 25 minutes
Best known for its Louisiana Shrimp and Petroleum Festival every summer, this small city represents the best of the Cajun Coast — fishing, food, and one-of-a-kind culture. You can join in the fun on a charter boat excursion through the Atchafalaya Basin and into the Gulf. Just make sure to bring your rod and reel. Flounder, redfish, and drum are plentiful in the shallower flats, while world-class cobia, mackerel and bluefish are abundant in the deeper waters. For an up-close-and-personal experience with the area's wildlife, head to the family-friendly Swamp Gardens and Wildlife Zoo where the bayou comes alive through gator exhibits and a petting zoo.
3. New Iberia
Drive 48 miles • 50 minutes
Spanish colonists settled this small town in 1779, but one could argue that it earned its place on the map when Edmund McIlhenny started producing hot sauce on nearby Avery Island in 1868. More than 150 years have passed and McIlhenny's secret sauce — now known as Tabasco — has become a beloved brand around the world. Learn more about the history of this five-generation family business and its intriguing island home with a visit to the Tabasco Factory and Museum, including a barrel-to-bottle tour of the factory and a Cajun-style cooking class. There's also a company store. While there, you can explore Jungle Gardens, a semitropical garden that stretches for 170-acres along Bayou Petite Anse.
4. Lafayette
Drive 21 miles • 31 minutes
Rumor has it that this capital of Creole and Cajun culture is the "Happiest City in America" and it's not hard to see why. With more restaurants per capita than anywhere else in the country, you can feast on favorites like king cake, crawfish and cracklin' all day long. For the best chance to try them all, join one of the Cajun food tours that spirit visitors from hole in the wall seafood joints to local grocers and more. To dive even deeper into this unique culture, journey back in time at the Acadian Village, a restored 1800's Cajun community that has its own doctor's quarters, plantation homes, churches and a blacksmith.