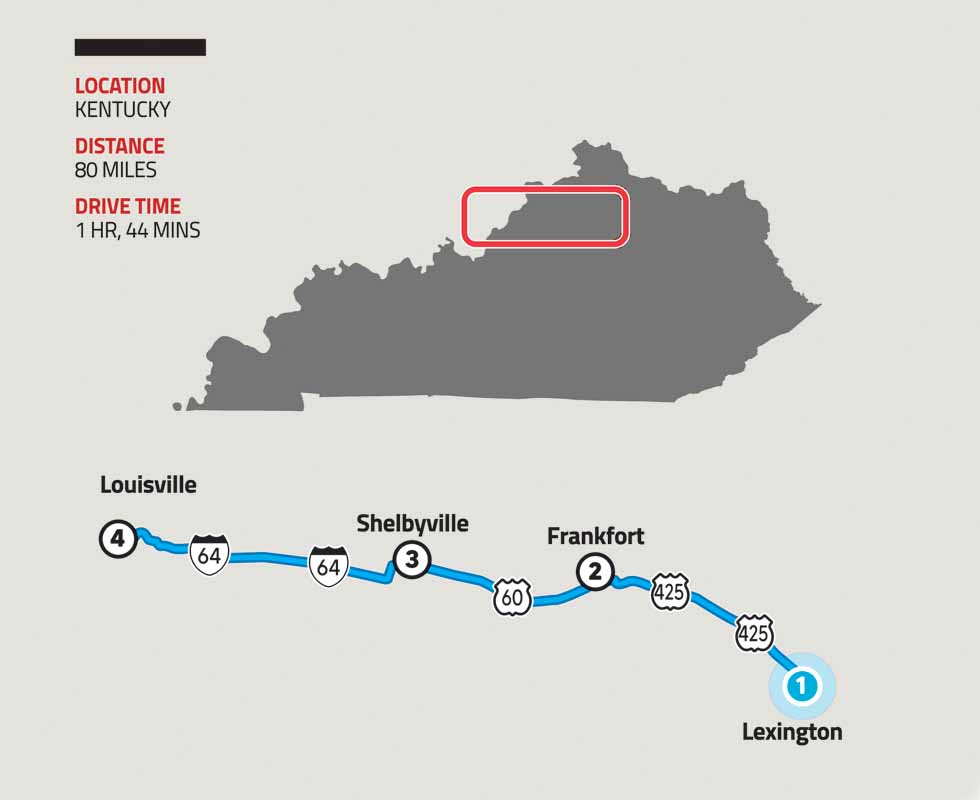 The Bluegrass State is tops in fast thoroughbred racehorses and aged bourbon in family distilleries. From Churchill Downs to Kentucky Horse Park, equines dominate the landscape, with family farms raising championship racers that deliver heart-stopping finishes. Bourbon has a smooth finish, as well, created by time-tested recipes and aged to perfection. Follow this trip through Kentucky and find a horse to watch with spirits to cheer him on.
1. Lexington
Starting Point
The Kentucky Horse Park is the holy grail for equine lovers from around the world. See retired championship thoroughbred racers; meet police and draft horses; discover the history and culture of the horse in four different museums on-site; and saddle up for a Parade of the Breeds show. Then head downtown to the Distillery District for introductions to an entire neighborhood of restaurants, bistros, brewpubs and distilleries. You'll have no problem quenching your thirst here, with bourbons and beers to accompany your meal.
2. Frankfort
Drive 32 miles • 38 minutes
Mix outdoor fun with your favorite adult beverage, and you've just described a Kentucky River paddle trip to the Buffalo Trace Distillery. Join Canoe Kentucky for this four-hour kayak and canoe adventure on the Kentucky River that culminates with a 200-year-old bourbon distillery tour and barbecue lunch. And if bourbon is not your drink of choice, it may become your favorite candy after a tour of the Rebecca-Ruth Candy Factory, where bourbon chocolates were first introduced to the world in 1938. The confection was described as combining the world's two greatest flavors: Chocolate and bourbon. These days, you can double your pleasure with rum, scotch, cognac and Kentucky Irish coffee chocolates, as well.
3. Shelbyville
Drive 22 miles • 23 minutes
Making old-fashioned new is the motto of Jeptha Creed Distillery, where Kentucky bourbon is created from purpose-grown crops. Take a tour of this mother-daughter operation and sample their "ground to glass" concept in bourbons, flavored moonshines and vodka. Then top off your visit to Shelbyville with some great fishing at Guist Creek Lake, where largemouth bass and channel catfish practically jump in your boat. And if you're itching for more exercise, tie your rope to a ski boat in this multipurpose reservoir.
4. Louisville
Drive 26 miles • 43 minutes
They are not horsing around at Churchill Downs, where the "fastest two minutes in sports" is serious business. Annually run since 1875, the Kentucky Derby in May is the highlight of Derby Week. If you can't make it to Louisville for the "Run For the Roses," come to Churchill Downs for a visit to the Kentucky Derby Museum, where the history of the competition is on full display. Or go deep at Louisville Mega Cavern, where an underground limestone quarry hosts ziplines, rope courses, tram rides and e-bike tours for those who desire an amazing caving experience.