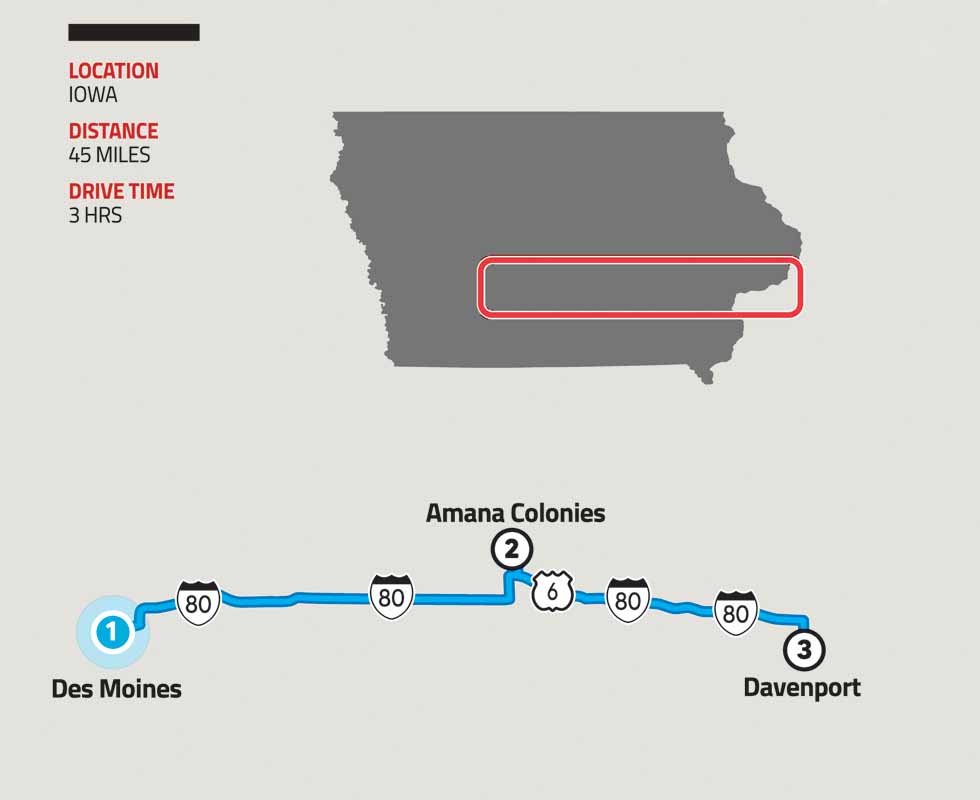 Your RV tour through the pastoral Iowa countryside starts mid-state in Des Moines, heads due east to the Amana Colonies and ends at the mighty Mississippi River in Davenport. Drive an easy 183 miles on U.S. Route 80. (If you're a history buff or just like odd roadside attractions, start your trip 55 miles west of Des Moines in Adair, Iowa. See the monument to the first train robbery in the West — by Jesse James and the gang, no less.)
1. Des Moines
Starting Point
"Our State Fair is a great state fair," sang Pat Boone about the Iowa State Fair in 1962's musical, State Fair. And he's right: In August, it's the quintessential State Fairgrounds. For 2020, fair organizers orchestrated a "virtual" fair experience, but the 2021 live fair schedule is back on track. Visitors can expect RV camping and lots to see and do, featuring a big midway with a Giant Slide, Thrill Park, tons of free live entertainment and great food from local growers.
2. Amana Colonies
Drive 104 miles • 1 hour, 37 minutes
What began as a religious society settled by Germans in the 1800s evolved into a showcase of timeless craftsmanship. The colonies' historic furniture and buildings are on display everywhere and are celebrated with numerous authentic German-themed festivals. Traditional inns, restaurants, shops and foods abound. Go biking around the beautiful landscape. Bicycling's easy in Iowa — it's pretty flat with lovely rural scenery. The Amana Colonies offer two great bike trails: paved and gravel surfaces. Spin by historic landmarks and through native hardwoods. Bring your own two-wheelers or rent from a local outfitter.
3. Davenport
Drive 79 miles • 1 hour, 23 minutes
This is no ordinary bridge. Davenport's Skybridge is dazzling. Fifty feet above downtown Davenport, and 575 feet in length, the cable-stayed footbridge's 8,000 LED lights create an ever-changing, kaleidoscopic, multi-color light show. Pause at the south end's observation deck for a panoramic view of the mighty Mississippi. Bonus: Take a riverboat cruise aboard a famous paddle wheeler. Here's a unique chance to take a romantic ride on a Victorian-era Mississippi paddle wheeler and maybe win big bucks, too. Davenport's President is an official historic landmark and boasts nearly 700 slot machines and 32 gaming tables.