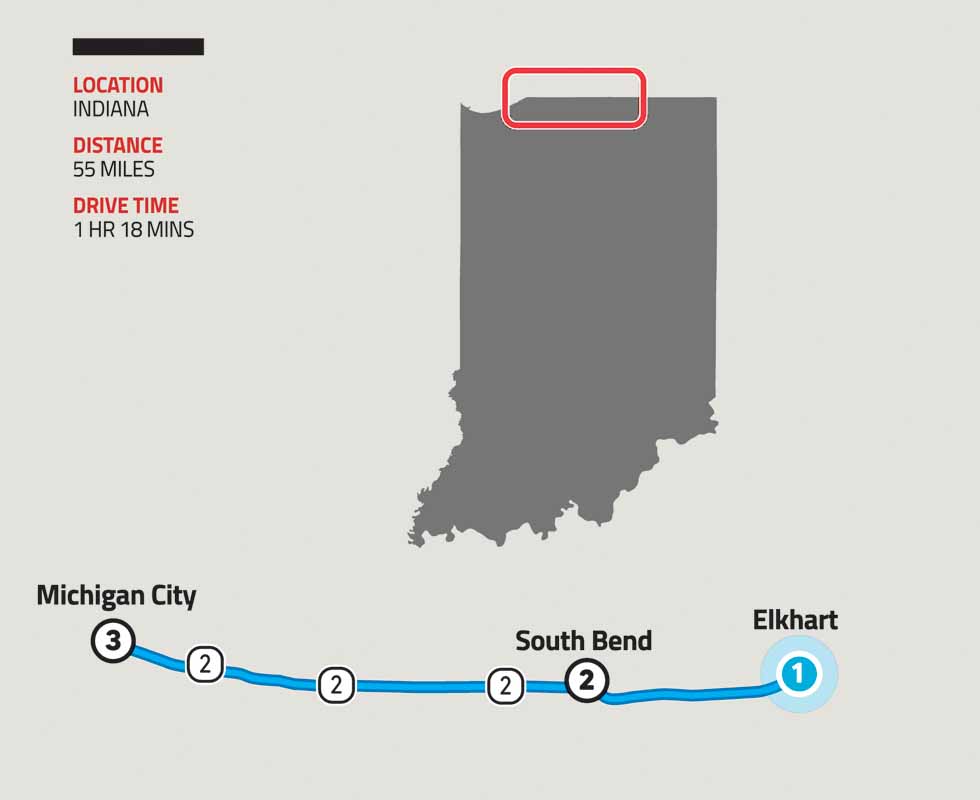 The pleasant, rolling countryside of northern Indiana has a few surprises up its sleeve. Tour factories that make mobile recreation possible, walk the fields that forged football legends and roll the dice on the shores of a Great Lake. You'll never see Indiana the same way again.
1. Elkhart
Starting Point
If you own an RV, chances are that your vehicle was made in a factory in the Elkhart area. Some of the heavy hitters of the RV world hail from this region of the country, from Coachmen to Thor. Sign up for a factory tour and see how these rolling condos are constructed, from the frames to furniture to paint coating. To get a glimpse of the history of RVing, drop into the RV/MH Hall of Fame Museum, with multimedia exhibits that celebrate the industry's past. Tour exhibits that showcase iconic RV models of yesteryear, then learn about the role that recreational vehicles have played in American culture.
2. South Bend
Drive 21 miles • 31 minutes
      Few cities in America can claim that mantle of "college town" with the same gusto as South Bend. This community is home to Notre Dame University, renowned for its Fighting Irish college teams. On the field of Notre Dame Stadium, visitors can see where football icons like Knute Rockne, the Gipper, Rudy, Jerome Betis and Joe Montana made gridiron history. While touring the stadium, you'll notice the Word of Life mural on the side of the Memorial Library. The 200-foot-tall painting depicts the Christian savior with arms upraised. Football fans have nicknamed the mural, "Touchdown Jesus." If pigskins aren't your passion, then head to the East Race Waterway, a whitewater rafting course right in downtown South Bend. The Class II rapids dish out thrills for paddlers of all ages.
3. Michigan City
Drive 34 miles • 47 minutes
Stretching along the coast of Lake Michigan, Indiana Dunes National Park, combined with Indiana Dunes State Park, stretches from Gary to Michigan City. Visitors can embark on several miles of trails and through wildly diverse 15,000-plus acres of dunes, swamps, bogs marshes and prairies. When the sun sets, duck into the Blue Chip Casino, with 40 tables games, eight live poker room tables and more than 1,700 slots on 65,000 square feet of gaming space. If you like fall colors, you've come to the right place: The Calumet and Porter Brickyard Bike Trails burst with color in the late summer and early fall. The colors can be enjoyed through October.