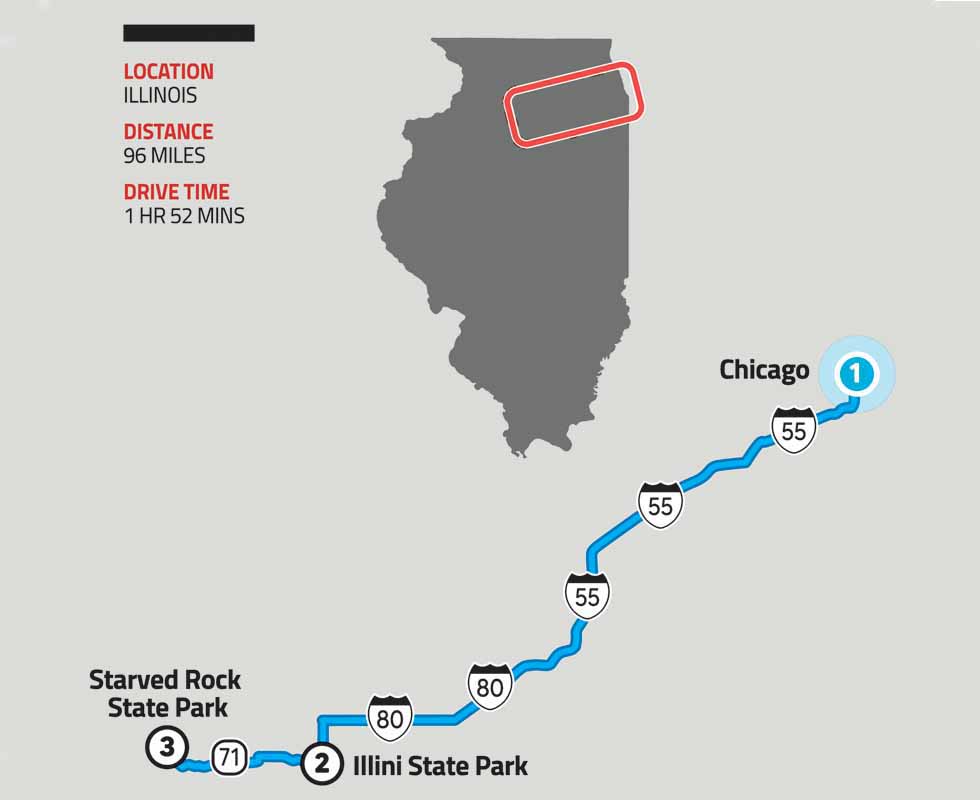 Home to a spectacular skyline and one of the world's tallest buildings, Chicago has long been revered as an architectural showcase, but this trip is about more than just taking in the sky-high sights. From the Windy City's fun-filled shoreline to the sun-soaked vistas of Starved Rock State Park, Illinois' most popular sights and its best-kept secrets await on this journey through the Land of Lincoln.
1. Chicago
Starting Point
Between the fun-loving locals, die-hard sports fandom and an unbeatable food scene, Chicago is the rare cultural mecca that hasn't lost its blue-collar feel. You'll be hard-pressed to enjoy everything the city has to offer, but put your best foot forward with a bike trip along the Lakefront Trail. The 18-mile paved pathway connects many of the most popular sights, including Lincoln Park, Soldier Field, the South Shore Cultural Center and Navy Pier. Of course, with sparkling Lake Michigan on one side and downtown skyscrapers on the other, the trail is a destination in its own right. For a one-of-a-kind excursion, head to the Museum Campus to visit the city's world-renowned institutions, including the Field Museum, Adler Planetarium and the unrivaled Shedd Aquarium.
2. Illini State Park
Drive 78 miles • 1 hour, 24 minutes
Nestled on the banks of the Illinois River about two hours southwest of Chicago, Illini State Park is an under-the-radar gem for lovers of the outdoors in search of natural beauty. Dedicated in 1935, the park is next door to the historic Illinois-Michigan Canal and the Marseilles Locks, as well as home to a number of well-maintained Civilian Conservation Corp camps. Anglers are in luck, too, as the water brims with bass, catfish crappie and bluegill, while hikers can walk along the picturesque rapids that stretch for nearly two miles along the park's shoreline. For an inland excursion, try the scenic Illini-Wek Trail, which offers a glimpse of the park's famed wildflower blooms, including endlessly photogenic Virginia bluebells.
3. Starved Rock State Park
Drive 18 miles • 28 minutes
Just thirty minutes west, one of the state's most popular destinations, Starved Rock State Park, stands out as a true natural wonder. Boasting rugged canyons, sweeping vistas and seasonal waterfalls, the park is a favorite among both day-trippers and locals in search of a landscape rich with beauty and history. Hike to the St. Louis, Wildcat, Ottawa and Kaskaskia canyons for some of the best waterfall views, or head straight up the short but steep Lover's Leap Overlook Trail for panoramic views of the Illinois River and beyond. Kick things up a notch with a fun-filled afternoon running the 10-mile stretch of rapids on the nearby Vermillion River from Lowell to Oglesby. Geared towards beginning paddlers, the thrilling whitewater is safe enough you can rent a raft in town and make the trip without a guide.