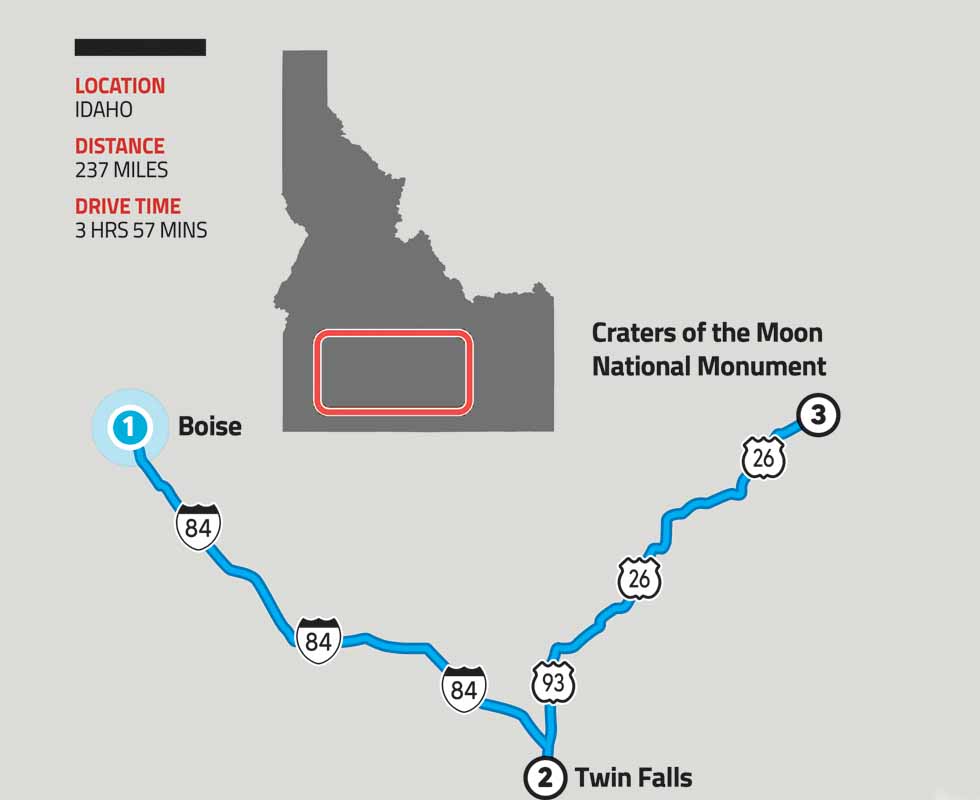 The Gem State is home to towering waterfalls, fish-rich rivers and lakes and out-of-this-world landscapes that dazzle the eye. Outdoor enthusiasts can tackle inspiring terrain, whether hiking and biking during the warm months or skiing in the winter. Naturalists are drawn to volcanic fields, rolling hills and unusual geologic formations that cement Idaho's reputation as a truly spectacular vacation destination.
1. Boise
Starting Point
The Boise Foothills that rise above the state capital are the perfect playgrounds for hikers, with 190 miles of paths in the Ridge to River System.  Explore the natural environments of the public lands that the trails connect along the banks of the Boise River, perfect for hikers, bikers or horseback riders.  And after working up a sweat, head into town for a cold one.  With more than 20 breweries from which to choose, the city welcomes outdoor enthusiasts who are happy to celebrate their endeavors of endurance with a toast.
2. Twin Falls
Drive 128 miles • 2 hours, 1 minute
Renowned as the "Niagara of the West," Shoshone Falls is a dramatic, 200-foot drop of the Snake River.  Best viewed in Spring with runoff from winter snows, the falls may almost dry up in late summer, as crops are irrigated and upstream reservoirs are recharged. But just a mile upstream lies Dierkes Lake, where consistent water levels present the perfect year-round environment for fishing, swimming and hiking. Also on the banks of the river, the Evel Knievel Snake River Canyon Jump Site marks the spot where the world-famous daredevil attempted to fly over the river in a rocket-powered cycle. Back in town, enjoy a wholesome meal at a local diner.
3. Craters of the Moon National Monument
Drive 109 miles • 1 hour, 56 minutes
Venture into an otherworldly land of lava beds, cinder cones and caves that seem transplanted from a science fiction film. To early explorers, these features resembled the face of the moon, and Craters of the Moon lives up to its namesake, as most of its acreage is barren and dry, highlighted by three different lava flows. Visitors will marvel at the tree molds, created when lava engulfed forests. Hike in a lava tube and await the next eruption, possibly within the next 100 years. And just down the road near Arco lies the world's first nuclear breeder reactor, decommissioned and open to tours.