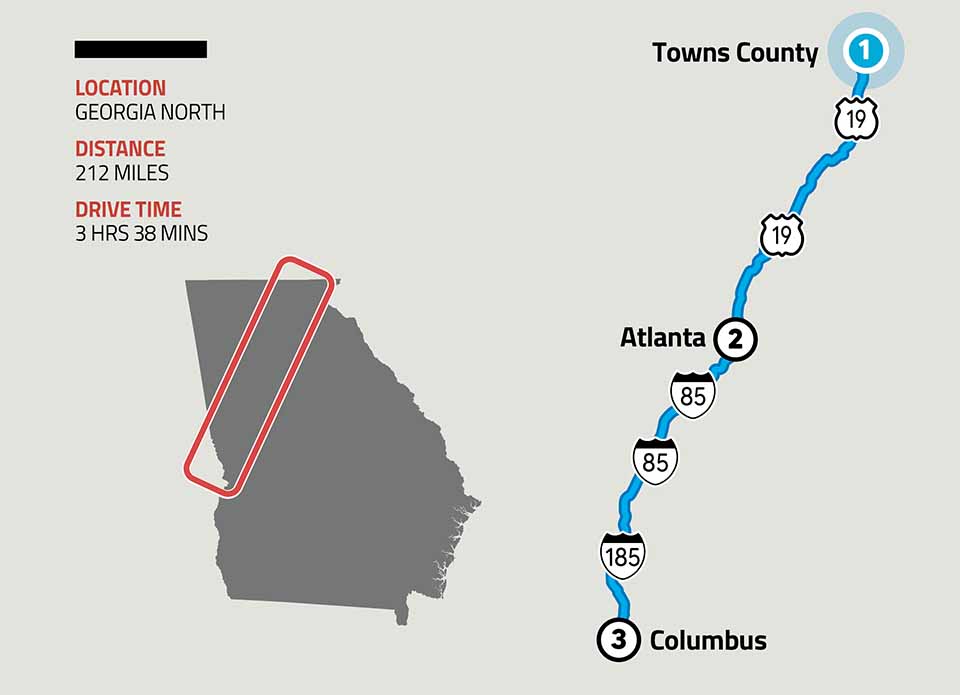 Serenity meets the city as you travel from Georgia's northern border to its western one on this trip through some of the Peach State's premier landscapes. The picturesque lakes and hills of Towns County are full of hidden gems, while the rip-roaring whitewater of Columbus draws outdoors adventurers from across the country. But don't worry, if a city skyline is more your speed; you'll find everything you need in Atlanta, the South's most vibrant city.
1. Towns County
Starting Point
Lake lovers will relish in the scenic beauty of Lake Chatuge, which boasts 130 miles of shoreline, excellent bass fishing, and plenty of room for families to boat and swim. For land adventures, nothing beats the half-mile hike to the top of Brasstown Bald, Georgia's tallest mountain. The easily accessible trail rewards hikers with an impeccable view of the Appalachian Mountains that on clear days stretches as far as four states. Even more serene is Hamilton Gardens, a botanic garden with the largest collection of rhododendrons in the state. Located on the banks of Lake Chatuge, it's the perfect place to relax after a day of exploration.
2. Atlanta
Drive 105 Miles • 2 hours, 1 minute
Just two hours away, the hustle and bustle of one of America's great cities awaits. A sightseer's dream, Atlanta is home to the Martin Luther King Jr. National Historic Site, the Georgia Aquarium, scenic green spaces like Piedmont Park, and the must-visit Centennial Olympic Park. For a glimpse into the city's outsized global influence, head to CNN headquarters, where you can tour the studios, learn how a live broadcast is produced and maybe even meet some of the country's most famous news anchors.
3. Columbus
Drive 107 Miles • 1 hour, 37 minutes
The third-largest city in the state ranks first when it comes to innovative and extreme outdoor adventures. Start your day with a 40 mph zipline across the Chattahoochee River from Georgia to Alabama and back again, before taking to the water on Columbus' top claim to fame, the largest urban whitewater rafting course in the world. Timed to the dam-release upriver, you can join a milder morning float past historic mills or wait for the afternoon rush of massive Class V rapids. At the National Civil War Naval Museum, history buffs will relish in the collection of historic flags, Naval artifacts, and the remnants of the CSS Jackson, the world's largest surviving Confederate warship.