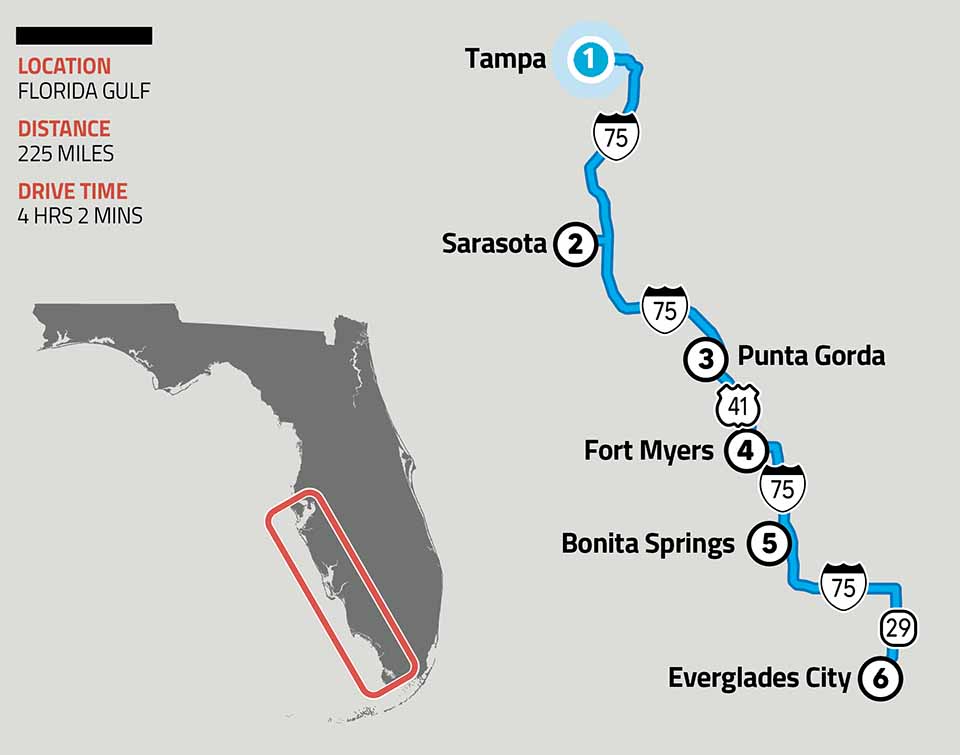 Gulf Coast living is all about the simple things: family, food and old-fashioned fun. And it's easy to experience them all on this epic road trip from downtown Tampa to the heart of the Everglades. You'll enjoy endless entertainment in the culture-driven hot spots of Ybor City and Sarasota before heading south to the mangrove forests and inland waters of Florida's wild swamplands.
1. Tampa
Starting Point
No trip to the Florida Gulf's largest city would be complete without a stop at Busch Gardens, one of the premier amusement parks in the world. Featuring African-style safaris, a waterpark, and some of the tallest and fastest rollercoasters in the world, it's a wet-and-wild destination the whole family will enjoy. For a break from over-the-top thrills, Ybor City is the perfect place to wind down while you explore the long roots of Cuban culture in Tampa Bay. Founded in 1885, the neighborhood was once dubbed the "Cigar Capital of the World" and is home to numerous Latin American eateries. See cigar rollers practice their craft then belly up to a table for a Cubano sandwich or Ropa Vieja (Cuban-style shredded beef).
2. Sarasota
Drive 60 miles • 59 minutes
The one-time winter home of Ringling Brothers Circus, this bustling city on the bay now boasts an incredible museum in the Ringling family's honor. Known as Ca' d'Zan, the sprawling Venetian-style mansion offers tours of the grounds, as well as an incredible art collection. Learn about trapeze acts and clown capers. But a visit to Sarasota isn't just about the circus. It's a time to relax on some of the finest beaches in Florida. Head straight for Turtle Beach at the southern tip of Siesta Key.
3. Punta Gorda
Drive 54 miles • 55 minutes
This Sunshine State treasure is home to Fisherman's Village, which is filled with quaint business shops and great restaurants. Nearby, Charlotte Harbor is known for bridges that span the harbor and lead pedestrians to downtown shops and local nightlife. Get your wildlife fix at Babcock Ranch Preserve, home to black bears and Florida panthers. Ride bikes or take a Swamp buggy ride through the property. Nearby, Port Charlotte is the spring training home of Florida's Tampa Bay Rays ball team, so there are always great games to watch during Spring training.
4. Fort Myers
Drive 24 miles • 35 minutes
The "City of Palms" is well-known for its cool breezes and stunning beaches, but it's the famous estates of Henry Ford and Thomas Edison that draw most of the crowds. Twenty miles west, where the Caloosahatchee River meets the Gulf, the island of Sanibel stands alone as a picture-perfect paradise for beachcombers. Maybe the best beach in the world for shelling, visitors can expect to find unique varieties of conch and whelk and more all while enjoying the soft surf and sand. Catch a fishing charter to snag hefty tuna and tarpon. Visit the J.N. "Ding" Darling National Wildlife Refuge to see amazing migratory birds.
5. Bonita Springs
Drive 28 miles • 34 minutes
Nestled just north of Naples, this small city is home to Estero Bay Preserve, a one-stop shop for outdoors lovers of all ages. With over 15 miles of trails that wind through salt flats and pine forest, it's easy to find your own little slice of paradise on land, but the best way to explore this natural wonder is kayaking the thousands of acres of unspoiled mangrove forest along the coast. You're likely to see herons, bald eagles and a diverse array of marine life along the way. For years, nearby Lovers Key State Park was only accessible by boat, and although it's now easier to get to this protected beachfront, it still hosts dolphins, manatees and gorgeous sunsets. Barefoot Beach Preserve Park — one of the last undeveloped barrier islands on Florida's southwest coast — has been ranked as one of the best beaches in the nation. Encompassing 342 acres of natural land, the preserve has a butterfly garden, cactus garden and one-mile trail. Check out the learning center, with natural history exhibits.
6. Everglades City
Drive 59 miles • 59 minutes
As the western gateway to the Everglades National Park, a stop here means plenty of choices when it comes to exploring the immense and mysterious swamplands of the nation's largest subtropical wilderness. High-speed airboats are the classic way to explore these remote waters, and you're bound to see alligators and shorebirds along the way. Lucky visitors might catch a glimpse of manatees or other elusive creatures. For an even more personal approach, try a kayak tour of the Ten Thousand Island region, a vast collection of tiny islands just off the coast where dolphins, manatees and more call the abundant waters home. Paddling through sprawling mangrove tunnels is an unforgettable experience. Hikers can tackle Big Cypress National Preserve near town.