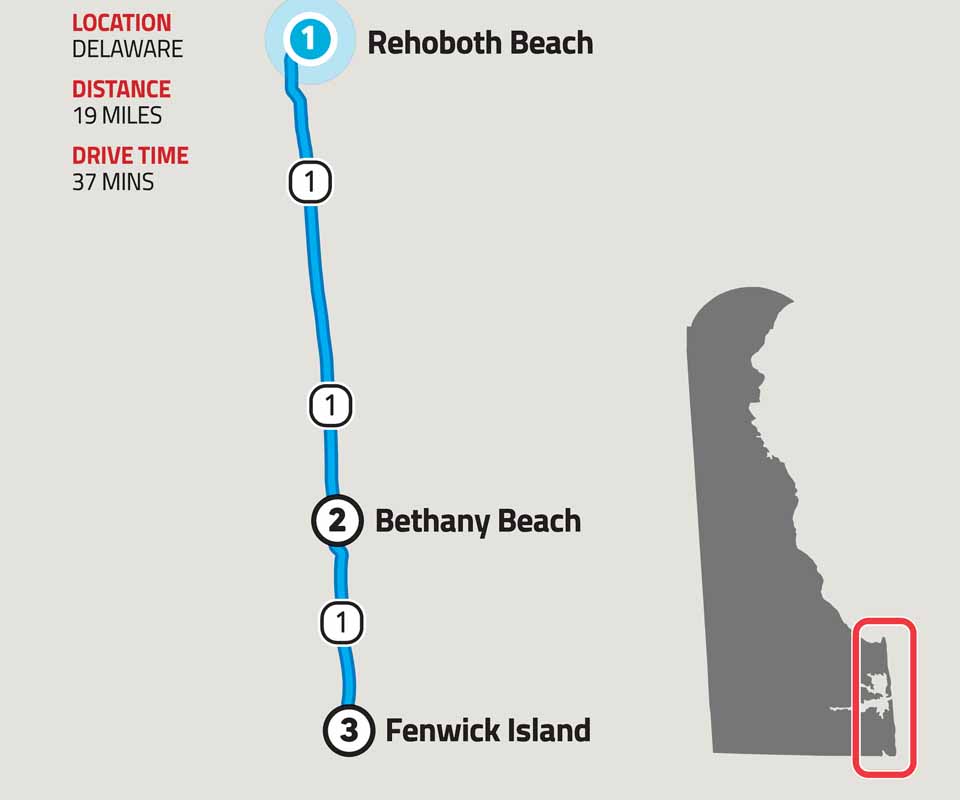 Squeezed between Pennsylvania, Maryland and New Jersey, Delaware is just 96 miles end-to-end. But as one of the original 13 colonies, Delaware became known as "The First State" when it was the first to ratify the Constitution of the young nation in 1787. Today's travelers vie to be the first to the coast to enjoy the region's often-overlooked beauty and fun.
1. Rehoboth Beach
Starting Point
Rent a surfboard and take surfing lessons at Rehoboth Beach Surf Shop. If you don't want to hang ten, enjoy the town's artsy, sophisticated and family-friendly vibe. The area is well known for fine cuisine, plenty of shops and – of course – the beautiful sandy beach. Bonus: Finish your day with a tall one at Dogfish Head Brewings and Eats. Hoist a nice, cold "Brett Lacks Toes" beer or a "Covered in Nuggs" brew. Oh yeah, they serve great food, too. Satisfy your sweet tooth at Candy Kitchen, famous for their famous fudge to salt-water taffy.
2. Bethany Beach
Drive 13 miles • 25 minutes
Big beach towns are often highly commercialized. But Delaware's low-key, serene Bethany Beach ditches the billboards in favor of a quiet style all its own. It's a perfect balance of family-friendly peace and quiet, with just the right number of fun events like concerts and movies on the beach. Take a short drive to Bear Trap Dunes, the area's finest golf course. You'll find challenging fairways and impeccably groomed greens, plus four sets of tees per hole for golfers at every level. There's no shortage of gourmet eateries in town. Check out the outstanding menus at Bluecoast Seafood Grille, DiFebo's, Bethany Blues or Mango's.
3. Fenwick Island
Drive 6 miles • 12 minutes
When's an island not an island? When you can drive your car there. Fenwick Island is on a barrier spit connected to the mainland. It shields Little Assawoman Bay, providing serene boating and kayaking. Top spots include Assawoman's state park, Wildlife Area and classic lighthouse. Nautical buffs will love the Discoversea Shipwreck Museum, which tells the tales of ill-fated vessels. On display is an array of relics considered to be the world's largest, privately-owned collection from shipwrecks, including jewels, gold and silver ingots, cannons, swords, coins — about 200,000 of them — and much more!