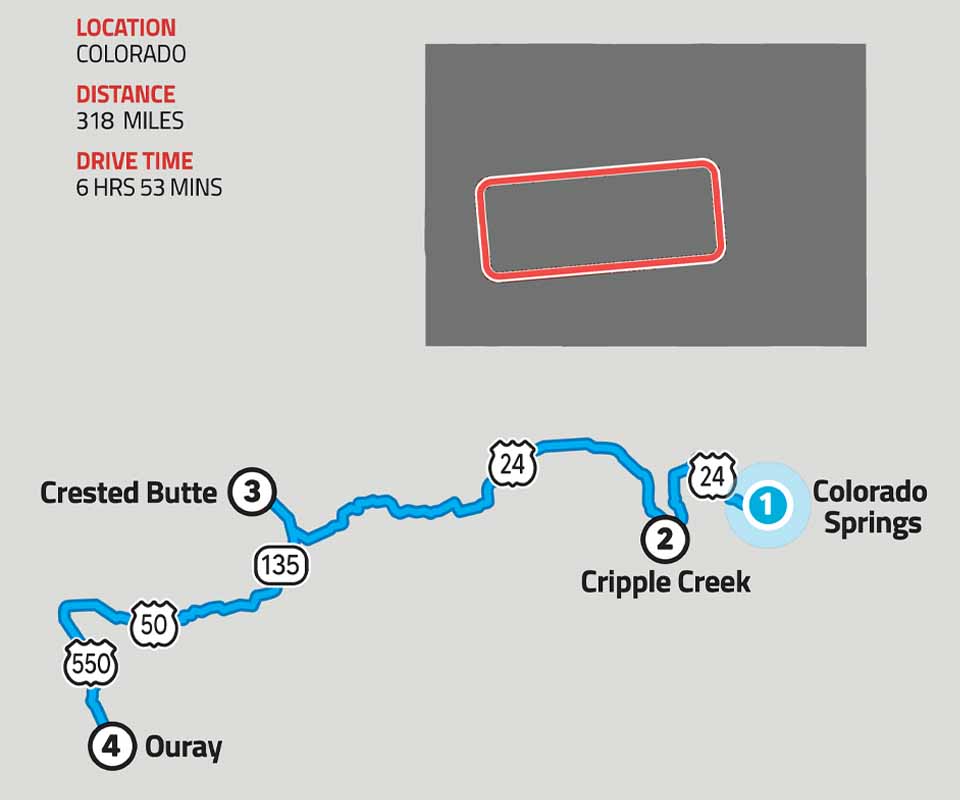 Colorado's Rocky Mountains buzz with adventure and history. The small towns that line these winding highways welcome visitors with unmatched recreation as well as storied streets that echo with the Wild West tumult of the 1800s. Take in stellar views, sip some microbrews and hit the trail for fun among the peaks.
1. Colorado Springs
Starting Point
Colorado Springs is home to revered institutions, including the U.S. Air Force Academy and U.S. Olympic and Paralympic Training Center. The scenery here isn't too bad, either. To get an overview of the vast region, take a drive up 14,115-foot Pikes Peak, which is part of the Rocky Mountain Range located to the west of the city. Sitting in the foothills of Pikes Peak lies Garden of the Gods, which consists of impressive red-rock formations that soar 300 feet into the sky. Hiking trails weave through the park so you can explore the area at your own pace.
2. Cripple Creek
Drive 45 miles • 1 hour, 4 minutes
Steeped in Old West history, this small city complements its frontier legacy with more than a dozen casinos. Travelers of all ages won't want to miss a ride aboard the Cripple Creek and Victor Narrow Gauge Railroad, a restored, gold-rush-themed steam train that passes through the city's historic district. For a deeper understanding of area history, stop by the Cripple Creek District Museum, which includes exhibits on local rail and mining history.
3. Crested Butte
Drive 145 miles • 3 hours, 18 minutes
Crested Butte embraces outdoor recreation and creative local culture with equal zeal. Located 8,909-feet above sea level, the town puts visitors close to outstanding hiking, flyfishing and mountain biking. During spring and summer, the dazzling floral displays cement its title as "Wildflower Capital of Colorado," and a full slate of concerts, festivals and art exhibitions fuel the town's freewheeling spirit. The town's main drag, Elk Avenue, is lined with welcoming bars and restaurants that will make you want to prolong your stay.
4. Ouray
Drive 128 miles • 2 hours, 31 minutes
Ouray's charming Victorian streets are no match for the surrounding mountain scenery. Travelers use this quaint town as a basecamp for spectacular hiking, biking and fishing adventures in the surrounding San Juan Mountains. Travelers who are afraid of heights should beware of the stretch of U.S. 550 from Ouray to Silverton known as the "Million Dollar Highway." Boasting sharp drop-offs with few guardrails, the highway is recommended for experienced drivers only. And as the nickname implies, the views are worth at least seven figures.