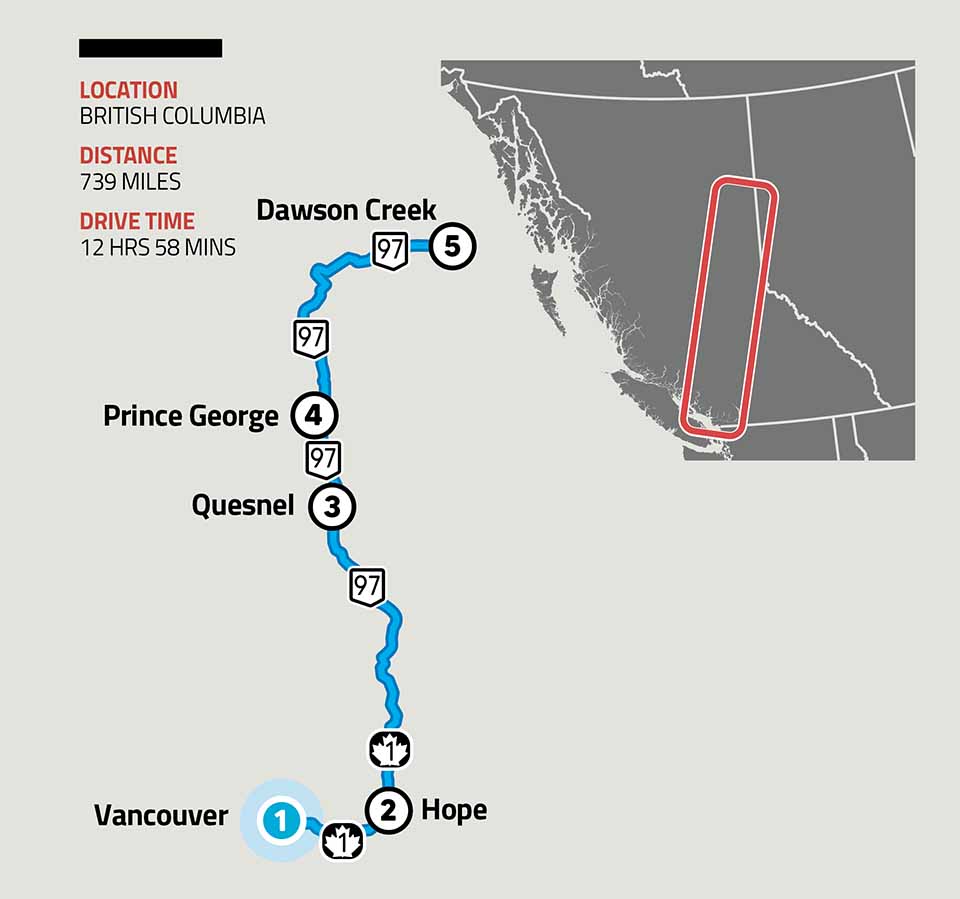 In British Columbia, it doesn't take long to reach vast wilderness. Drive out of Vancouver and you'll see skyscrapers quickly give way to soaring mountain peaks and lush valleys. Continue north and the scenery just keeps getting better. Home to ancient old-growth forests and abundant rivers, this part of the province is an untamed natural playground so prepare to pull over often and explore. If you're passing through on your way to Alaska, enjoy these amazing stops.
1. Vancouver
Starting point
A sense of adventure and a good appetite will take you far in this beautiful West Coast city. From Pacific Northwest dishes and dim sum to gourmet donuts and fusion street food, you'll get to feast on all sorts of delicious delights in foodie neighborhoods like Gastown, Yaletown, Chinatown and Granville Island. Burn off the calories by kayaking around Vancouver Harbor or cycling along the Stanley Park seawall. For a challenging yet rewarding workout, climb the 1.8-mile Grouse Grind for views of the city.
2. Hope
Drive 94 miles • 1 hour, 41 minutes
Resting at the edge of the Fraser Valley, Hope is a natural wonderland rich in wildlife. Reel in steelhead, salmon and sturgeon in its surrounding rivers and lakes and stay on the lookout for blue herons and eagles while you're out on the water. In town, take a self-guided tour to see the Hope Chainsaw Carvings, a collection of almost a hundred sculptures crafted by local carvers. Many of them depict local wildlife such as bears, cougars and mountain sheep.
3. Quesnel
Drive 320 miles • 5 hours, 35 minutes
Quesnel's uncrowded waterways provide the perfect backdrop for your outdoor pursuits. Gear up and paddle against Class I to Class IV rapids on the Quesnel, Cariboo and Chilcotin rivers. Fishing is excellent here too. It's not uncommon for rainbow trout, bull trout and spring salmon to reach 30 pounds in the Quesnel River.
4. Prince George
Drive 75 miles • 1 hour, 22 minutes
British Columbia's fourth-largest city is about an hour away from the world's only inland temperate rainforest. Chun T'oh Whudujut Provincial Park, better known as the Ancient Forest, houses a unique forest ecosystem that blends British Columbia's coastal rainforests with the boreal forests of the far north. Follow the Ancient Forest Trail to encounter gigantic cedar trees.
5. Dawson Creek
Drive 250 miles • 4 hours, 20 minutes
Nicknamed "Mile 0," Dawson Creek is the southernmost stop on the Alaska Highway and the starting point of a 1,422-mile journey to Delta Junction, Alaska. Snap a photo of the Mile 0 Post at 102nd Avenue and 10th Street, and then pop in the Alaska Highway House to find out how 30,000 soldiers and civilians built this expansive roadway in just nine months. Join a walking tour to hear about the town's fascinating WWII history and view works by local artists at the Dawson Creek Art Gallery.