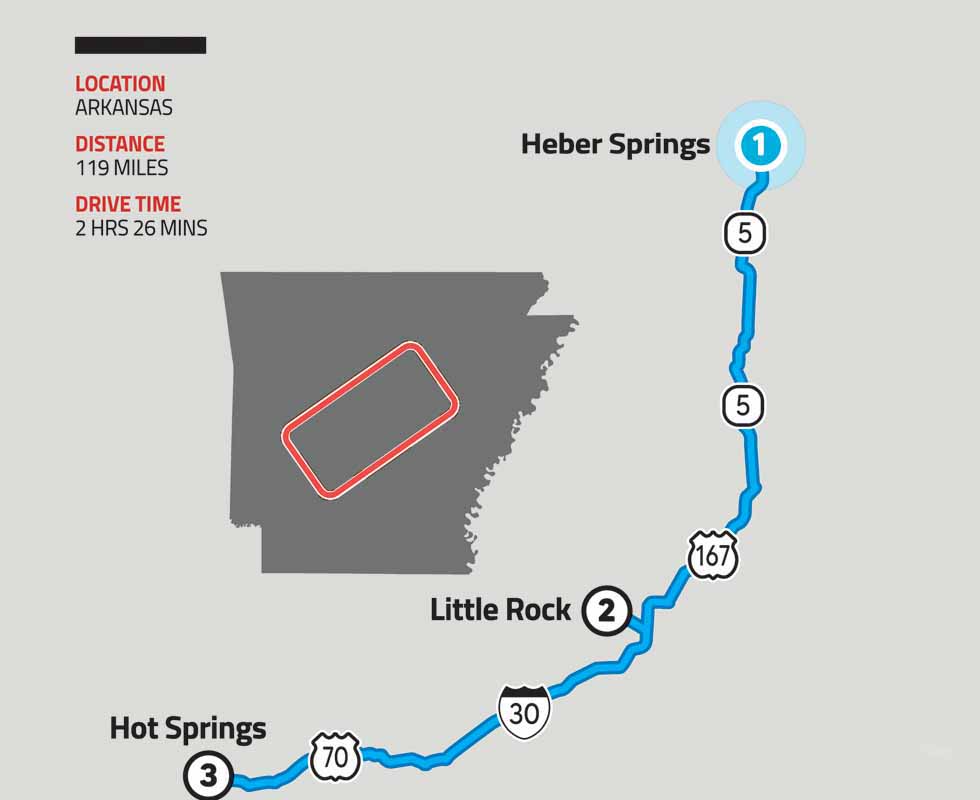 The Natural State puts Mother Nature in the spotlight with scenic and challenging locations for outdoor adventure lovers. Fish baskets are overflowing in lakes and along rivers, where rods and reels stay busy. Boaters skim the surface of tantalizing waters, pulling skiers and dropping divers in their wakes. Spring's blossoms inspire renewal for visitors as they flock to hot and cold springs alike, nurturing their bodies with age-old healing remedies in the natural waters of Arkansas.
1. Heber Springs
Starting Point
The fish are always biting at Greers Ferry Lake, where every species native to Arkansas is waiting for you to drop a line. With over 40,000 acres, the lake is considered an angler's paradise, and eight marinas provide ample launching points for houseboats, sailboats and watercraft to peruse the crystal-clear waters, as well. Scuba dive the depths here, then head back to town for a local ritual dating back more than 180 years. Since its founding, the seven springs of Heber have provided healing waters for various maladies. Bring your own bottle and take some medicine home with you.
2. Little Rock
Drive 64 miles • 1 hour, 13 minutes
River Market is the hub of downtown Little Rock, where world-class shopping coexists with vibrant music venues and eclectic restaurants. The capital city's cultural center is here, as well, with several museums and art galleries rounding out the entertainment options. Purchase fresh produce from local growers at the Farmer's Market, or wander through Little Rock Sculpture Garden before hitting the urban hiking paths of the Arkansas River Trail. With 17 miles of river views, the system connects 38 parks with museums for a city-wide outdoor experience.
3. Hot Springs
Drive 55 miles • 55 minutes
Water is central to Hot Springs. Hot water streams from its renown springs, but cold mountain water from the north entices anglers to the Ouachita River, where rainbow trout are reeled in by the dozens. Drop your hook, line and sinker where dams along the river have created Lake Hamilton and Lake Catherine, and you will likely come up with a bass, crappie and catfish for dinner. But head back to town for some hot water pampering. Luxuriate in any of the eight historic bathhouses in Hot Springs National Park, where treatments include tub baths, vapor cabinets and hot packs. At the Gangsters Museum of America, visitors can learn how Al Capone, Frank Costello, Bugs Moran, Lucky Luciano, and other infamous mobsters transformed this small town into an thriving hub for illegal gambling.