Towns County
Only two hours north from the hustle and bustle of Atlanta, Towns County is the perfect retreat from big-city life. Exuding a welcoming Appalachian attitude, showcasing picturesque waterfall hikes and enticing leisure-seekers with plenty of laid-back lake life to enjoy, Towns County is a family-friendly destination with plenty of opportunities for outdoors adventure. Toss in a little luxury at the area's resorts and spas, and you've got the kind of authentic escape you'll want to return to year after year.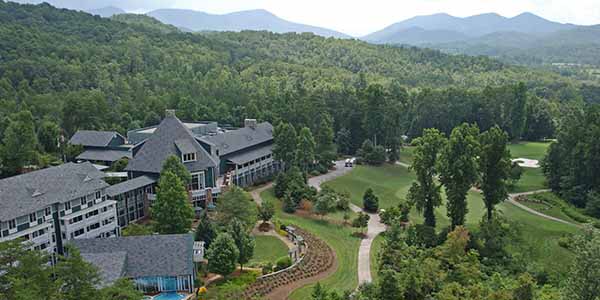 Brasstown Beauty
Head straight to the top of the state's tallest mountain, known as Brasstown Bald, for a classic introduction to the surrounding landscape. The panoramic view from the summit is stunning in all four seasons, although the fall foliage is without compare. The on-site interpretive center dispenses lots of info on the area's natural history. Brasstown Valley Resort & Spa is another gem, especially for golfers, horseback riders and families looking to enjoy all the amenities they could ask for in a refined, friendly setting.
Leisurely Lake
Spanning the Georgia-North Carolina state line, Lake Chatuge is the epicenter of watersports in Towns County, and with over 132 miles of shoreline, it's easy to see why. The 7,000-acre lake has a public beach for swimming, sunbathing and picnics, but the real draw are the numerous hidden coves for secluded fishing and boating. Kayaks, canoes, paddleboards and pontoons are available for rent nearby. Head south to take advantage of the free-flowing Hiawassee River's scenic trout fishing opportunities.
Ringing the Bell
Though the views from Brasstown Bald are one of a kind, some locals argue that the lookout summit of Bell Mountain is even better. It's easily accessible, though the last few hundred feet are extremely steep, so be prepared. The Jackrabbit Mountain Bike and Hiking Trails system just over the North Carolina border is another go-to for outdoor lovers looking to bike, hike or horseback ride along miles of trails that wind past the shores of Lake Chatuge and the nearby rolling hills. Head to High Shoals Falls outside Hiawassee for a short but scenic hike.
Mountain Majesty
Nestled on the shores of Lake Chatuge, the Georgia Mountain Fairgrounds in Hiawassee is home to a number of top-notch Appalachian music and food festivals. The Georgia Mountain Fair in July, Roots & Music Festival and the Official State Fiddler's Convention are especially popular.
For More Information
Towns County Chamber of Commerce
706-896-4966
Georgia Department of Economic Development
800-847-4842