Sauble Beach
Remember those summer days of childhood when you didn't have a care in the world? Revisit that innocent time at Sauble Beach. Home to the second-longest freshwater beach in the world, this laid-back community on the Bruce Peninsula takes you back to simpler pastimes with its classic attractions, fun-filled coastal activities and friendly locals who will make you feel like family.
Beach Living
Rated Canada's top freshwater shore, Sauble Beach keeps you busy in the best way possible with its seven-mile stretch of waterfront. Spread your towel out and work on your tan, play a round of volleyball or pick up souvenirs at the beachfront shops. Get extreme with surfing, kiteboarding, stand-up paddleboarding and jet skiing. Wrap up your day with a sunset stroll and delicious meal at Sola's Grill. If you want to escape the crowds, head to Sauble Beach South to find a quiet stretch of sand you can have all to yourself.
Great Lakes and Marine Parks
Nestled in Bruce Peninsula's northern tip, the Fathom Five National Marine Park will pique your curiosity with 22 shipwrecks, many of which lie within reach of divers. From schooners to barges, this marine park encompasses some of the best-preserved sunken vessels in Canada's history. Dive to over a dozen sites like the W.L. Wetmore steamer and the Arabia barque just off Echo Island. Gear rentals and diving lessons are available from Divers Den Scuba Charters, G&S Watersports and Tobermory Aqua Sports.
Fishing and Fun at Sauble Falls
Closer to Sauble Beach is Sauble Falls Provincial Park. The falls used to power a timber mill and generating station and are now a popular fishing destination. Come in autumn to catch bounties of salmon and watch fish leap out of the water as they try to reach their spawning areas. You can also take a boat tour on the Sauble River or Lake Huron. Sit back, relax and soak up sweeping island views while your captain shares stories about Bruce Peninsula's geography, history and endangered species.
Walk Among Giants
Don't forget to bring your camera to Flowerpot Island. You'll want to take plenty of photos of the towering rock formations that look like — you guessed it — flowerpots. Boat tours from Tobermory take you to this section of the Fathom Five National Marine Park, with most hiking trips beginning from Beachy Cove. Follow the loop to see every "flowerpot," along with caves, rare plants and a light station.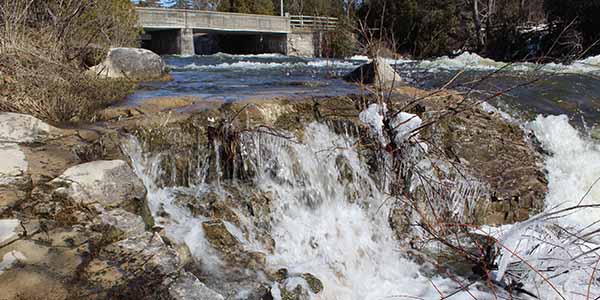 Good Old-fashioned Fun
Sauble Beach has a vintage charm that keeps you coming back. The beach community looks just like it did generations ago, with friendly locals happy to show you around their hometown. Come in the summer for beachfront concerts, movie nights under the stars and a classic car show. The Sauble Golf and Country Club lets you play 18 holes in a laid-back atmosphere, while the Earthbound Touring Gardens give you the chance to view thousands of blooming lilies. You can also play over 50 games at Giggles Arcade and conquer challenging obstacles at Ascent Aerial Park. Between all the fun attractions, you'll find a handful of pubs, bakeries and cafes dishing out all your favorite treats.
Go from the Sand to the Speedway
Keep the beginning of August free for Sandfest and the Classic Car Show. The festivals take place at the beach on the same weekend, so you can check out incredible sand sculptures and a fantastic collection of vintage cars all in one place. Live music, family-friendly activities and amateur sandcastle competitions complete the experience. You might be surprised to find a NASCAR-sanctioned speedway just minutes away from shore. The Sauble Speedway brings high-speed action with races in the summer.
Ancient Trees and Trails
Bruce Peninsula National Park is less than an hour away from Sauble Beach. It makes up a good chunk of the Niagara Escarpment, a UNESCO World Biosphere Reserve. The best way to experience the area's rolling hills, cascading falls and pebbled shores is by hiking the Bruce Trail, the longest and oldest marked footpath in Canada.
Bruce Bash
Opportunities for additional outdoor recreation abound here, with biking, swimming, canoeing and wildlife spotting on offer amidst a pristine wilderness of craggy oyster gray cliffs, dense forests and gorgeous turquoise waters that feel more Caribbean than Canadian. This glorious park is famed for its superb hiking trails, which range in difficulty from novice to advanced and connect to the Bruce Trail.
For More Information
Sauble Beach Tourism Office
Ontario Travel
800-668-2746