Hershey
Come visit the Sweetest Place on Earth. It's a town where you'll smell the sweet aroma of milk chocolate wafting from the local factory as you cross the city limits. Take a drive down Main Street, where you can turn at the corner of Chocolate and Cocoa Avenues and see streetlights that look like beautiful, shiny Hershey Kisses. Once you see these iconic beacons, you'll know you made it to Hershey.
Premier Park
The number-one attraction in Hershey is, of course, Hersheypark. This 113-year-old amusement park has something for everyone. Take in a show and experience over 70 attractions, including 14 roller coasters that will leave you screaming for more. Here, you'll also find ZooAmerica, which features more than 200 wild animals that are native to North America. Before you leave for the day, stop over at Chocolate World, a sweet exhibit that will take you on a ride around a virtual chocolate factory. At the end of the ride, passengers are rewarded with a free Hershey bar.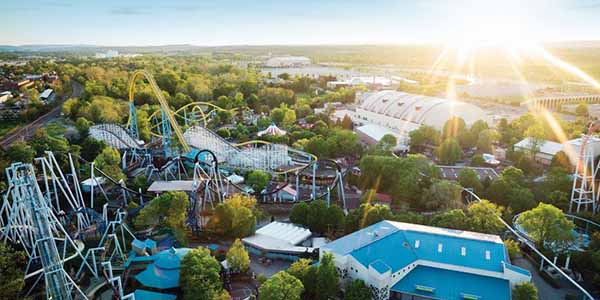 Hershey H20
Hersheypark's Boardwalk features more than 15 water rides that will surely make your family's trip a splash. If you brought your boat, there are experiences near Hershey for you, too. Just 15 minutes north of town, you can put your boat in the Susquehanna River. Anglers will be delighted with the variety of fish you can reel in, including walleye, catfish and smallmouth bass, just to name a few.
Golf Sweet Spot
If you packed your golf clubs, you'll be happy at the Sweetest Place on Earth. There are two public courses in Hershey and a half dozen more within 15 minutes of town.
Gardens and Grapes
Once you're done hitting the fairway, you'll have to stop by the 23-acre Hershey Gardens. This botanical wonderland has a butterfly house and a hands-on garden for the kids. And if you grow weary of the town's chocolate offerings, take a taste of the area's fine vintages; there are about a dozen wineries within 15-30 minutes of town.
Train Time
If you're a shopaholic and not a chocoholic, don't despair. Hershey overflows with retail opportunities. Stop in any of the small shops that line the downtown to find antique shops, toy stores and, of course, candy stores. Just across the street from the amusement park is the Tanger Outlet Shopping Center, with over 50 stores that slash prices with big discounts. If you're looking for a great show, catch a performance at the iconic Hershey Theatre, renowned for its Aeolian-Skinner organ, with over 4,000 pipes.
Casino Fun
Roll the dice on a day trip to Hollywood Casino in Grantville, and if you're lucky, you'll come up a winner. Located at Penn National Race Course, the casino offers slot play, table games and a museum filled with memorabilia and props from popular Hollywood films. Live music has a starring role, too, as do the horses. If motorsports revs you up, stick around for a race or two and see if you can pick a winner.
Sweet RV Deals
In early September, the world's largest RV show takes place in the Giant Center. The Hershey RV Show features over 1,400 vehicles, from folding camping trailers to bus conversions. Complementing the vast display of homes on wheels, the show includes top entertainment and helpful seminars for would-be owners.
Hershey History
Chocolate magnate Milton S. Hershey chose to build his factory in Central Pennsylvania because of its proximity to dairy farms. He knew he'd need a steady supply of milk to make his famous chocolate. But before there was chocolate, there was the stone that was the color of chocolate. Famous Manhattan brownstone row houses were built with stones from the Hershey area, and Mr. Hershey used many of the same stones for the structures of his sprawling Hershey complex. In addition to building Hershey, he invested in many of the buildings around town, including the Hershey Hotel and the Milton Hershey School for disadvantaged children, still in operation today.
Disaster Averted
Little-known fact: Mr. and Mrs. Hershey had tickets to board the Titanic for the passenger liner's ill-fated 1912 voyage, but minutes before the ship was to sail, they changed their minds. Fortune — and the gods of chocolate — smiled upon the couple.
Canoe and Kayak Fun
Work off some of all those calories with some paddling adventures on local waterways. Cocoa Kayak Rentals organizes paddling trips along the quaint Swatara Creek, just north of Hershey. Be prepared for ample wildlife sightings, including the reclusive bald eagles that live along the tree-lined waterway. In nearby Hummelstown, guides can arrange tours along the popular Susquehanna River that include tubing and fishing.
Two Wheel Treats
Take your bicycles out for a spin on the fabulous trails that run through Hershey; the Jonathan Eshenour Memorial Trail runs for more than 13 miles through the township. If fishing is your preferred pastime, dip a line in Grub Lake to the south for largemouth bass, smallmouth bass and crappie. Plenty of fishing spots are available. Afterward, Quench an adult-size thirst at Tröegs Brewing Company, where guided tasting tours provide insights into the production of the company's tastiest creations. It's part of a thriving brewing scene.
For More Information
Hershey Entertainment & Resorts
800-437-7439
Pennsylvania Department of Community and Economic Development
800-847-4872