Hendry County
Sitting between the shores of Lake Okeechobee and the sprawling Everglades, vast Hendry County gives visitors a taste of South Florida's wild side. Fishing, boating, swamp buggy tours and more introduce campers to the unique ecosystems of the Sunshine State across 1,190 square miles.
Hendry History
The region's deep historic roots remind visitors of the Hendry County's fascinating role in early American history. The area is home to the Big Cypress Indian Reservation, one of the Seminole Tribe's six reservations statewide, and host of the tradition-rich LaBelle Swamp Cabbage Festival as well as the Hendry County Fair, both in February. With a menu that bursts with recreation choices and cultural sites, Hendry County is an oustanding selection for your next Florida RV trip.
Florida's Great Lake
The jewel of Hendry County, Lake Okeechobee is the second-largest freshwater lake within the continental United States (after Lake Michigan). The headwaters of the Everglades, Okeechobee covers 730 square miles and provides a magnificent setting for recreation on land and water, including some of the nation's best bass fishing. The low-key towns of Clewiston, set right on the lake, and quaint Labelle, provide the launchpads for adventure.
Unravelling Seminole History
With a coveted location on Lake Okeechobee, Clewiston offers a charming slice of Old Florida. The Ah-Tah-Thi-Khi Museum examines the history and culture of Florida's unconquered Seminole Indians through a small collection of exhibits, rare artifacts, and a living history village. The town's showpiece is the historic Clewiston Inn, a National Historic Site built in 1938 in classic revival style by the United States Sugar Company to host the company's top brass. The historic town of LaBelle unfurls along the scenic Caloosahatchee River and combines its history as a former cattle raising center with a passion for its agricultural bounty. A local institution, the Harold P. Curtis Honey Company has been run by fourth generation apiarists since 1921. The LaBelle Heritage Museum provides a brief insight into the town's history through displays of local artifacts and fossils.
Airboats and Alligator Wrestling
Hendry Country's fascinating indigenous history and primal landscapes coalesce at the Big Cypress Seminole Indian Reservation. The largest of six Indian reservations owned by the Seminole Tribe of Florida, tribal members provide art and craft demonstrations at an authentic Seminole Village. There's also a series of exhibits and presentations that showcase the Everglade's incredible profusion of flora and fauna. The reservation's wild recesses can be explored on board an airboat or swamp buggy as part of Big Cypress's  signature attraction: the Billie Swamp Safari. The three-day Big Cypress Shootout Festival in March features a reenactment of the Second Seminole War, with soldier camps, authentic costumes, weapons, an archery tournament, tomahawk throws and a crowd-pleasing alligator wrestling performance.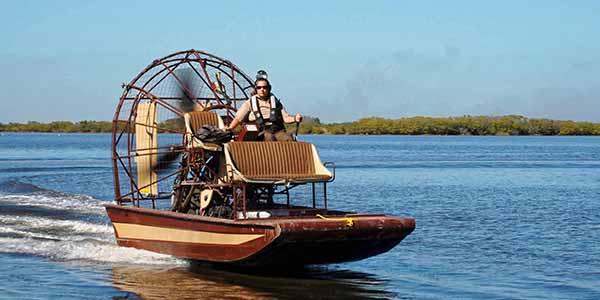 Birds of a Feather
The Lake Okeechobee Scenic Trail is a paved and off-road trail located above the Herbert Hoover Dike. The trail crisscrosses agricultural communities including Clewiston and Belle Glade and abounds with wildlife-watching opportunities in fall and winter, when herons, egrets and wintering waterfowl descend en masse; keen ornithologists can sign up for birding trips operated by the Audubon Society. With its bromeliad-draped live oaks and tall cabbage palms, LaBelle Nature Park is a serene place to stroll.
The Big O
The 67-mile Caloosahatchee River that connects Lake Okeechobee and San Carlos Bay at Sanibel Island delivers some of southern Florida's finest fishing, birding, and boating opportunities. In Clewiston, tour operators offer one-hour airboat rides through the shallows where wildlife abounds, including alligators, ospreys, eagles, pelicans, bald eagles, endangered whooping cranes, and Great Blue Heron. The "Big O" is a popular destination for professional anglers lured by prime bass fishing. Professional licensed guides operate fishing charters and rentals at Roland Martin's combination resort/marina, the area's top fishing complex; the resort also offers boat rentals, fishing guides, airboat tours, and a lively tiki bar and grill.
Swamp Cabbages and Sugar
LaBelle's leafy riverfront park has played host to the Swamp Cabbage (also known as the 'heart of palm') Festival in February for the last 53 years. As well as a pageant, live music and dancing, a rodeo and a 5K Run, there's also a fishing tournament and keenly fought armadillo races. In mid-March, Clewiston's Sugar Festival has celebrated the end of the harvest since the 1930s with a rodeo, a "Sweet Taste" contest, kid's activities, live entertainment, and a bass fishing tournament. In early November, the Ah-Tah-Thi-Ki Museum hosts its American Indian Arts Celebration (AIAC) with arts and crafts demonstrations, traditional Seminole music and dance, Native American vendors, and a number of guest presenters and wildlife exhibits.
Seminole Strong
The Seminole Indians, who first appeared in modern-day Broward County in the 1820s, are the only tribe to never sign a peace treaty with the United States. Clewiston's Museum provides brief insight into Hendry County's history with a small but revealing series of exhibits, including Seminole memorabilia, fossils, mammoth skeletons, Indian trade maps, and tools and instruments used by sugar cane cutters.
For More Information
Hendry County Tourist Development Council
863-983-7979
Florida Tourism
888-735-2872