Gettysburg
Some come to Gettysburg to honor its somber Civil War history. Some come to enjoy the natural beauty of the gently rolling landscape. Others come to enjoy the bounties of this agricultural region. No matter your reason for visiting Gettysburg, the town just might surprise you.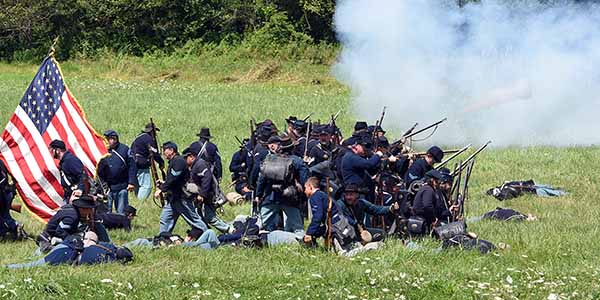 The Hallowed Grounds of Gettysburg
The defeat of Confederate General Robert E. Lee at the hands of the Union Army in a bloody battle in Gettysburg, Pennsylvania, in 1863 turned the tide of the Civil War in favor of the Northern states. About 150,000 soldiers fought and 50,000 lost their lives on the fields and ridges surrounding this peaceful town. As President Abraham Lincoln noted in the Gettysburg Address, the soldiers who struggled and perished in the battle consecrated the grounds with their efforts, leaving it a sacred spot of remembrance and honor.
Follow Rangers
Take a Ranger Tour and visit the park's museum to learn the full story of the Battle of Gettysburg. Walk the battlegrounds to imagine the staggering losses and acts of bravery that occurred amid these rolling hills. Occasionally, the sounds of cannons still echo through this landscape, as living history demonstrations bring the past to life. In fact, reenactors in both Union and Confederate uniforms charge across the vast fields every July in honor of the epic battle.
Scenic Waterways
With 85,500 forested acres, the Michaux State Forest, east of town, is a top pick for anglers. Several trout streams ripple between the rocky ridges. Drop a line in the east branch of Conococheague Creek and the east and west branches of Mountain Creek. The 25-acre Laurel Lake and 17-acre Fuller Lake are scenic spots for paddling and angling. Named a Pennsylvania Scenic River, Yellow Breeches is a beloved spot for paddling, with pristine, welcoming waters.
Where History and Beauty Blend
Located at the northern tip of the Blue Ridge Mountains, Pine Grove Furnace State Park offers up recreational opportunities in a majestic, historical setting. If you want to say you've hiked the Appalachian Trail, you can find a section of the trail crossing through the park; the halfway point of the iconic, 2,186-mile route is found to the south in Michaux State Forest. Even if you don't hike on this famed footpath, you'll find four miles of trails to explore in the park. Bike the two-mile converted rail trail connecting the remains of a 19th-century iron community (where you can explore iron furnaces and historic buildings) to Laurel Lake, a scenic mountain waterway.
Gettysburg's History and Harvests
Gettysburg's history dates back to long before the Civil War. To get a feel for what the town was like during the American Revolution, visit the Dobbin House Tavern. Built in 1776, this historic stone home now offers tours and functions as a restaurant and bed and breakfast. Stay for a spell and enjoy a fireside ale or an exquisite meal by candlelight.
For More Information
Destination Gettysburg
717-334-6274
Pennsylvania Department of Community and Economic Development
800-847-4872