Destin
As part of the Emerald Coast on the Gulf of Mexico, Destin lives up to its tourist brochure promise, with glorious white, sandy beaches, emerald waters and pristine state parks. Located on a peninsula separating the Gulf of Mexico from Choctawhatchee Bay, the town puts visitors close to waters teeming with marine life. Partake in excellent snorkeling, wildlife watching, boating and fishing opportunities.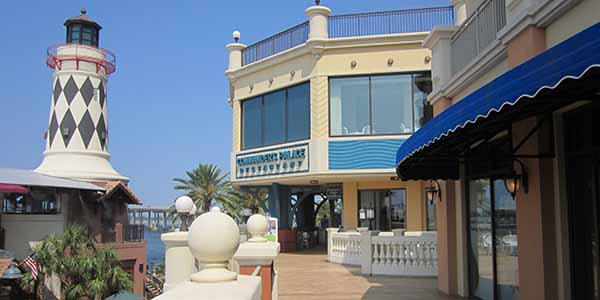 Pretty in Pink
Crystal Beach is Destin's most coveted vacation spot. An antidote to the Emerald Coast's high-rise condos and strip malls, the town is a charming confection of pastel-hued beach cottages that hug sugar white sands. The glossy new tourist hub of Destin Commons comprises restaurants, boutiques, a movie theater and tour outfitters. For an insight into the region's fishing heritage, the Destin History & Fishing Museum traces the development of the town, known as the "world's luckiest fishing village," with a collection of vintage photographs, antique fishing rods (including one owned by writer Ernest Hemingway) and a 100-foot-long display of the region's prized fish.
Catch of the Day
Life in Destin revolves around sun, sea and sand. Everything in town is channeled toward rounding out ocean-based pursuits. There are superb seafood restaurants, family-friendly boat trips, a lively festival calendar, and more than a smattering of tourist fun. Destin's passion for the local fishing industry runs wild with the Cobia Tournament, held each spring; the Destin Seafood Festival in October; and the Destin Fishing Rodeo, a monthlong fishing tournament that has been a beloved fixture since 1948. To dine with the locals, head to the Brotula's Seafood House & Steamer, where you can order fresh, locally sourced seafood, delicious produce and a wide array of steamed and boiled shellfish platters.
Deep-sea Magic
The HarborWalk Marina is the launching pad for adventures on the water. Deep-sea fishing conditions in Florida don't get much better than this, with an offshore shelf dropping to depths of 100 feet about 10 miles off Destin's East Pass. With over 250 charter boats, Destin has one of the largest charter fleets in the nation and professional outfitters can customize each deep-sea experience, ranging from a four-hour mahi-mahi fishing tour to epic overnight adventures.
Seeing the Sights
Beyond fishing, a number of outfitters offer snorkeling, dolphin-watching and fireworks/sunset cruises. For families, the Buccaneer Pirate Cruise is a popular themed adventure complete with rowdy buccaneers, interactive sword fights, water gun battles, stories, songs, dances and treasure hunts.
Natural Beauty
The highlight of any visit to Florida's Panhandle, Henderson Beach State Park preserves some of Florida's most unique and captivating ecosystems, including myrtle oaks, sand pines and sea oats. Henderson's mile-long beach is a picture-perfect vision of crystalline waters and powdery white sands with undulating dunes, many as tall as 30 feet. The park's short hiking trail allows for close encounters with rabbits, gopher tortoises, herons and migrating monarch butterflies.
For More Information
Emerald Coast Convention &
Visitors Bureau
800-322-3319
Florida Department of Tourism
888-735-2872