Chamberlain/Oacoma
If you've been looking for a camping excursion that has the perfect balance between fishing and hunting, antiques and scenic beauty, then look no further than the communities of Chamberlain and Oacoma. These twin towns, separated by the Mighty Missouri River, offer campers a peaceful haven with wandering wildlife, spectacular sunsets, galleries and showrooms, golfing, shopping and a 50-foot Native American sculpture named Dignity to welcome you to the area. Travel like Lewis and Clark, who camped here in 1804, and call the place home for a few days or weeks.
Relaxin' on the River
In Chamberlain-Oacoma, you won't find race cars or roller coasters, but you will find breathtaking views, diverse landscapes and a culture that dates back before Lewis and Clark "discovered" the area in the early 1800s. The Native American culture welcomes you as you exit I-90 and enter the Lewis and Clark Interpretive Center. Here, you will meet Dignity. Built in 2016 to celebrate the state's centennial, this stainless steel, 50-foot statue represents the courage, perseverance and wisdom of the Lakota people. Also in Chamberlain, you'll find the Akta Lakota Museum and Cultural Center, which exhibits local artists and is a tribute to the Sioux Nation.
Ride the Current and More
The Mighty Missouri offers fun in all shapes and sizes. If you brought your boat, you could let it rip on the Missouri River. There is plenty of room to go fast and just as much room for those that don't like the speed. If you didn't bring your boat, you can rent canoes, kayaks, paddleboards and pontoons in town, or if you'd prefer to stay on land, throw a line in the water to tempt the walleye from the bank. If you seek help, you can even hire a fishing guide to make sure you take home a trophy. Sometimes it's nice to just watch the sunset over the river from the fishing piers. Take your lawn chair, sit back and relax as the day unfolds before your eyes.
Biking and Golfing
You can see all the beautiful landscapes of Chamberlain and Oacoma on foot or on two wheels. Several hiking and biking trails surround the area. Prefer tech-related adventures? Turn on your GPS and go geocaching. A local community of geocaching enthusiasts have left many good finds in and around Chamberlain and Oacoma.
Golfing South Dakota
If you packed your golf clubs, then you'll need to check out the Chamberlain Country Club — nine holes of pure fun. And if you're into bird-watching, then you're in luck, because locals report seeing everything from bald eagles to Canada geese. Over 400 species have been spotted.
Shopper's Paradise
Spend a little time in Chamberlain and Oacoma and you'll find that the local atmosphere buzzes with quirky fun. Every June, shoppers come from miles around to look, ogle and often purchase from the 90-mile-long Scavenger's Journey yard sale, which stretches from Kadoka to Mt. Vernon (Chamberlain-Oacoma sits about 58 miles east of Mt. Vernon). Need some java? Duck into Al's Oasis in Oacoma, famous for cheap cups of Joe, delicious pie and adjoining stores. It's one of the Midwest's favorite stops, welcoming travelers from across the U.S.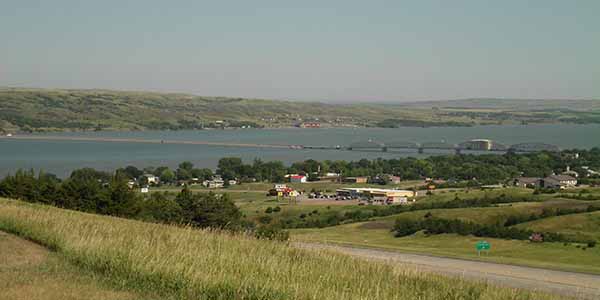 Relics from the Past
Make sure you save time to check out the antique shops in the area. Also, there are several Native American powwows held throughout the year, and if you find yourself in need of something to do on a Saturday night, head on over to Pukwana, just a short drive from Chamberlain, for Pukwana Mower Races. Watch as members of the Crazy Racers Lawn Mower Association hit the gas on an oval track.
Catapulting Pumpkins
There are a few events in Chamberlain and Oacoma that you won't want to miss. The American Island Days, held mid-August, is a fun-filled event complete with chicken races, a watermelon-eating contest and a beanbag tournament. Independence Day brings the Rock the Bluffs festival, where you'll be able to see beautiful fireworks explode, reflecting in the Missouri River. Autumn brings the Chamberlain–Oacoma Fall Festival with the Pumpkin Chunkin' Contest. Bring your favorite trebuchet (French for "catapult") and chuck some pumpkins.
Lewis and Clark Were Here
Oacoma is the spot on the west bank of the Missouri River where, on September 14, 1804, Lewis and Clark camped during their remarkable journey westward; they named the area Camp Pleasant. But long before these explorers walked the land, a much larger creature thrived. About 78 million years ago, a sea lizard known as a mosasaur swam here when the area was part of a vast sea. Watch as paleontologists dig for this and other fossils in the area each summer.
For More Information
Chamberlain Convention and Visitors Bureau
605-234-4416
South Dakota Department of Tourism
800-732-5682