Auburn-Opelika
One of the South's most vibrant college towns, Auburn and its more industrial sibling Opelika (seven miles east) deliver a sprinkling of cultural attractions, quirky local festivals and historic landmarks in east-central Alabama. Just six miles south of town, locals flock to the forested expanses of Chewacla State Park for lakeside relaxation and myriad opportunities for outdoor recreation, including dozens of multi-level hiking and biking trails.
Elegant Opelika
The Opelika Northside Historic District is a neat confection of Victorian painted ladies, Neoclassical mansions and Tudor Revival homes that exude turn-of-the-century grandeur with artfully restored period elements, including classical columns, decorate friezes and turrets. With its luxuriant foliage — impressively ordered and classified — the Donald E. Davis Arboretum is a lovely place to unwind amid Alabama's native flora. Consisting of more than 900 trees and 300 plant specimens, the installations present the state's biodiversity, including examples of coastal dunes, blackbelt prairies and longleaf pine savannah.
The Art of Life
One of the state's finest museums, the Julie Collins Smith Museum of Fine Art in Auburn houses a substantial collection of artworks primarily focused on 19th- and 20th-century American art. In addition to masterworks by Georgia O'Keeffe, Diego Riviera and Marc Chagall, the museum features a collection of over 100 prints by naturalist painter John James Audubon.
Live Art
Auburn and Opelika play host to some of Alabama's most acclaimed productions. Located in one of Opelika's oldest neighborhoods, the Southside Center for the Arts was originally designed as a school building by revered local architect Frank Lockward in 1929. Today, the historic center attracts the nation's top actors, musicians and performers from across the artistic spectrum, including Broadway shows, world-class symphony orchestras and opera companies.
Wild War Eagle
A pilgrimage site for devotees of the Auburn University Tigers football team, the Jordan-Hare 90,000-seat stadium is famed for its eagle flyover that marks the opening of home football games and supercharges the Auburn University's "Wild Eagle" spirit.
Post-game Party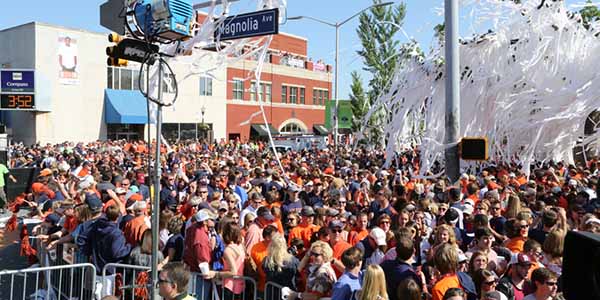 After the game, the town becomes a scene of fun and festivity. Fans throw toilet paper into the trees, and many folks congregate at Toomer's Drugs, a signature Auburn establishment founded in 1896. Throughout football season, and especially during the hot summer months, Toomer's welcomes patrons for a tall, icy glass of refreshing lemonade. You'd be hard-pressed to find better lemon flavor.
Pioneer Days and Garden Parties
Held the last Saturday in April, Auburn–Opelika's City Fest transforms the Auburn's beloved Kiesel Park into a family-oriented extravaganza of live music, arts and crafts, delectable regional produce, and meet-and-greets with the famous raptors who fly over Jordan-Hare stadium. The first Saturday in May, Garden in the Park is an arts and craft festival and community fundraiser. Along with purveyors of handmade artisan products and regional food and beverages, there are children's activities, tree plantings, and live performances.
Fair to Great
Early October, the Lee County Fair features a kids day, live music, a Miss Lee County Fair pageant, a cookie contest and a building blocks contest. Pioneer Day (better known as the Syrup Sopping & Historical Fair) is held the last week in October and celebrates the region's syrup production with exhibits that include mules grinding cane and syrup production workshops.
Sweet Auburn
Named after the "sweet Auburn" of Oliver Goldsmith's "The Deserted Village" poem, Auburn was founded in 1836 by John Harper, a settler from Georgia. Located some 60 miles northeast of Montgomery, it was the inauguration of Auburn University, firstly as a Male Methodist College (Methodist) in 1859, that ignited regional development and a nascent manufacturing economy. For a more in-depth insight into the region's history, Pioneer Park's living history exhibits include an evocative reconstruction of the Old Trade Center, a blacksmith shop, a doctor's office and the Barnard-Newell Log House with a Native American Garden. Historic Loachapoka, seven miles from downtown, is a typical kernel of 19th-century homes. The Museum of East Alabama features an eclectic assortment of exhibits on local history and trace Opelika's roots from a Methodist church settlement in 1837 to a thriving agricultural center.
Parks and Recreation
From the kaleidoscopic flowers and heritage gardens of Soos Creek Botanical Garden to the pavilions, ponds, and walking trails of Keisel Park, Auburn and Opelika are blessed with green spaces. With 696 acres, including a 28-acre lake, Chewacla State Park is Auburn-Opelika's adventure playground. Some 28 miles of shared-use trails for cyclists and hikers traverse forests and woodlands and provide terrain for all skill sets. One of the most popular trails, the eight-mile "For Pete's Sake Trail," has all the gnarly features necessary to challenge intrepid bikers, including technical climbs, narrow bridges, dialed dirt jumps, loose rocks, steep inclines and a skill development area. For novice hikers, the tamer "Sweet Shrub Trail" flanks Moore's Mill Creek and provides rewarding wildlife watching for resident waterfowl, including magnificent blue herons and kingfishers in the shallow waters.
Calm Waters
When the mercury rises, Auburn-Opelika's outdoorsy locals head six miles south to Lake Chewacla, where placid waters, scenic waterfalls and picturesque creeks constitute idyllic swimming and boating conditions; only non-motorized vessels are permitted and canoe, kayak and boat rentals are available at the park's office. Lake Chewacla and the park's two creeks also provide a tranquil setting for reeling in prized catches of bream, bass, crappie and catfish. Some six miles south of Opelika, the Lee County Public Fishing Lake is a 130-acre public fishing lake that is popular for its stores of largemouth bass, channel catfish, bluegill, sunfish and crappie; fishing boats can be rented and boat ramps are available.
For More Information
Auburn and Opelika Tourism Bureau
866-880-8747
www.aotourism.com
Alabama Tourism Department
800-252-2262
www.alabama.travel