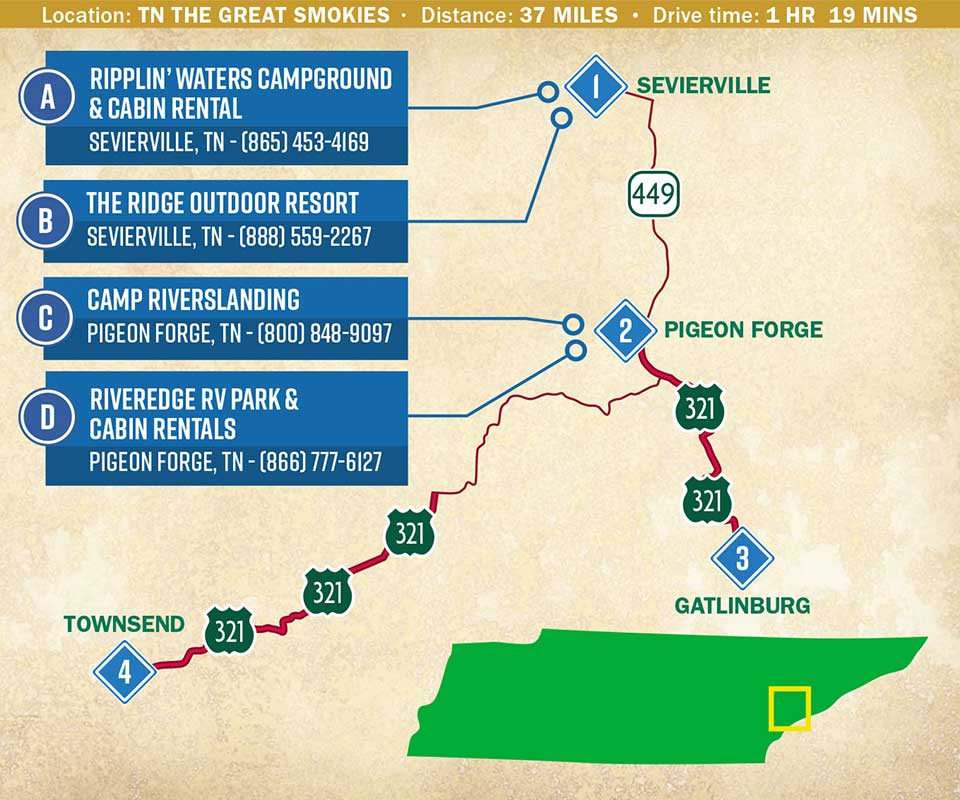 Life moves a little slower when you're on Tennessee time, but don't let the relaxed pace and easygoing attitude fool you. There's plenty to do in one of the country's top vacation destinations. From Great Smoky Mountains National Park to the over-the-top amusement rides at Dollywood, Tennessee's eastern edge is a wonderland of rivers, mountains and tourist hotspots that all but guarantee lifelong memories. Whether you're in it for the history, the art, the music, or simply to enjoy the locals' fun-filled and spirited outlook on life, there's a little something for everyone on this route through the foothills of Appalachia.
1) Sevierville
Starting Point
Southwest of town, the Pigeon River explodes through high-walled canyons to create Class IV rapids that are the highlight of many trips to the region. Sevierville, a small town just outside Great Smoky Mountains National Park, is the perfect jumping off point for a whitewater trip, as well home to the majestic Forbidden Caves, biplane tours, zipline courses and other adventurous excursions. For thrill-seekers of a different kind, the nearby shores of Douglas Lake offer endless opportunities for boating and fishing. Whether you've brought your own boat or decide to rent a pontoon or kayak at the lake, anglers will be in heaven — Douglas Lake is ranked in the top 10 in the nation for bass and crappie fishing.
Recommended Stopovers

Ripplin' Waters Campground & Cabin Rental • Sevierville, TN – (865) 453-4169
The Ridge Outdoor Resort • Sevierville, TN – (888) 559-2267
2) Pigeon Forge
Drive 7 miles, 15 minutes
A quick 15-minute journey south leads you directly to Pigeon Forge, one of the most charismatic and fun-filled small towns in the Southeast. Brimming with campy attractions and endless amusements, it's practically impossible not to have a good time as you bounce around downtown. The massive Titanic Museum — the largest in the world dedicated to the liner, though still only half the size of the original ship — will likely catch your eye first, instilling you with the same awe felt by passengers who boarded the original, doomed vessel. Other popular outings include Alcatraz East, a true crime museum, or The Island, an entertainment center that boasts a giant observation wheel and fountain show. No trip to Pigeon Forge, though, would be complete without a stop at Dollywood, a one-of-a-kind theme park boasting rollercoasters and rides, as well as traditional Appalachian music and crafts.
Recommended Stopovers

Camp RiversLanding • Pigeon Forge, TN – (800) 848-9097
Riveredge RV Park & Cabin Rentals • Pigeon Forge, TN – (866) 777-6127
3) Gatlinburg
Drive 7 miles, 18 minutes
Finish your trip on the doorstep of the Great Smoky Mountains in the welcoming hamlet of Gatlinburg. First-timers should treat themselves to the spectacular scene at the top of Ober Gatlinburg, an amusement park and ski area that features rollercoasters, ice skating, water rides, wildlife encounters and a 2.1-mile aerial tramway with breathtaking views of the surrounding mountains. From there, 800 miles of trails, scenic drives, waterfalls and summits await in the nation's most visited national park. Get the lay of the land with a drive on the 11-mile Cades Cove Loop, before settling into scenic hikes like the popular Rainbow Falls Trail or the Gatlinburg Trail, which allows bicycles and pets.
4) Townsend
Drive 23 miles, 46 minutes
While Townsend is only a short drive from Pigeon Forge and Gatlinburg, you'll find delightful activities without ever leaving this serene town. Tuckaleechee Cove gives visitors a look into Appalachian culture through museums, historic sites and trails. Hike Rich Mountain Loop, near the Townsend entrance to the national park, for beautiful vistas and cascading waterfalls. Discover the magical qualities of Cades Cove, a beautiful open-air museum surrounded by mountains. See deer and other wildlife in the fields. Tour historical buildings and working gristmills.